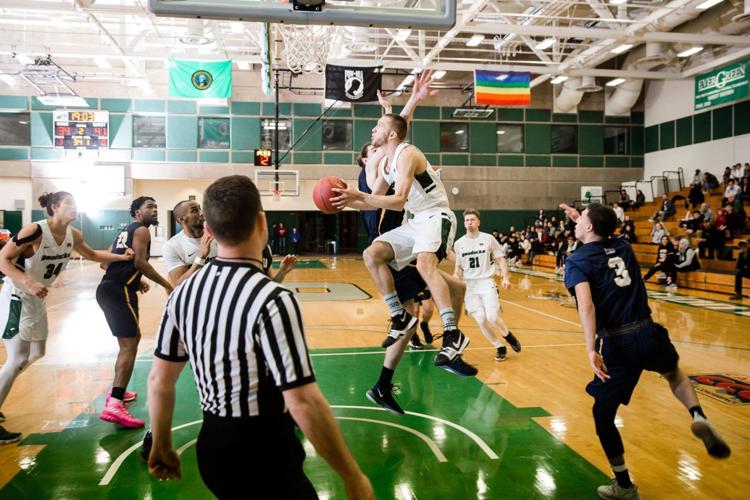 Brandon Kohler goes above and beyond for basketball — to the outer reaches, far beyond the safety zone. For more than a decade, the 25-year-old has logged tens of thousands of miles on the road — many times thumbing — just for basketball. When he didn't have gas or much money, it didn't deter him from making it to the next tournament. He just got out on the road with a backpack full of gear and started hitching rides.
Where most people look at the logistics and say, "How would I get back?" or "How would I eat?" Kohler on the other hand has no fear. He's slept in his car, and asked tournament organizers if it was alright to crash in the gym. He doesn't share his survivor lifestyle openly, so occasionally his friends discover him in that predicament and offer to have him stay with them.
"When you're on a budget and don't have money," Kohler said, "you lay the seats back in your car, shower in the locker room; if you're lucky the gym has a couch.
"I've gone to tournaments with $3 to $5 bucks. That's two, three, four hot-dogs. One in the morning, one in the night, and people leave bags of chips in the bleachers. I do scout the bleachers; people leave chips and Gatorades and waters all over. At the end of the day, I need to eat and get stuff done."
Though he's doing a little better financially now after recently completing his degree at Evergreen State College, to this day Kohler still rations his money on cheap food like hot-dogs and isn't shy about asking for someone's left behinds.
"Figuring out how to get your next meal, next ride, where you're staying," he said. "It's really helped me become the man I am today. It's made me the person I am today and I'm very proud of it."
Nothing will stop Kohler from basketball. It's a walk that defines his drive — he's someone clinging to a dream of professional basketball. Every missed opportunity to Kohler is a step back.
He has a journeyman background that would be hard to compare with anyone at the high school and college level, spending seven of his eight seasons, collectively, on different teams. 
If all goes to plan, Kohler will find the stability he's long sought in the pros, and return home to speak and run basketball clinics using his platform to encourage tribal youth.
The next big step for the man who calls Inchelium his hometown are two talent showcases in front of international scouts this summer. And if there's one thing he's good at — as his past confirms with junior college, NCAA and NAIA schools — it's tryouts. 
Kohler's on the brink of achieving those dreams. But how has the 6-foot-3, leftover scouring guard come this far when many people counted him out?
His story starts with a gun shot in Keller, a small town in the center of the Colville Indian Reservation, the 1.4 million acre territory where many of the more than 9,500 members of the Colville Confederated Tribes reside.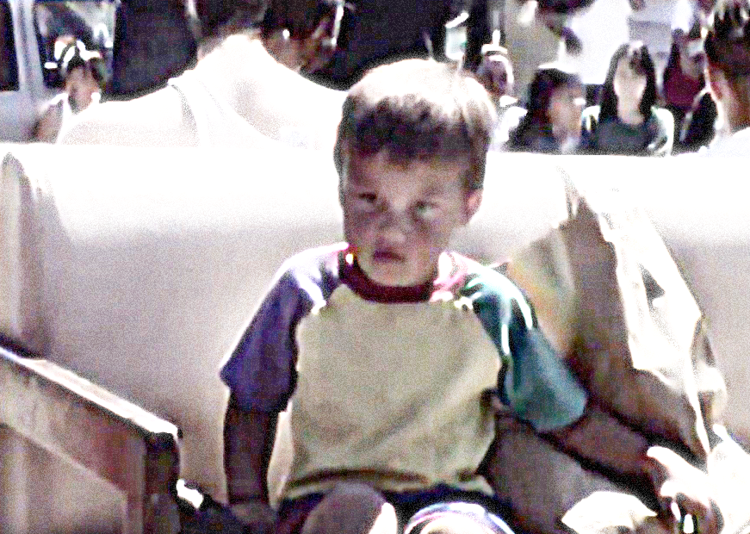 FIRST QUARTER
It's Kohler's first memory in life. He's a toddler. His older brother Gene brings him to a room and sets him down, and then proceeds to accidentally shoot himself with a gun.
"I remember the bang," he said. "I was a little bit shells-hocked. I was so young. It was kind of surreal."
That moment may have changed the trajectory of his life. At that point, he was the child of two tribal police officers. They had a family, a house, and stability. 
After Gene's death, life changed drastically: His parents divorced, he had to move and sometimes go back and forth between them, and witnessed two extremes of reservation life.
Kohler said his dad continued to live a normal life. "He got a job. He took care of (me and my younger sister Tasheena.
"My mom," he added. "Pretty much the opposite: Didn't really keep a job or take care of us; (we were) house to house, town to town.
"When I needed stuff or hadn't eaten, I had to go places or people would give me rides; hitch-hiking or walking," he said. "I would stay with friends a lot.
"I just think she took (Gene's death) a lot worse."
Kohler spent much of his youth in Inchelium with his father a few miles out of town. He eventually enrolled in Inchelium High School for his freshman and sophomore years, where he participated in sports. 
As a freshman, he played in a basketball game against Northport where Inchelium had just five players to start the game, lost one to fouling out and still won the contest. But his biggest athletic achievement at that point actually came on the football field. The team was in the middle of a losing streak that had extended to around 40 games, about four full high school seasons. Inchelium finally broke the streak, and the school celebrated.
"We had a party at the school, the newspaper came and we were cheering in the lobby," he said. "We were like 1-45, we did it! We finally snapped the record!"
Kohler began to really take basketball serious during his time in Inchelium. Becoming a professional basketball player became his dream. And when he received an assignment in an English class to write an essay on his aspirations and turned it in, he vividly remembers the reception.
"He was like, 'Brandon, we want to be realistic with careers,'" Kohler recalls. "I will always remember that as my first motivator. I wanted to prove that guy wrong."
Life led him to Lake Roosevelt High School in Coulee Dam as a junior. He had agreed to live with his mom for his final two school years — but that didn't go as planned.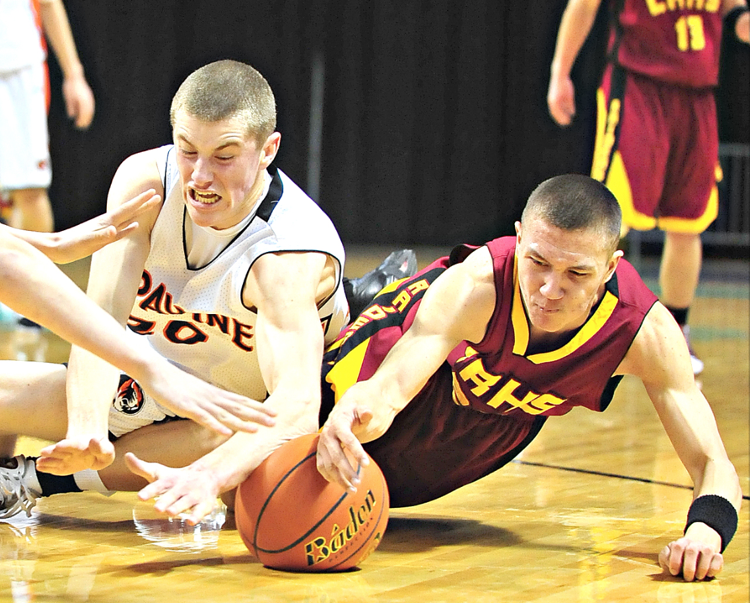 SECOND QUARTER
In his new setting, he focused on basketball — and he showed up at a good time. The Raiders had been to the state basketball tournaments for three-straight seasons, but failed to place. In the 2010-11 season, behind future Idaho Vandal Ty Egbert, Lake Roosevelt achieved fourth place — still the best finish in the school's history. Kohler was the fourth-leading scorer on the team, and called this chapter of his life his favorite part to speak to young athletes about.
"I wasn't the star," he said. "I didn't score 20 points a game. I didn't get recruited out of high school by anybody. (During that season) the gym became my home. I was asking other guys that were older than me that were really good, gonna play college ball, how to get there and what to do."
But a major fork in that plan occurred due to his rebellious behavior. He didn't return home one day and his mother called the police, stating he was a runaway. Kohler was picked up by authorities and brought to the station.
"I was having some troubles back at home, so I was staying with my cousin, aunty and uncle," he said. "My mother wasn't okay with it."
His mother never picked him up at the police department, and they did not give him a choice to go back to his father, Kohler said. He ended up in foster care, and a family in Reardan took him in for his senior year. For the first time on the basketball court, he was asked to be the leader.
"At Lake Roosevelt, I was still immature," he said. "Reardan, I had to completely calm down. I had to be one of our level-headed, consistent guys."
The highlight of that season was defeating eventual state champion Colfax by 20 points during the regular season. 
"Little stuff like that (and other statistics) motivate me," Kohler said.
One statistic, in particular, was foster-child related. He read one that said almost no foster children graduate college, and — at an even less percentage — Native Americans. 
"I'm a rebel," he said. "It's not the proudest thing to say, but I've been arrested a couple times. A kid that's been arrested, had his first car at 14 driving around; that doesn't seem like a kid that's gonna achieve much."
Kohler wanted to play college ball, but didn't have any offers after Reardan. His coach helped him get a tryout down at Mt. Hood Community College in Gresham, Ore.
He made the team.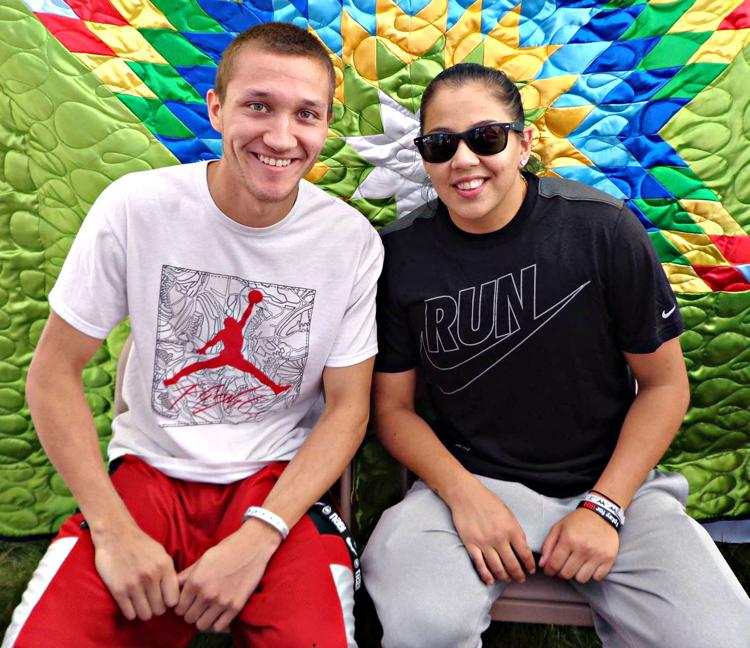 THIRD QUARTER
Kohler has a message for college athletes that comes from his experiences. "I always tell college athletes: Freshman year's the hardest. It almost broke me too." 
The rebellious spirit that had gotten him this far needed more maturation after Kohler became a starter, was relegated to the bench and eventually lost all playing time.
"It was super depressing," he said, "because I was playing no minutes. I wasn't talking to (my coach) much. I just wanted to make sure I still had good grades. 
"By the end of the season, I got worse. My heart wasn't into it. I was just going through the motions. I went back to the (All-Indian) tourney trail. It saved me, because I didn't know if I wanted to play college basketball anymore."
While playing in tournaments, his love for the game came back.
"I was like, 'Whoah. Man I missed this,'" he said. "Someone re-lit the flame. It just came back to me really quick. I was going from tournament to tournament.
"I felt my coach didn't even want me to come back to Mt. Hood, so I had nothing to do."
At a national All-Indian tournament in California, a college scout for United Tribes Technical College in Bismarck, N.D. spotted Kohler.
"He said he knew the coach would love to have me over there," Kohler remembers. "I was like, 'This is awesome. I just got an offer, wasn't trying, just playing in a basketball tournament.'
"The tourney trail saved me at so many crossroads."
At UTTC, Kohler found himself competing for a roster spot with nearly 40 men.
"The coach said, 'It's simple. It's the preseason. We weed out the ones that aren't gonna be here very long and fight for scholarships,'" he said.
Kohler made it, and became a scoring threat for the team. 
"They made me feel like I could be 'the guy,'" he said.
During his time there, he even met then-WNBA player Shoni Schimmel, who came to his college to speak. 
"That was a big motivator for me," he said. "Finally, I seen another Native American doing what I wanted to do. It gave me that 'Whoah,' moment. 'She's doing this. You can do this.'"
But, eventually, Kohler succumbed to the reality that the players were playing more to earn themselves a shot at the next level than for team success, he said. When that season ended, he again considered quitting basketball. A 2015 Tribal Tribune story stated: "The fire that once drove the Colville Tribes' lone male collegiate basketball player flickers dimly. Brandon Kohler, a 20-year-old sophomore who journeyed through three high schools and two junior colleges to keep his dream alive said it's likely over."
Kohler said in that 2015 interview, "I don't have that drive. Coming out of high school, there was that drive. I wanted to be that guy (from home) that succeeded. After a few years, that fire inside of me burned out because of the game. I love the game for the way I was taught it was played."
When he returned home to the Colville Reservation, he started feeling pressure from his people.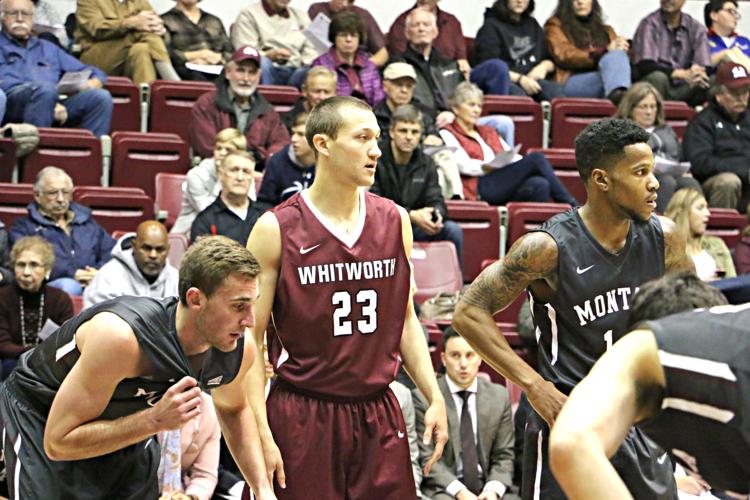 FOURTH QUARTER
He spent the summer back home, where he was constantly barraged with questions about his college basketball status.
"What are you doing here?" was a question that got old for Kohler. 
"At first it would frustrate me," he said. "It was actually kind of depressing. I was scared to see people, because they'd say 'What you doing back here?'
"Now that I've matured, I understand that I'm the only one at this level and they just want to see me go as far as I can go. It will just have a ripple effect on the younger generations.
"I realized that if I quit, I'm not just letting myself down. There's about 10,000 members in my tribe."
In about two weeks of being home, he convinced himself it wasn't over.
"I was chilling for a couple weeks and said, 'You're not done,'" he recalled. "My motivation wouldn't let me stop. I got right back in the gym; every day grind. This was huge. No one was recruiting me after North Dakota. I had to do all my recruiting."
Kohler got on a computer and started looking up contact information for every coach he could in Washington, Oregon, Idaho and Montana. He totaled 70, and sent his information to them. Out of that number, he said 10 returned his inquiry to play.
"Out of the 70, I got 10 yeses," he said. "I tell the kids, 60 nos is a lot harsher than 10 yeses."
He tried out at Whitworth University, an NCAA Div. III team in Spokane, and felt wanted — which was important to him. 
"That made me feel great that a college wanted me that bad," he said. 
Kohler wanted to intensify his training, so he continued to hit the tourney trail, where he says former NCAA, NAIA and junior college athletes are at. Kohler didn't have the money, so he picked up hitchhiking again.
One tournament was 250 miles away, and he left on Thursday to be on time for a Saturday start. His teammates didn't believe he was doing it, so he used the mobile phone app Snapchat to log his journey.
His friend was wowed. "He said he'd never met a player that had that much respect for the game," Kohler said.
At Whitworth, he played for one of the best teams in the country. The Pirates went 23-5 and made the NCAA Div. III Tournament.
"It was a lot of success really fast," he said. "It was really fun to be a part of that."
After an injury, he started slipping further down the bench. 
"I felt like I lost my opportunity," he said. "So I had a talk with the coaches. I said, 'Hey, I'm gonna leave.' The head coach wanted me to stay."
Kohler said he worked hard all summer with a new enthusiasm — "coach wants me" — and came back to find a new player ahead of him in the depth chart. 
"In the preseason, this guy was getting all the minutes, so I was really frustrated and felt kind of burnt, betrayed," he said. "So it was a hard point for me."
He was faced with a critical decision that he still faces criticism for: Keep his dream alive and play elsewhere, or potentially never play a minute again at Whitworth.
Kohler let the rebel out. Some people from home were appalled with the rumor that he chose Indian ball over college ball. But that's not how it went down, he said.
The decision to get himself kicked off the team was a calculated move, according to Kohler.
"Coming into our last preseason game — the last game to determine my eligibility for next season — I decided to save my senior year, my last chance (at taking another step toward professional basketball)," he said. 
Kohler had a conversation with his assistant coaches about his plan to skip a game and attend an All-Indian basketball tournament.
"I knew I was gonna make the head coach really pissed off if I did it," he said. "I was like, 'If I gotta make him mad to save my year, so be it.'"
He went to the coach's office and let him know what he had decided to do.
The coach said, "You know what's gonna happen if you play in the tournament."
"I went home and played in the tournament," Kohler said.
When he arrived at school on Monday, he got a call to see his coach.
"I already knew," he said. "No one gets a call unless you're in trouble.
"I was like, 'Before you get mad, I want to let you know why,'" Kohler recalls saying. "I didn't want him to feel like I did it out of spite. I did it for me. I told him with the new point guard coming in, I'm doubting myself as a player. The basketball tournament was huge because it helped me out spiritually and personally."
His initial statement didn't stop the coach from laying into him, Kohler said. 
Eventually, the coach said he couldn't move forward with a player like him.
"Understandable," Kohler knew. "Thank you for the opportunity."
After things settled, the coach wanted to know more about why Kohler did what he did. He shared that he felt betrayed by losing his spot in the lineup. The conversation led to the coach saying he'd help his former player if needed to get into another school.
"I think (saving my senior season) was the best thing that possibly could have happened," Kohler said. 
He headed back to the tourney trail to train for his next opportunity.
OVERTIME
Just as heíd done before, he began shopping himself around to various teams in the region. Evergreen State College in Olympia picked him up right away on a full scholarship.
On the Geoducks team, he was now the veteran. He was expected to be a guy who would help turn the team around, after it lost 100 games in the five previous seasons.
"I earned the starting point guard spot really fast," he said. "I worked my butt off, got team captain. I feel like my teammates respected me."
He also started realizing he was becoming a role model back home.
"I was looking up to other people when I was younger and then became the guy who was looked up to," he said. "And how to carry myself in general. Things you can do, things you can't do. It puts a lot of extra pressure. It humbles and matures you."
Unfortunately, Evergreen state won just five out of 26 games in the 2018-19 season. Kohler averaged 8.1 points per game and 2 rebounds. He shot over 50 percent from the field, including 41 percent from three-point range.
He has Eurobasket Summer League tryouts in Dallas this month and Las Vegas in July. Regardless of how far he makes it, Kohler wants to give back in the form of basketball. It's helped him, and he knows it can help others. And having a mentor-like figure whose endured as much as he has could help, he said.
He's not yet a nationwide speaker — he recently started talking at schools — but he hopes to be able to make an impact.
"That's what I hope to do later," he said. "A lot of these kids don't have a reason to finish high school or go to school. They're like, 'Man, I love basketball, but I hate school.' If you go to school and you get good grades and you call a college and want to go play for them; and it's comes down to grades; that coach is going to take you every time."
"(Getting good grades) shows work ethic, responsibility, dependability. I didn't like school, either. But I feel like I'm a good role model because I don't drink, do drugs."
A role model is something that would have helped Kohler. He couldn't find an example of a male Colville tribal member who finished a career in college basketball.
"After I got to college, there was no role models," he said. "I was looking for older guys I looked up to and there was none there."
Kohler decided he was going to be the first one he knew to achieve the feat.
"I've made it to where I have and it's not just me anymore," he said. "I have all these younger Native Americans. They're asking, 'What did you do to get this far?' 'How did you get here now?' 
"When I was younger, I wanted to play college," Kohler added. "Now I'm setting the bar as high as it can possibly go. I just want to be the guy that worked his butt off and proved that any of us can become a professional athlete if you put your mind to it."
Statistically, Kohler said, "It was very improbable that I succeeded — almost impossible. But I've always had 100 percent faith in myself. As long as you believe in yourself, anything is possible."
He hasn't given up his mission to make basketball his career. He practices every possible day as if he was still on a college team, and is booked throughout the summer for basketball tournaments. He's been successful in his previous tryouts, but now he's vying for a professional basketball opportunity.
"Hopefully, I will go overseas," he said. "And when I come back, I will do basketball camps, tournaments.
"The general dream is to land anywhere. If I got a contract, it would be emotional because it's been a long 25 years to get here."
He plans to expand the basketball skill-building offerings locally and to help take the tribe to the next level in every district. If that doesn't work out, he's in line for a nursing degree to fall back on.
For now, though, it's back to survival mode for Kohler's dream of making an impact through basketball.
"Surviving's just been the way I live," he said. "That's kind of just life for me. Growing up, there were times we had to eat cake batter for a meal; or ate KiX cereal all day.
"Kids, they really do connect with me: 'He had to push through hard stuff too.' If I had to go through one of the hardest life's possible, it's that so no one else has to go through that ever."
He's paved one road by completing four years of college basketball. But can he take his aspirations one step further by landing a shot in the pros?
The odds are against Brandon Kohler — but the rebel in him likes it that way.