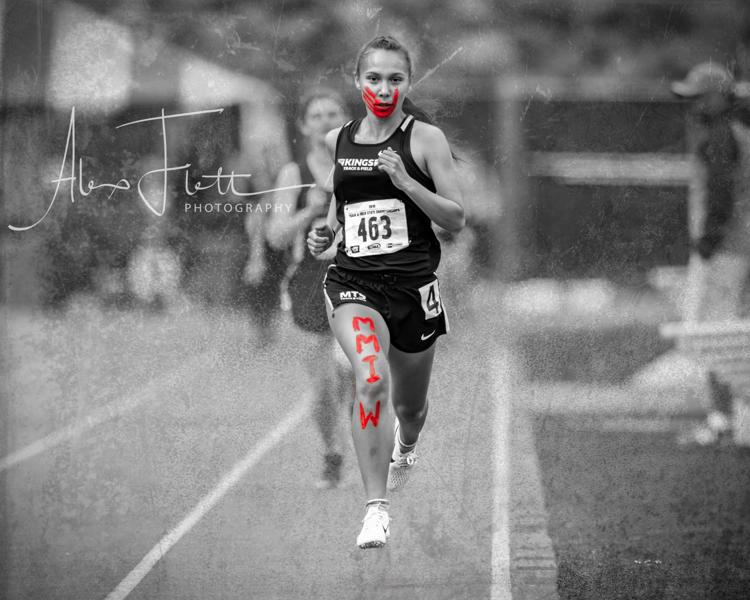 It's the iconic photo it seems everyone locally is sharing online: Muckleshoot Tribal School's Rosalie Fish racing at the WIAA 1B State Track and Field Championships in Cheney, Wash. with the #MMIW's trademark red hand on the face, and the letters MMIW going vertically down her right leg in red.
Spokane tribal member Alex Flett, of Alex Flett Photography, snapped the photo. He edited the photo to make it a black and white with a color splash effect for the red — pulling the Missing and Murdered Indigenous Women acronym and facepaint to the forefront.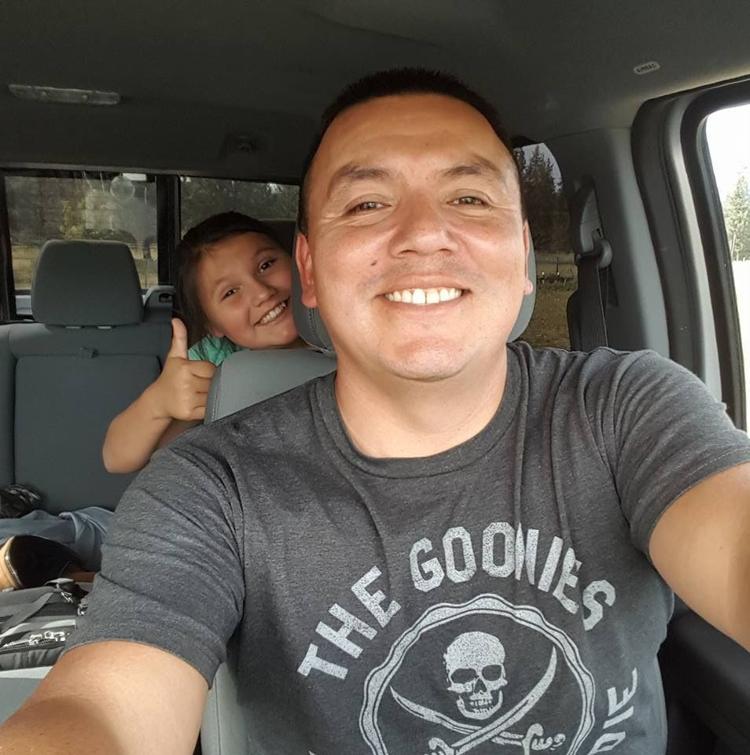 The photo took off, and is approaching nearly a half-a-million views by Tuesday afternoon.
"That's just my original post," Flett, 40, said. "I don't know how many times it's been seen and shared after that."
Flett had no idea one of his most-viewed photos of his career would occur at the event. He typically shoots graduations and family photos, along with shooting sports recreationally and on a freelance basis for his tribal newspaper, the Rawhide Press.
His activism experience included a trip to Standing Rock to photograph the Dakota Access Pipeline protest. But he didn't expect to expand that portfolio at a sporting event.
"Going to the event I had no idea what I was going to eventually be a part of in the coming days with the single click of a camera shutter and a little photoshop work," he said.
Dozens of events have come and gone for Flett, but none quite like this weekend, where he said he was taken aback by Fish and her tribute to #MMIW. 
"I remember telling a fellow photographer, 'WOW!'" he said. "I thought that was a huge statement, and I knew I had to capture this moment. I had no idea it was going to explode like it has. My phone has been going crazy since the post." 
After spotting her initially, Flett got into his photographer's mindset; a vision of the composure, if you will.
"It was an image I had in my mind that I wanted to get: Leading the pack, focus, and getting a shot showing her leg showing the letters MMIW," he said. "So I positioned myself on the track to where I would have the best opportunity to get the shot I was looking for. Thankfully, it all came together the way I was hoping. And the response was huge."
Flett says people from across the country have thanked him and inquired to buy the photo for posters, t-shirts and more.
One of Flett's local subjects — Gabe Kieffer, of Wellpinit — donated a medal he won to Fish, who had an #MMIW poster-board she hung her medals on. Flett followed that moment as well.
"That was awesome to see. I just happened to turn around and see him start talking to her, with his medal in hand. I didn't know what was going to happen but I had my camera ready just in case he did what i thought he was going to do. And I was able to get a few images of them hugging after he gave her his medal. There were hugs and tears with the exchange and it was an awesome thing to see. 
After the event, Flett reflected on his experience. 
"Nothing comes close," he said, regarding the event he'd been shooting for multiple years. "For three days at EWU, people were talking about, asking questions about MMIW and that was a great thing to see and hear. As I'm on the track taking photos, that's the conversations I can hear in the background.
"All because a strong, brave young woman decided to take a stand and use her platform to bring awareness to a somewhat unknown issue to a lot of people," he said. "I felt moved and wanted to use my skillset to help, even just a little bit, to join her in making people aware of this issue."
Flett elaborated on his photography.
"My goal as a photographer has and always will be to try and tell a story," he said. "Not with words, but through images. This photo falls right in line with how I go about taking photographs. I have a few preset ideas going into it, but I just let the story unfold and I try to capture images in a way to tell the story and any type of message that they convey."
Fish won three state titles over the weekend in the 400-, 800- and 1,600-meter races. But her tribute to MMIW remained the focus in the days following.
Thanks to a quick and mindful tribal photographer, her statement was amplified to a whole new level. 
Cary Rosenbaum (Sinixt) writes "Coyote Stories" for the Tribune. He can be reached at (509)634-2225.