Tribal elder Lucetta (Hahn) Stafford is known for maintaining her PMA: Positive Mental Attitude. It's a line she's preached for decades to youth on the Colville and Spokane reservations. Education is vitally important Stafford. The 81-year-old Spokane resident was nearly 50 when she received her high school diploma — something that had not been attained by earlier generations of her family.
"I was really excited about education," she said. "It took five generations to get one high school graduate in our family."
After spending much of her life in Omak and Ford, Washington, Stafford now lives in a 1-bedroom apartment with her husband of 63 years, Larry.It's a simple life in proximity to hospitals, in case any health issues arise. Nearly four years have passed since she's been to her hometown of Omak — a part-Colville Reservation city where some of her fondest memories occurred. Stafford's story is one of overcoming great childhood adversity, having deep-rooted faith, and promoting education even if it was not something she herself had fully attained.
"Sometimes I look back and I can't believe it," she said. "I tell some of our kids and grandkids they don't even know the whole story."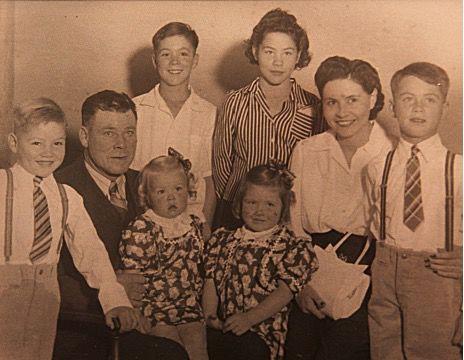 GROWING UP
Lucetta was one of nine siblings, including six born to Nancy Parsons and John Thomas Hahn. She was born in White Swan, but can only speculate why that is.
"I think my father went down there for work," she said. "He drove a milk truck, and would deliver to homes. It was kind of during the depression — tough times. I remember him telling me he would work for 50 cents a day. At night he would go to different neighbors and take a couple potatoes and onions to make a stew to feed us."
John and Nancy's marriage ended in divorce, and Nancy moved the children back to Omak. After moving from home to home, they settled in with her sister Agnes Manuel. In a 1-bedroom house, they raised 16 children collectively. The boys all slept in a building behind the home.
"I don't know how we did it," Lucetta said.
As a toddler, Lucetta recalls her mother occasionally speaking the Moses-Columbia dialect of Salish. It was a language forbidden in Nancy's boarding school era, and she was scared to pass it on to her children.
"She was born in 1909 and went to boarding school and that was taken away from her," Lucetta said. "And she was afraid to teach us that, so we never knew our language. … Just tidbits that come back."
While living in Omak, Nancy was diagnosed with tuberculosis, just months after giving birth to a baby. She was sent to Cushman Indian Hospital in Tacoma. The children were sent to St. Mary's Mission on North End Omak Lake Road. The baby was cared for by the nuns; Lucetta, meanwhile, was school-aged and lived in the dorms.
Nancy overcame tuberculosis, twice, and moved to a home near the old Ranger Station in the woods of Disautel. By the time their mother came home, they were settled in at the Mission, and Lucetta, herself, never thought negatively of her situation. Despite her mother living in a nearby town, she only saw her on Christmas during the school year.It became normal for Lucetta to live without her parents under the guidance of Catholic priests and nuns — mostly, she says, because there were dozens of children just like her to bond with that became as close as family.
"I never did think about that in a negative way," she said. "As you get older, you kind of realize that (absence) was something. … In my mind, you didn't question anything, you just did. That's the way it was."
So instead of dwelling she enjoyed her time at boarding school.
"I remember going to the Mission. I loved it there," she said. "I loved the winters. We all went outside and played in the snow. What was really fun is that we got to live with our friends."
But schooling at St. Mary's Mission ended prematurely thanks to a disobedient act by Stafford and some fellow students.
"What happened, when I was in the 5th grade, some friends of mine from St. Mary's, we ran away at night — clear down to Omak," she said. "I think we got mad at a girl. Anyway, we took off. We went through fields. We had all had jumping cactus in our legs; went through barbwire fence."
Once they made it to town, they snuck into the movie theater.
"When we were sittin' in the movie, the maintenance guy they had come down and they were lookin' for us. We got put in this little building seemed like. Next morning they took us to the mission and all our stuff was packed.
"Big guy, Father Corkery was sittin' behind his desk," she recalled. "Back in those days you didn't have suitcases. Everything was packed in a box with a rope around it. He told us we were going home. I remember I felt so bad I didn't get to see my friends anymore."
Father Corkery took Lucetta to her mother in Disautel. "My mom was really nice to the priest," she said. But "after he left, I got it."
During her time out of school — around 1948 or 49 — a friend, Nancy Samuels, told Lucetta, "Why don't you go to Chemawa (Indian School)?"
"She got us an application, and she sent my sister Marcelene and I down there," Stafford recalled. "So we went down there on a bus. I must've been 10. I can remember her getting us a perm before putting us on the bus in Omak. It was the evening when the bus came. And back then they made this really stinky stuff they put on your hair to curl it.
"With our little boxes," she continued, "we got on the bus in the evening and rode to Chemawa by ourselves. That's what we had to do."
Stafford and her sister were dropped off at a restaurant about a quarter-mile away from the school. When they arrived, they learned they would be placed in one of five dorms — of which, two were dedicated to female students.
"When they showed me to my dorm, the train went by and I heard it and that was the only time I remember crying," she said. "I realized how far I was away from home."
For the next seven years, she inched closer toward obtaining a high school diploma. One year, her mother and stepfather Hank Anderson came down to Chemawa to take them back to Omak to attend public school.
"I was too old to go to the mission," she said. So she attended Omak High School and experienced a stark contrast to her boarding school life. "I didn't like going to public school," she said. "Over the years at boarding school, I made 60 to 70 true friends."
On a positive note, she did meet a best friend in Larry Stafford, a local boy that told his friends he would marry Lucetta after seeing her for the first time. She and Larry were close in age. After the summer was over, and school began, Larry's father died.
Weeks later, Lucetta and Marcelene were sent to live with their dad in Tacoma. He held employment with Western State Hospital. Because it was November, they couldn't get into a school.
"(My father) had this 1-bedroom apartment," Lucetta recalled. "Me and Marcelene were like two peas in a pod. We stayed in that apartment all day long. It was okay. We didn't have anything in there: A couch, bedroom, table and chair in the kitchen. We took all that in stride.
"He didn't make much money then," she recalled. "I remember they had a store and he'd always bring home a quart of milk and a package of rolls for us to eat."
The sisters stayed there until March, when their father was able to re-enroll them in Chemawa.
"So we went down there and finished out the year," she said. "When I went back it set me back a grade."
Stafford recalls Chemawa High School having a 600-student population that fielded sports teams, and a band. She spent half of her day in school and the other half learning a trade.
"I think to tell the truth, down at Chemawa, that place was put there to assimilate all Indians," she said. "For them to disappear or assimilate into (American) life. So we only went to school half a day. We went to school and learned how to spell, not much history. And the rest of the day, we got to go to home-economics and learn how to cook; or the laundry, and do the sheets for 600 students, and pillowcases and blankets; or we got to go in the kitchen and help make meals for 600 students."
The food, she said, is memorable to this day.
"We ate pretty good," Stafford said. "We had good breakfast. The toast was always cold. And we had boiled eggs. We had powdered eggs. Scrambled eggs. And we would sneak it back to the dorm and we'd have a jar of mayonnaise that he bought from the store. We'd put our toast on the radiator to warm it up; and an old coffee pot we put soup on."
Around age 13, Stafford said everybody smoked cigarettes. "We even had a smoking room," she said. These secret operations had to be covered up to pass weekly inspections from the matrons.
"They opened up your drawers, closets; everything had to be in place," she said. "They had demerits. You didn't get to go to town, shopping, movies, dance … so you didn't want to build up demerits."
Sundays, the children were encouraged to attend local churches.
"You had Catholic Mass, Latter Day Saints, or you could sit in a living room dorm on a couch where you couldn't speak, read or do anything until mass was over," she recalled. "I always went to mass because after mass we got orange juice and a donut."
In her final years, one of Stafford's best friends, the late tribal member Beverly (Carlson) Morin, helped support she and her friends at the school through obtaining a job.
"We never had much money and Bev was our savior when we got to the big dorm," she said. "She worked. She would always take care of us. Cigarettes were like 20 cents a pack. Pepsi was like 6 cents. A bag of peanuts was 6 cents. Lots of Indians used to have Pepsi and put a bag of peanuts in it."
Touring around the town of Salem exposed her to mainstream music. She remembered hearing Elvis Pressley's "Love me tender."
"I thought that was really different," she said.
Attending the school has shaped her in a way that affects her to this day.
"I have to have my bed made every day, and I'm 81 years old," she said. "I can't just get out of my bed and leave my bed."
Stafford's run at Chemawa ended just three credits shy of graduating she said. She was 17 when she dropped out of high school, returning to Omak to marry Larry.
Transitioning from being a student to a housewife had its trials, she said.
"I didn't get an education," she said. "I just kind of had to find out through my life what was out there, because what I had learned was from 12 years of going to boarding schools and I didn't know any other way."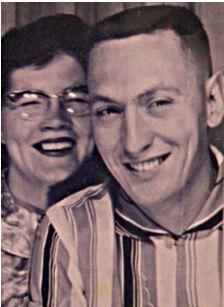 ADULTHOOD
Without much responsibility in her life to that point, living with her husband in a 2-bedroom home in East Omak saw some learning moments. For instance, the 19-year-old Stafford was unaware electricity bills existed and so the power was turned off by the city early in their marriage.
"He worked at the factory then and I didn't work. I just laid around," she said. "I had the messiest house I ever had. (At boarding school), I was told when to go to bed, when to get up, when to take a bath, when to do your homework … Everything in my life I was told what to do.
"After a few weeks we didn't have no power," she continued. "He come home for lunch, I said I couldn't make him lunch, we have no power." Larry said, "Lucetta, did you pay the bills?" "What bills? I thought you owned this house?" she responded. "Why would he have to pay for anything if you owned it?"
Soon, Stafford learned how to pay the bills. They lived in the home for 22 1/2 years, adding sons Robert and Randy to the family. They later moved to East River Road in Omak, where they stayed until leaving in 1994. Lucetta didn't stick around the house without a job for too long.
She worked as a babysitter, then tried out the apple industry in Tonasket.
"It's weird for me to think about it: women working in the corporate world," she said. "I'm thinking we had to drive 30 miles a day to make $1 an hour, to work in a packing shift. We've come a long way (laughing)."
She also worked at Biles-Coleman Lumber Company, where she recalls receiving and sorting smoothed pieces of lumber.
"I was the one over here receiving it and tying it up in trays," she said. "Sometimes they'd be long, sometimes they'd be short."
Stafford initially underperformed due to not knowing how to tie the boards. Luckily, her husband Larry worked there as well and instructed her how to tie them during a crash course at home.
"We were up until midnight," she said.
Then Lucetta was asked to drive a Hyster forklift when an employee went on vacation. Stafford tried and failed miserably.
She was hauling a load near a neighbors house when it all came crashing down.
"There's my boss and my neighbor and all this wood went on the floor," she said. "I just said forget it. And that was the last time I drove a Hyster."
Lucetta then moved on to the Crown-Zellerbach plywood plant, which eventually became Omak Wood Products. "We pulled the big sheets (of plywood) when they came off the dryer," she said. "They had all these things, crates, and you had to grade them when they came off. There was three of us and we'd grade them. We'd have to wear leather aprons and protectors."
Then Larry asked her to stop working, she said. That lasted until she was hired in 1979 at Paschal Sherman Indian School, where education became her passion. Lucetta worked with students, including students with special needs, for 15 years.
"I loved teaching," she said, "but I don't think I would have ever loved teaching as much as I did had I not experienced things."
She spent nine years at PSIS, followed by six at East Elementary in Omak. Assisting students with special needs was among her roles in education.
"Teaching special needs children was the best" experience in her life, she said. "And looking at their successes. And I found out then that each child can learn. They can learn with ability they have you just need to learn to teach them they have that ability.
"One thing I taught my children at Paschal Sherman was to use a calculator to do math," she continued. "When you work with special needs students you got time to work with them individually. They had strengths and weaknesses. You build up their weaknesses. I notice that Native American kids have a different learning style than other kids. … I always made a game out of everything. It worked better that way. We'd go outside an pick up rocks or sticks and we learned all together how to add subtract takeaway."
During her time as an educator, Stafford obtained her high school diploma from Chemawa Indian School nearly 30 years after she attended. Always quick with a saying, Lucetta still remembers what she'd tell students regarding success.
"I used to tell them that success isn't about the amount of money you have, success is how you feel inside. If you worked hard enough to accomplish what you're doing, it's success for you inside and then it can go out to others."
When her children were going through school and became old enough for high school sports in the early 1970s, she noticed a disparity in coverage in the local Omak Chronicle newspaper.
"When my son was in football, all you seen in the Chronicle was Indians being arrested in Omak and I got sick and tired of seeing that," she said. "I went to the office to see the owner (John Andrist) and said, 'I'm a parent and a mother. I never see any sports in your paper.' He just looked at me and said, 'Lucetta, then you come here and do something about it.' So he hired me at the Chronicle as a sports reporter."
She had some familiarity from her time at Chemawa, but had to learn about the various local sports quickly. Her husband Larry helped her to understand the games even more.
"The first time I went to a football game, a woman said, 'What are the posts at the end of the field for?'" she recalled. "And I always thought, 'I want to learn all about football, golf, and then tennis. (Larry) kind of showed me."
When she brought her writing back to the Chronicle, they asked for more depth. "John said anybody can look at the newspaper and see the score was 42-38, and who won," she said. "What I want you to do is tell me how they won or lost that game. … It was a lot of fun."
When she and Larry moved to Ford in 1994, Lucetta found work again at the nearby tribal head start in Wellpinit.
"After mom passed away, I wanted to start working," she said. "They needed a head start teacher in Wellpinit and I wanted to apply. I got the job." They stayed in Ford for 12 1/2 years until moving to Spokane and retiring.

RETIRED LIFE
It's been nearly four years since Lucetta has been to Omak. She's lived in Spokane for more than 12 years.
"I just miss home so bad," she said.
She lives a simple life with Larry in a 1-bedroom apartment in Spokane. They have their days scheduled out. Once a week, Larry picks up the chores. They both wear Catholic crosses around their neck and are fans of Gonzaga basketball and the Los Angeles Raiders. Lucetta, herself, has been listening and watching the Bulldogs since the 1990s.
"I used to listen to (Gonzaga on) the radio and visualize: wouldn't it be great if they were on TV," she said. "I was really happy when they became big."
Asked about her biggest accomplishment, Lucetta said it is her commitment to Larry and his to her.
"We've known each other for 67 years," she said. "He's 82, I'm 81. We've been married for 63 years plus."
Another great feat: Stafford saw her children and grandchildren graduate from high school and colleges, which had not been completed by previous generations of the family.
"I'm so proud of our children, our children's children, and the education they've all gotten so far," she said. Her son Randy attained a degree and a certification as a baker and pastry chef, and he's worked at Costco for nearly 30 years. Her son Robert, who has a Bachelor's degree in Fine Arts, has become a positive cultural role model in the Omak community, and can commonly be seen drumming and singing at local events.
Reflecting on her own life, Lucetta says she still continues to learn, harnessing a mentality she gained through a life dominantly spent in education.
"There's always something to learn and it's still pretty exciting," she said. "My life's just been a lot of fun. There's just been a lot of happy times and sad times, but you just still make it through. You do — just make it through."