INTRODUCTION
The Tribal Tribune worked with the Colville Business Council, Colville Tribal Administration and Colville Tribal Information Technology to solicit questions from the Colville Tribal membership.  These questions were submitted via email to the Tribune and via a webpage set up by Colville Tribal IT.
In total, the Tribune received approximately 40 questions from nearly 20 different tribal members.
Working with CBC, we grouped the questions into various topics: financial reports, COVID-19 pandemic, personnel issues, housing and business council. As many of the questions were repetitious, we grouped some questions and maintained others. When applicable, some questions were then submitted to various program managers and division directors for initial responses and then submitted to CBC for their input. Questions that were directed specifically to council were answered by CBC. All answers were reviewed by the Colville Tribal Office of Reservation Attorney.
We worked hard to make sure tribal members' questions were answered.
While we know this is not a replacement of the annual general membership meeting, we hope this assists in answering some questions of the Colville Tribal membership.  In addition to this section, Colville Business Council and Administration are preparing an annual report for the Colville Tribal membership.
FINANCIAL REPORTS
A number of questions called for greater transparency, especially regarding financial reports?
Today, the Colville Tribe has grown to be the largest employer in Okanogan and Ferry counties.  However, unlike local state and county governments, we do not have significant tax-based revenue.  As a result, the Colville Tribe has created our own tribal corporation to participate in the private marketplace.  We own a wide variety of businesses (casinos, convenience stores with gas stations, logging, etc.) to generate a revenue stream that supports jobs and governmental services.  Additionally, we have made major decisions with future developments, affirmation of our rights in each of our tribe's traditional homelands including acquisition of land, and we have engaged in litigation here in the U.S. and internationally in Canada.  All these prospects come with risk and huge reward for generations to come.
Our tribal members have asked for greater transparency while reporting our business ventures with the public reporting of our Colville Tribal Federal Corporation and our Tribal Government financial statements.  This question raises consideration of reporting our finances and the costs and benefits of this public disclosure.  Reporting of our financial statements is positive, especially If this disclosure helps reduce the overall economic uncertainty from our tribal membership.  On the other hand, there is a potential risk of proprietary costs of disclosure—there is always the fear of disclosing proprietary information to others that could be exploited at the expense to the Colville Tribe.  For instance, when we negotiate the purchase of land, once the seller finds out the tribe is the purchaser, they will double their asking price.  External entities often research financial reports for a better understanding of our overall economic environment.
We also need to consider whether public reporting serves the best interests of our entire tribal membership rather than the special interests of a few.  Information by others can be mis-construed or falsely reported.  This can have a negative effect, especially when our tribe is always engaged in lobbying efforts and we often take political positions.  There have been FOIA requests from members of the public to tribes who want financial disclosure of a tribe's government grants and contracts to question funding allocations or allowable use of these funds.
Financial reporting can also reveal significant proprietary information, and outside entities can use this information to invest in projects that are proposed by the Colville tribe.  Thus, disclosure can discourage investments or raise questions of compliance if private investors, federal and state agencies feel that our public reporting reveals questioned or disallowable costs, deficiencies, or findings.  This will ultimately have a negative effect to the general welfare and best interests of the Colville tribe.
In other words, our "revealed preferences" for disclosure (or non-disclosure) can convey information to stakeholders about our prospects.
Historically, the Colville Tribe has publicly reported our financial information in our own Tribal Tribune.  However, today our tribe has risen to becoming a regional force with our state and federal contracts and grants, water and natural resource issues, our litigation with Canada, and our investments in off-reservation properties for future developments.  This question will be addressed and debated with members of council, we will discuss how to present financial information and consideration of the costs and benefits of public disclosure.
What is the net income of each casino?
The (Unaudited) net income for each casino is as follows: Mill Bay $8,775,535, 12 Tribes $1,608,863, and Coulee Dam $1,309,750.
Total Audit of all funding tribal, grants, and government monies? 
Any non-federal entity that expends more than $750,000 in federal award funds during its fiscal year is required to obtain a Single Audit (or Program-specific Audit, if applicable.)   The BIA is responsible for routine monitoring visits which shall be limited to not more than two performance monitoring visits for this Contract by the head of each operating division, departmental bureau, or departmental agency, or duly authorized representative of such head unless—"(i)the Contractor agrees to one or more additional visits; or "(ii)the appropriate official determines that there is reasonable cause to believe that grounds for reassumption of the Contract, suspension of Contract payments, or other serious Contract performance deficiency may exist. 
The Colville Tribes FY2019 audit is in progress. The due date is 12/31/20. Our FY2020 audit has not begun.
I would like to see Colville Tribe pay its members twice a year in the amount of $300 & have this take effect this December 2020 also make sure the Elder payments never be touched & always go to the Elders every quarter can this be in written agreement?
Per capitas are calculated annually based on available revenues.  As revenues fluctuate from year to year, I don't see how the CBC could commit to a written agreement guaranteeing this. 
Why are we not getting per capitas and why such a small amount?
We do get two per capita's per annum. The FY21 Tribal general fund budget is approximately $55 million.   A per capita payment of $200 x 9,500 members is $1.9 million; two per year is approximately $3.8 million annually.  This is 7% of the operating budget.  Elder stipends are another $3.2 million annually.  This is a total of approximately $7 million or 12.7% of the annual operating budget.  The addition of just $100 per member to $300 would increase this to $5.7 million in per capitas and 10.4% of the annual budget and 24.7% with Elders stipends.  This would require significant cuts in general fund budgets.
What has been the expenditures to date of the total COVID-19 funds?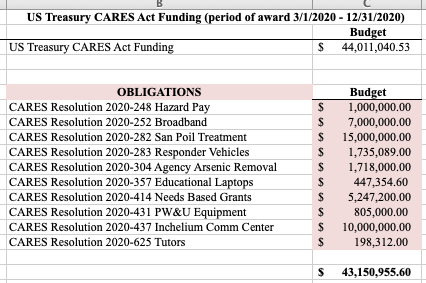 It has been clear from the beginning that the federal government will eventually audit how the CARES Act funding for COVID-19 relief was spent by tribes and other entities that received the funding. Any expenditures which the audit finds to not have been allowable uses of the money will have to be repaid. Accordingly, before making decisions about how to spend these funds, the Colville Business Council and our legal counsel have studied the applicable laws pertaining to the use of CARES Act funding, including guidances and FAQs (Frequently Asked Questions) about how to use the funding which were issued by the Department of the Treasury and which have evolved into many iterations over time.  The initial guidances stated that CARES Act funding could not be paid out as per capita distributions.  Council heard that many of our members have suffered impacts due to the COVID-19 pandemic and this is why we decided to make a distribution of grants based on application and need caused by impact from COVID-19.
There has been a deadline to expend the funds, and this has had to be considered as well in making decisions on how to spend the funds. On November 18, Senators Lisa Murkowski (R-AK) and Maggie Hassan (D-NH) introduced a bill that would extend the deadline for spending the CARES Act government relief funds to September 30, 2021.  In addition to the Murkowski/Hassan bill, there are several other bills pending in the House and Senate that address the same issue.  These include--
- S. 4232 (extending the deadline for tribal governments to Dec. 30, 2022) (Sen. Heinrich (D-NM), cosponsored by Daines (R-MT), Udall (D-NM), and Murkowski);
- H.R. 7557  (extending the deadline for tribal governments to Dec. 30, 2022) (Rep. O'Halleran (D-AZ) and 14 cosponsors);
- S.4494 (extending the deadline for all governments to Dec. 31, 2021) (Sens. Hassan (D-NH), cosponsored by Grassley (R-IA), Murkowski (R-AK), and Sanders (I-VT); and
- H.R. 7854 (extending the deadline for all governments to Dec. 31, 2021) (Rep. Thompson (R-PA) and 10 cosponsors).
Council has lobbied several federal congressional representatives to extend the deadline of the CARES Act funds and to allow greater flexibility in the guidances for spending.  The Chairman was also interviewed by a Washington DC newspaper reporter regarding an extension and to allow flexibility in the guidances.  It is important to note that members of Congress are considering an extension and relaxation of the current rules for use of the funding.
What is the net return on the sale of Carbon Credits?
The sale of the Colville Tribes' carbon credits is protected by a nondisclosure agreement. The amount cannot be publicly shared without putting the Colville Tribes at risk of violating their contract.
COVID-19 PANDEMIC
What is the re-opening plan?
Unfortunately, there is no great answer or specific date for a safe re-opening that can be provided right now, because we are waiting for and working toward the right timing for a safe re-opening.  The CBC has been fully and regularly briefed on safe re-opening options, but each of those options require community spread of COVID-19 to be under control.  Right now, community spread is not under control on the reservation or in Washington State in general, and we're continuing to operate under the strict guidelines provided by the US Centers for Disease Control and Prevention in order to slow the spread of COVID-19.  A safe re-opening can occur, and recommendations regarding a safe re-opening will be submitted to the CBC, as soon as one of two key events take place, (1) community spread is brought under control in keeping with CDC guidance or (2) a safe and effective vaccine or vaccines are made available to sufficient tribal members (beginning with frontline healthcare workers and elders with underlying health conditions) to prevent further spread of the disease.
The Colville Tribal Federal Corporation released their reopening plan for Colville Tribal Gaming. That plan can be viewed at: http://www.tribaltribune.com/pdf_de589638-2d4e-11eb-a022-d757e60678f8.html.
What has the Colville Tribe done to protect their employee's work area during the COVID Pandemic?
Is there Plexiglas around their individual work areas?
Colville Tribal administration: We are currently working to install Plexiglas and similar protective behaviors in Health and Human Services operated facilities and vehicles.
Colville Tribal Federal Corporation: Yes, in some areas plexiglass is installed such as the cage, player tracking, food venues and hotel guest registration area.
Are masks required when outside their work area?
Colville Tribal administration: CCT employees in all facilities are required to wear cloth face coverings indoors when not alone in their immediate enclosed workspace and outdoors when working in close proximity to others (within less than six feet).
Colville Tribal Federal Corporation: At the casino properties and headquarters, all employees are required to wear masks.  Employees are also required to wear gloves while on the casino floor.
Are their desks 6 feet apart?
Colville Tribal administration: Most CCT employee desks are either six feet apart or have appropriate partitions between them.  In cases where desks cannot be six feet apart, employees often either work outside of the office or in rotation.
Colville Tribal Federal Corporation: Most desk, at headquarters and the back of the house, are six feet apart and separated by cubicle walls where feasible. 
Are temperatures taken regularly?
Colville Tribal administration: Temperatures are taken each day as employees enter each Tribal facility for the first time.
Colville Tribal Federal Corporation: All employees' and patrons' temperatures are taken daily utilizing a thermal scanner at each casino and headquarter location.
COVID Policy in place.  
Colville Tribal administration: There are many policies and procedures relating to COVID-19 that have been implemented by the Tribes, including Emergency Operations Center policies and procedures, employee reporting policies, daily screening policies and procedures, and guidelines for the safe operation of each facility.  A specific request for further information regarding a specific policy related to the safe operation of their facility can be made to any department or program.
Colville Tribal Federal Corporation: The CTFC provided the Tribal Tribune with their COVID-19 Policy and it is available at www.tribaltribune.com/pdf_91882092-2d50-11eb-9fed-d7a2c5a497ff.html.
During the partial shutdown how has CCT monitored or measured the work being done at home?
Employees on telework status are required to work with their immediate supervisors, and Program Managers, to develop a telework agreement and have it approved through the  Division Director.  The telework agreement outlines the duties and tasks they will be performing remotely and are monitored by their immediate supervisors.
Do the employees have access to all systems/programs needed to perform their job duties?
Yes.  If the employee does not have access to all needed systems and/or programs needed to perform their duties and responsibilities then they do not qualify for telework.  The Tribes have provided temporary internet access, laptop computers, Virtual Private Networks(VPN), and many other accommodations to assist and allow as many employees to telework as possible.
What is the cost savings to the Colville Tribe by having their employees work from home 2 days per week?
There really isn't any cost savings to the Tribes  by having employees telework 2 days per week.  Not all employees have the ability to telework.  The benefit to the Tribes is the ability to stagger employees in facilities, increase social distancing, and reduce the potential to spread illness.
Would it be more cost effective to have the employees that work from home 2 days per week draw unemployment benefits?
More cost effective to the Tribes?  Potentially depending on the salary of the employee, however it would not be a benefit to the employee.  The benefit to the tribes would be negligible and not worth the negative benefit to the employees.  
Employee Lay Offs?
Some positions that were deemed non-essential during the initial government shutdown were placed in lay-off status.  This was carefully considered based on program needs, health and safety concerns, and the added benefits through the WA state unemployment insurance program.
Washington State used language in the CARES act to afford an additional $600/week to employees who were directly affected with loss of employment due to COVID.  It was calculated that with the additional $600/week any fulltime employee making $30/hr or less would take home more on unemployment than working.  The additional $600/week plus incentives such as waiving the job search requirement, and the normally required wait period were some of the key deciding factors for the CBC to enact resolution 2020-171. 
Off-reservation – Our children got left out of devices for school.
The Colville Business Council has directed our Education Division to assess the feasibility of providing Chromebooks to our off-reservation students.  Some of our students live off-reservation that border the Colville reservation and may have received a Chromebook.  This will take some time to complete this report.
Off-reservation – we all got left out of COVID relief funds (through housing)
Many of the program services were regulated for on reservation service area. We were able to fund rental and mortgage assistance to members in Wa State, mirroring CIHA  programs.
Due to COVID-19, the Government Center is shut down.  Would it be more feasible to Live Stream meetings to keep the membership informed? 
Live streaming has been tried in the past and has proven difficult. There have been technical problems with getting the livestream clear enough. Also, the number of viewers has often been small.
PERSONNEL ISSUES
At the employee's annual review does the Colville Tribes do annual employee training? 
Yes. The employee along with their supervisor will identify trainings necessary for the employees' development and work to accomplish those trainings throughout the year. 
Does the Tribe provide any of the trainings listed below to their employees?
Update Driver's license
No.  HR does work with Employment and Training and TERO to identify trainings that may be needed for possible employment barrier removal though. 
Safety Sensitive Information
Yes.  If the training is identified in the employees' annual Employee Development Plan (EDP). 
Update Employee contact information, in case of an emergency
Yes.  If the training is identified in the employees' annual Employee Development Plan (EDP). 
Blood Born Pathogen's training
Yes.  If the training is identified in the employees' annual Employee
Development Plan (EDP). 
Remote Access agreement – Telework agreement
Yes.  The Information Technology Program provides this training to employees when necessary. 
Safeguarding information – Telework agreement
Yes.  The Information Technology Program provides this training to employees when necessary.
Ethics Training
Yes.  If the training is identified in the employees' annual Employee Development Plan (EDP). 
Harassment Prevention
Yes.  This training has been offered by the Training and Organizational Development Program (TODM) quarterly in the past. 
Use of tribal resources
Yes.  If the training is identified in the employees' annual Employee Development Plan (EDP).
I would like to see a phone list of people in the office on the days they work.  Or Phone messages updated daily.  Nobody ever answer's their phones. 
During the government shutdown due to COVID-19 communications have been extremely difficult.   We have staff working unconventional hours, teleworking, and rotating shifts.  This admittedly does make it difficult to catch a specific person at their desks at times, but the health safety and wellbeing of our employees, tribal members and general communities are paramount.  We will try to do a better job of letting the membership know of in office hours and contact information for each program.  These could be listed on the Tribes phone directory under each program.
Will the CCT update their Disaster Plan to include resources, list of programs, phone numbers to contact?  If so, when will it be completed?
Yes, it will be updated, as this is a living document and should be updated on an annual basis by the Emergency Management Coordinator, Jim Nanamkin.  In 2021, Public Safety will establish a work group to re-evaluate the entire Comprehensive Emergency Management Plan (CEMP), once completed the CEMP will be made available on the Tribes website, this project should be completed no later than June 2021.
Does the Tribe have a 911 Procedure for the following:  How are Employee's accounted for in such situations?
Terrorist Threats/Suspicious Object /Bomb threats:
If you observe a suspicious object or potential bomb on premises, DO NOT HANDLE THE OBJECT! Leave the area and immediately contact the Emergency Coordinator and/or designated official.
Any person receiving a telephone call bomb threat should ask the caller?
When is the bomb going to explode?
Where is the bomb located?
What kind of bomb is it, (timed, fused, etc.)?
What does it look like?
Why did you place the bomb?
Keep talking to the caller as long as possible and record the following:
- Time of call
- Approximate age and sex of caller
- Speech pattern, accent, possible nationality, etc.
- Emotional state of caller
- Background noise
If possible, have someone contact 911 while you are on the phone with the caller. Otherwise, immediately notify the Emergency Coordinator and/or the designated official.
Employees are requested to make a cursory inspection of their area for suspicious objects and report the location to the Police. Again, DO NOT TOUCH ANY SUSPICIOUS OBJECTS!  Do not open drawers, cabinets, or turn lights off.
If the bomb threat threatens you or other employees, or if you are instructed to do so, evacuate the space by walking quickly to the nearest evacuation route, proceed to the evacuation point and await further instructions.
Generally speaking, building alarm systems should not be manually activated during bomb threat situations, unless done so by the Emergency Coordinator and/or designated official.
Following emergency evacuations, your designated place of shelter is the primary assembly point or alternate assembly point if the emergency is impacting your primary location. Proceed to your assembly point once instructed to do so by the Emergency Coordinator and/or designated official. Keep streets, fire lanes, and walkways clear for emergency vehicles and crews.
If requested, assist emergency crews as necessary.
A Command Post may be set up near the emergency site. Keep clear of the Command post unless you have official business.
IMPORTANT – DO NOT RETURN TO AN EVACUATED BUILDING until and unless told to do so by the Emergency Coordinator and/or designated official. And remember – during an actual emergency resulting in a building evacuation, HEADCOUNTS are to be performed at the assembly points, not the initial gathering point. Stay there until an accurate HEADCOUNT has been taken.
Active:  Threats/Active Shooter
Yes, Typically, the immediate deployment of law enforcement is required to stop the shooting and mitigate harm to victims.
Because active shooter situations are often over within 10 to 15 minutes, before law enforcement arrives on the scene, individuals must be prepared both mentally and physically to deal with an active shooter situation.
Good practices for coping with an active shooter situation:
Be aware of your environment and any possible dangers
Take note of the two nearest exits in any facility you visit
If you are in an office, stay there and secure the door
If you are in a hallway, get into a room and secure the door
As a last resort, attempt to take the active shooter down. When the shooter is at close range and you cannot flee, your chance of survival is much greater if you try to incapacitate him/her.
CALL 911 WHEN IT IS SAFE TO DO SO!
HOW TO RESPOND WHEN AN ACTIVE SHOOTER IS IN YOUR VICINITY
Quickly determine the most reasonable way to protect your own life. Remember that visitors are likely to follow the lead of employees and managers during an active shooter situation.
Evacuate. If there is an accessible escape path, attempt to evacuate the premises. Be sure to:
- Have an escape route and plan in mind
- Evacuate regardless of whether others agree to follow
- Leave your belongings behind
- Help others escape, if possible
- Prevent individuals from entering an area where the active shooter may be
- Keep your hands visible
- Follow the instructions of any police officers
- Do not attempt to move wounded people
- Call 911 when you are safe
- Hide out. If evacuation is not possible, find a place to hide where the active shooter is less likely to find you. Your hiding place should:
Be out of the active shooter's view
Provide protection if shots are fired in your direction (i.e., an office with a closed and locked door)
Do not trap yourself or restrict your options for movement
To prevent an active shooter from entering your hiding place:
Lock the door
Blockade the door with heavy furniture
If the active shooter is nearby:
Lock the door
Silence your cell phone and/or pager
Turn off any source of noise (i.e., radios, televisions)
Hide behind large items (i.e., cabinets, desks)
Remain quiet
If evacuation and hiding out are not possible:
Remain calm
Dial 911, if possible, to alert police to the active shooter's location
If you cannot speak, leave the line open and allow the dispatcher to listen
Take action against the active shooter. As a last resort, and only when your life is in imminent danger, attempt to disrupt and/or incapacitate the active shooter by:
Acting as aggressively as possible against him/her
Throwing items and improvising weapons
Yelling
Committing to your actions
HOW TO RESPOND WHEN LAW ENFORCEMENT ARRIVE
Law enforcement's purpose is to stop the active shooter as soon as possible. Officers will proceed directly to the area in which the last shots were heard.
Officers may wear regular patrol uniforms or external bulletproof vests, Kevlar helmets, and other tactical equipment
Officers may be armed with rifles, shotguns, handguns
Officers may use pepper spray or tear gas to control the situation
Officers may shout commands, and may push individuals to the ground for their safety
How to react when law enforcement arrives:
Remain calm and follow officers' instructions
Put down any items in your hands (i.e., bags, jackets)
Immediately raise hands and spread fingers
Keep hands visible at all times
Avoid making quick movements toward officers such as holding on to them for safety
Avoid pointing, screaming and/or yelling
Do not stop to ask officers for help or direction when evacuating, just proceed in the direction from which officers are entering the premises
Information to provide to law enforcement or 911 operator:
Location of the active shooter
Number of shooters, if more than one
Physical description of shooter/s
Number and type of weapons held by the shooter/s
Number of potential victims at the location
Notes: The first officers to arrive to the scene will not stop to help injured persons. Expect rescue teams comprised of additional officers and emergency medical personnel to follow the initial officers. These rescue teams will treat and remove any injured persons. They may also call upon able-bodied individuals to assist in removing the wounded from the premises.
Once you have reached a safe location or an assembly point, you will likely be held in that area by law enforcement until the situation is under control, and all witnesses have been identified and questioned.
Do not leave until law enforcement authorities have instructed you to do so.
Fire Drill's
Assembly Area: After exiting the building, all faculty, staff, and visitors should follow the evacuation route to the pre-arranged assembly area. All points should be at least 300 feet from the incident scene.  The assembly area is the initial location to complete an initial accounting of building occupants and to determine if another location is more appropriate.
Assembly Area #1: BIA Parking Lot
Assembly Area #2: Parade Grounds
Assembly Area #3: Trading Post Parking Lot
Overdose in the workplace – Narcan on hand
Within in the Public Safety Division the Emergency Medical Services, Department of Corrections and Law Enforcement personnel have been trained to administer NARCAN and can do so in the event that an employee, a patient, a detainee or an arrestee were to overdose.
How can emergency vehicles and heavy construction equipment be considered an emergency need?
The response to this question is dependent on the particular scenario or natural disaster the Tribes is dealing with at the given time.   
I think building tiny homes would benefit our Tribe.  Especially those folks just starting out and the homeless.  This would also be a great training opportunity to learn new job skills in construction, plumbing, electrical, carpentry and aspects of home building.  TERO (I am Inchelium Commissioner) has had basic courses in building construction for job skills and these were taught by professional carpenters.  My question:  What does the CBC think of starting a company in building tiny homes?  These could also be sold outside the Reservation.
Members of the Business Council held meetings to address the homeless on our reservation.  We reached out to tribes that built tiny homes or homeless shelters.  Marvin Kheel, Inchelium Council member also scheduled a meeting and tour of the homeless shelters in Spokane, WA.  This meeting was attended by the Chairman and Marvin.  The information shared by other tribes and the meeting in Spokane were very informational.  
Other tribes said they ran into several issues, such as mental and substance use disorders, trauma and violence, domestic violence, justice-system issues, child abuse, other disabilities, and body-lice etc.  They stated the placement of these shelters/homes is critical.  Many of the homeless need strong behavioral health support.  They also need to be routinely monitored by Law Enforcement.  Since putting these tiny homes/shelters in place they have had to deal with partying, drug and alcohol use, theft, harassment, and assault. 
In Spokane they have a shelter for men, one for women, one for families, and one that is over-night with minimal entrance requirements for when temperatures drop to life-threatening levels.  By law, these homeless shelters must report any homeless minors.  Because of this youth are one of the most challenging populations, simply because they do not want to be turned in to authorities.  Homeless populations include families with minor children.  We cannot just open a house and allow the homeless to stay there without planning, research, and documentation.  This information is required to develop a program and seek funding.  In Spokane, the primary objective is for transitional or supportive housing and homeless shelters to help stabilize people through a range of essential recovery support services, including mental and substance use disorder treatment, employment, and mainstream transition. 
The Planning Department Director completed a report of the housing needs on the Colville Reservation.  TERO and CIHA Programs have also addressed homeless issues.  The have also explored the development of Tiny Homes as an industry, supported by training our tribal members.  Tribal Health Division, the Diabetes Program, Planning, WSU Extension, Education Division & Nespelem School, I.H.S., and tribal members have provided information or engaged in these meetings.
The Colville Tribe and our programs need to develop a business plan to explore funding and seek additional expertise to form a meaningful skills training venture in building both tiny homes and "short term shelters". CIHA has begun the exploratory phase of what a tiny home or otherwise 
called "tiny self-contained" structure involves. The distinction is important for obvious reasons, as a shelter which is constructed with considerably basic materials and size. It would be put together and vary for what the immediate needs require.
CIHA has discussed a partnership with TERO to organize a demonstration project to develop a work force where these types of projects would be invaluable and produce the next generation of construction tradesman. Law Enforcement, Tribal Planning and our Tribal Health Division need to be involved for a more in-depth analyses to determine and plan for the best locations to have these type of ventures and what services and programs are needed for the short and long term planning to accomplish these goals. The most important consideration and outcome is that we build a workforce and provide the resources to address our homeless population and explore the feasibility of producing "tiny homes."
BUSINESS COUNCIL
Why is the Ethics Committee not separate from the council?  Why does the chairperson have a vote, contrary to the constitution?  Why are there no published reports of decisions being made on the tribal members' behalf?
Ethics issues Councilmembers may encounter are addressed by the Colville Business Council and its Committees because this is required by the Constitution of the Tribes. Article II section 7 of the Constitution says, "The Business Council of the Confederated Tribes of the Colville Reservation shall be the sole judge of the qualifications of its members." No other entity is given such power. Article IV section 1 of the Constitution explicitly empowers Council to declare a position on Council vacant and to appoint a replacement. Article IV section 2 authorizes Council to decide on expulsion of a Councilmember and notes that, "The decisions of the Business Council shall be final." Article IV section 3 tasks Council with oversight of petitions to recall a Councilmember.
Council passed Chapter 1-8 of Tribal Code, the Council's Code of Professional Responsibility. This Code section establishes processes and rules by which Council may address ethical issues. Chapter 1-8 is currently being amended; the proposed new version may be found at https://www.colvilletribes.com/news-room?p. The comment period is still open to any tribal member with thoughts to share on these new proposed rules.
The Chairman should at least keep us informed of Tribal Affairs?
Resolution 1990-11 outlines the duties and responsibilities of the Executive Committee of the Colville Business Council.  The Chairman is responsible for presenting the official position of the Tribes to news media and other agencies.  He is the primary spokesman for the Council.  
From the date of the last annual membership meeting until now, Chairman Rodney Cawston has issued thirty-four (34) media releases. These media releases are accessible through the Colville Tribes' webpage at www.colvilletribes.com at the very bottom of the home page under a tab called "News room." Chairman's media releases are separated under the orange button titled "Colville Council (Press Releases)."
The Tribes works with Meltwater, the first online media monitoring company, to track and monitor media exposure and its potential reach.  The Colville Tribes, its Chairman, or its members have been mentioned in the media approximately 1,570 times this year with a potential reach of 1,840,000.  The majority of mentions were neutral or positive in nature.  Top sources include The Star online newspaper, the Omak Chronicle, and the Spokesman Review. 
Why can't we get Reservation wide voting put on a ballot for all members to vote on since it seems an overwhelming number of our members want this. 
The Constitution of the Confederated Tribes of the Colville Reservation provides for elections based on districts. Article II section 2 of the Constitution provides that, "The Business Council shall consist of fourteen (14) Councilmen to be elected from the districts as set forth hereafter." Article II section 3 designates the four districts and the number of representatives from each district to serve on Council. Article II section 6 requires a candidate for Councilmember to reside in the district of their candidacy for a period of a year prior to the election. Article III section 1 of the Constitution provides that the candidates receiving "the highest number of votes in the . . . districts" shall serve. Reservation-wide voting would not be consistent with the emphasis the Constitution places on district-based representation.
According to the CCT Constitution Article VI section 1&2 there are two ways to get a constitutional amendment.  
The CBC can by a 2/3rds vote (9 members) call for a referendum vote.   This option must have at least one councilman from Inchelium and Keller vote in affirmative to get 9.  Inchelium and Keller districts traditionally have not supported this amendment  so the likelihood is slim to none of this option
–OR- 
The membership can petition for a referendum vote with signatures of 1/3 of the eligible voters who were 18 or over at the last election.   This must be accomplished within a window 180 and 90 days prior to the general election, and as of the June 2020 election will require 2,437 verifiable signatures.
Article VI—Amendments 
Section 1—Constitution and By-Laws Amended by Majority Vote: This Constitution and By-Laws may be amended by a majority of the qualified voters of the Confederated Tribes voting at an election called for that purpose. Provided, that the Tribal Council shall have adopted the amendment by a two-thirds (2/3) vote, but no amendment shall become effective until it shall have been approved by the Commissioner of Indian Affairs.
 Section 2—Petition for Amendment: The tribal membership is granted the power to cause to be placed upon the General Election ballot for a vote of the membership amendments to the Tribal Constitution and By-Laws by filing with the Colville Business Council a type-written petition stating the exact wording of the proposed amendment, signed with valid signature and enrollment number and date of signature by at least one-third (1/3) of the enrolled tribal members who were eighteen (18) years or older at the last past General Election. The proposed amendment as contained in the petition shall be placed on the ballot at the next General Election if the Business Council finds that there are sufficient verified signatures on the petition as provided in this section. 
The petition shall be received by the Business Council at least ninety (90) days prior to the next scheduled General Election. Any petition submitted less than ninety (90) days before the next General Election shall be void for all purposes. Delivery shall be made within normal business hours to the tribal Chairman at Nespelem, or in the absence of the Chairman to any other Business Council member or Business Council staff at Nespelem. Provided, that no signature shall be valid which is dated more than 180 days prior to the submission to the Business Council of a valid petition containing all signatures. Within sixty (60) days of the adoption and approval of this amendment, the Business Council shall adopt VI by ordinance procedures necessary for implementation of this amendment, including procedures for verification of signatures and petitions. (This section amended, Constitutional Amendment VIII) (Approved by the Confederated Tribes, July 3, 1984) (Approved by the Secretary of the Interior, August 8, 1984).