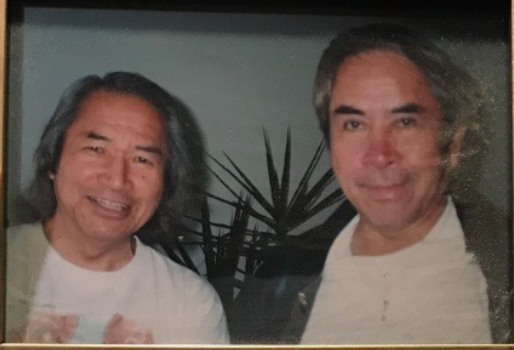 Lawney Reyes needed a job. It was the 1950s and he had to drop out of the University of Washington to support his wife and child. His friend Bob Satiacum had a job for him, but it wasn't exactly one to bank a future on. 
Deal was Satiucum would loan Reyes a canoe, teach him how to fish with drift nets and they could make money.
"Look around," Satiacum said. "If you don't find anything, you can fish with me." 
Reyes' job hunt was unsuccessful, so he found himself on the Puyallup River, armed with a pistol. Satiacum packed a 12-gauge shotgun in a time where the fight over salmon was contentious between whites and other races — but especially Indians. There was a lack of support for them, despite treaties that supposedly protected their rights. 
As Reyes described it, he had to quit because of the uncertainty that he'd make it home alive. But it turned out to be the perfect fit for his younger brother, Bernie Whitebear, whom his friends called "Bear."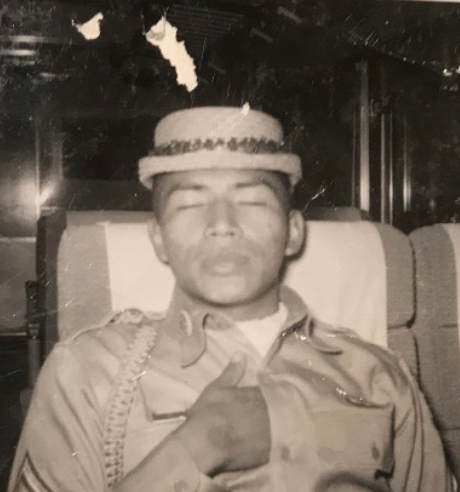 Reyes said his brother's activist spirit, which changed Seattle-area urban Indians' lives for the better, was sparked on the water. Whitebear got a first-hand account of how Indians were treated and the lack of support available in the region. 
Over seven years of fishing together, Whitebear and Satiacum developed a bond that led them to become champions of Indian rights in the state (though the latter became the riddled with controversy thereafter). Together, they developed a plan to invade Fort Lawton in 1970 with the goal of using the Right of Discovery to attain a portion of the military's surplus land for the Indians of the area to build a community center. 
"Bernie, he realized a lot of Indians were moving to Seattle," said Reyes, who wrote a book titled "Bernie Whitebear: An Urban Indian's Quest for Justice." "He knew they needed help. He said, 'Two things Indians need in a big city is land of their own, and then they need health care.'" 
Whitebear saw both of those visions realized prior to his death from colon cancer in 2000 at age 62, and is now a notable figure in the city's history.
SIHB, FORT LAWTON, AND THE DAYBREAK STAR
Though the late 60s and early 70s are part of the era Whitebear's most known for, it was a 1961 powwow that really started getting him attention.
"Bernie threw the first big powwow in Seattle at the masonic temple," Reyes said. Though he would go on to host dozens more in his lifetime, that initial event "was the best one he ever threw, because a lot of white people came to see it."
He worked a job at Boeing until he resigned to devote time to an idea for a clinic for the Indians to be developed. It was established as the Seattle Indian Health Board, a non-profit that hired Whitebear in 1970 to be the first executive director.
"They needed a spokesman who was Indian," Reyes said. "They talked him into being the first director. He said I'll do it for one year, and he did. And he had good help. But his focus was on acquiring land."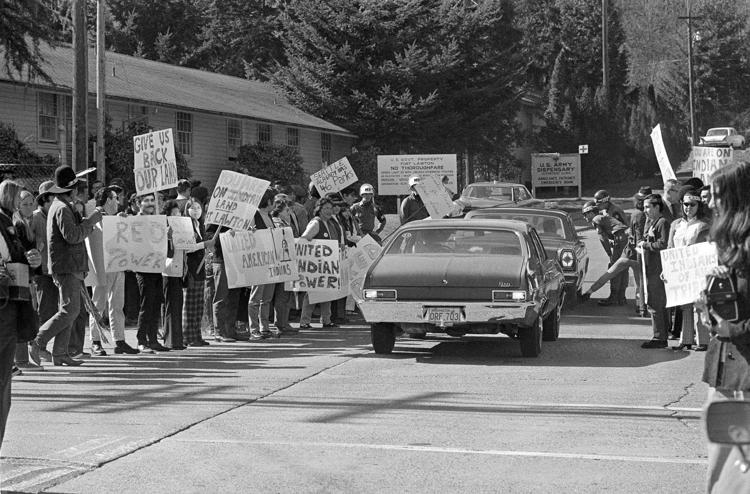 It was March 8, 1970, when Whitebear and nearly 100 people confronted military police in riot gear at Fort Lawton. The Army came back at them with force, arresting many and placing them in the stockade. Upon their releases, the Indians continued to invade the fort, which gained support of locals, anti-war groups and actress Jane Fonda. The group camped for months despite the attempts.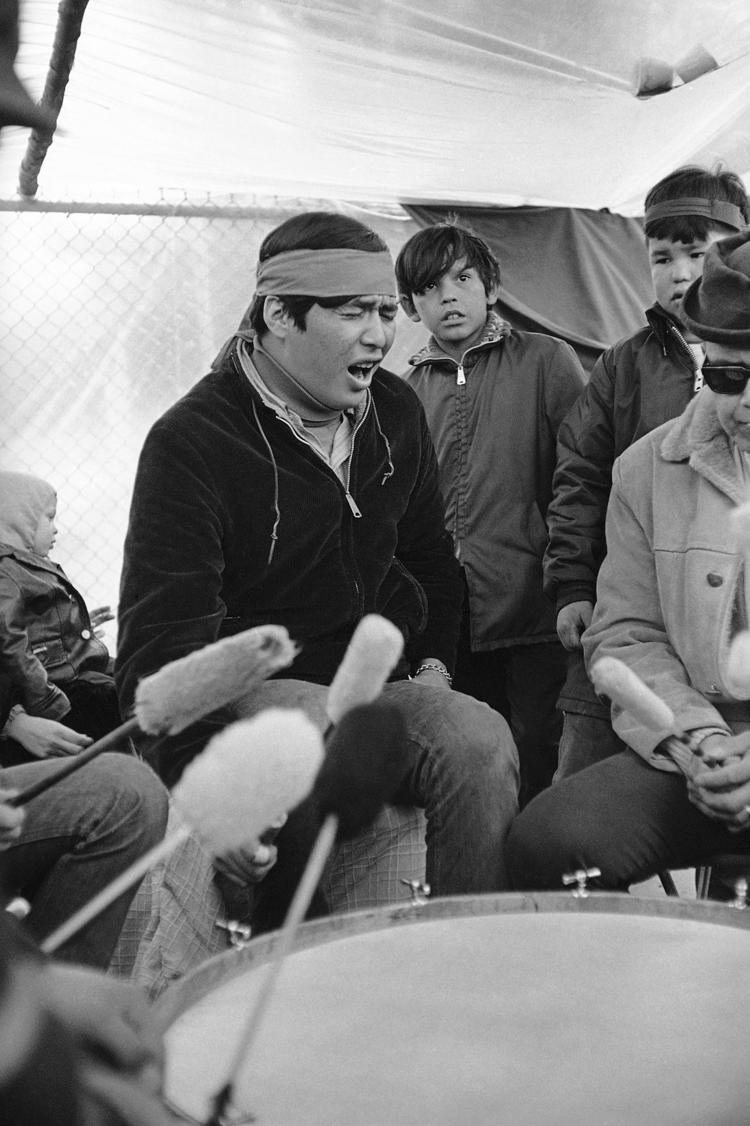 After establishing the United Indians of All Tribes Foundation (UIATF) the group filed to acquire some of the surplus land. In November of 1971, after negotiations, Native Americans were granted 20 acres with a 99-year lease on what is now known as Discovery Park. In 1977, the $1.25 million Daybreak Star officially opened. Today, it offers assistance for Early Childhood, Parent Involvement, Foster Care/Indian Child Welfare, Employment Support, Homelessness Prevention, a youth home, and a Native Elders program, according to its website.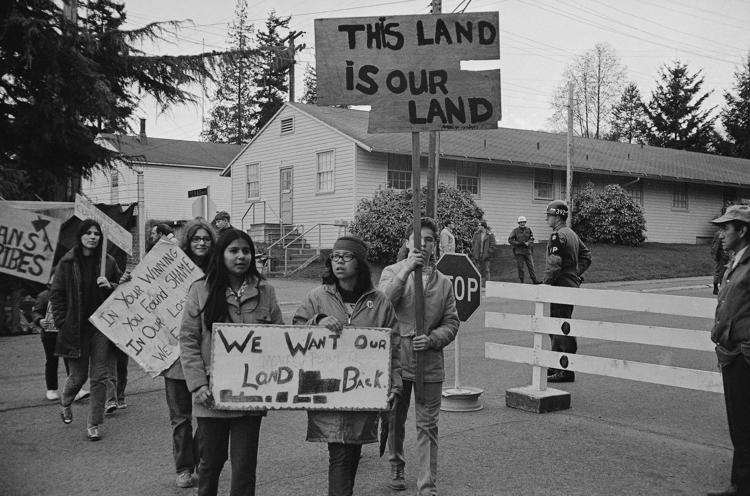 Whitebear's legend in the area grew in Seattle after they successfully acquired land.
"At first I was surprised," Reyes said. "Then I saw the number of Indians that were here supporting him from different tribes. I was surprised to see the loyalty they'd given my brother. These young Indians would follow him anywhere. A lot of them ended up in the stockades."
Though he was born and raised on the Colville Reservation, urban Indian activism was Whitebear's calling, Reyes said.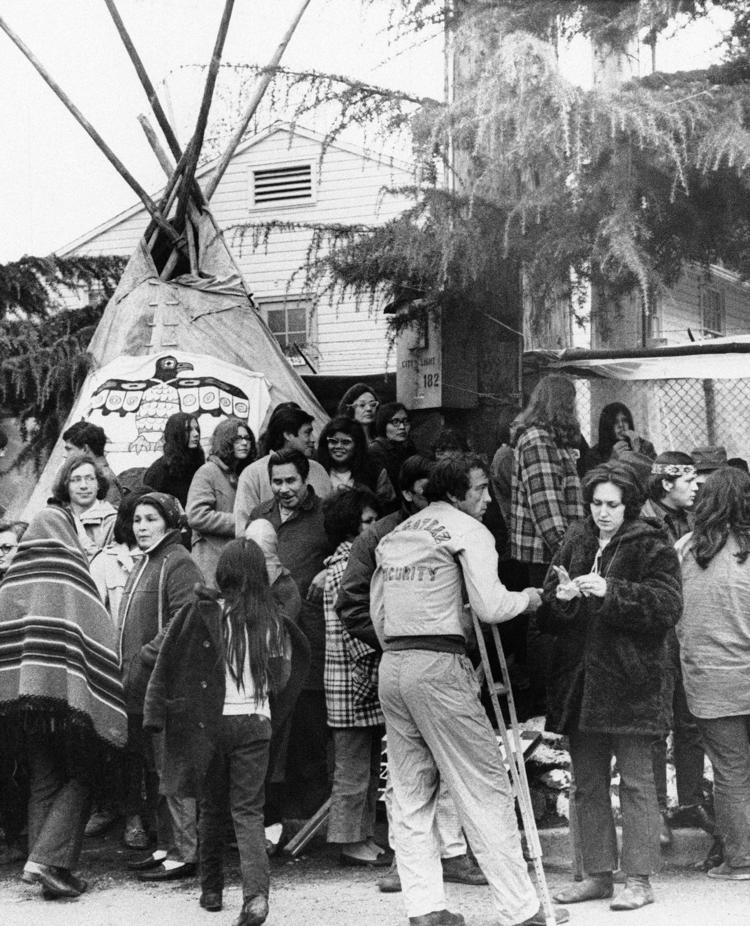 "He was pretty happy here," said his older brother, who became a renowned artist and interior designer in the city. "He had a lot of Indians here supporting him."Reyes said senators Scoop Jackson and Daniel Inouye played an important role in Whitebear's fundraising for the Daybreak Star's beginning. 
"Bernie got a lot of money from D.C.," Reyes said. "He had the ability to raise big money. Half million here, and so on. That's what it takes to keep that thing going."
Whitebear was the first executive director when it opened in 1977 and served until his death. Though he saw two of his visions become reality, one project left hanging after his death was the creation of "The People's Lodge." The 123,000-square-foot idea was going to be the main attraction on the acquired land, with a 4,500-person auditorium planned; a banquet hall for potlatch ceremonies; an archive; and a Hall of Fame-type area which could commemorate Native American leaders for all time. 
Even after a terminal cancer diagnosis and being told to go home and rest, Whitebear would go back to the Daybreak Star and continue working on his plans for the People's Lodge.  
 THE BEGINNING, THE END, AND AFTER
Whitebear, born Sept. 27, 1937, was the son of Mary (Christian) Wong and Julian Reyes, a Filipino immigrant who made his way to the Colville Reservation. He was born, like many Colville members in that era, at the Colville Indian Hospital in Nespelem.
His mother named him Bernard after his great-uncle, Chief James Bernard, one of the last Sinixt chiefs. Though Inchelium was their primary home, Whitebear's parents traveled for work opportunities, such as orchards or lumber mills.
"We were dirt poor," Reyes said. "As a family, we were really tough. We had to tighten our belts."
Reyes recalls the family dieting in the winter on rainbow trout at Twin Lakes, while living in a tent. 
"The reason we were there, my dad knew he could get the rainbow," Reyes said. "In the old days, you could drive a car on Twin Lakes, the ice was so thick. We grew tired of eating fish."
When he was just a toddler, the family moved from Inchelium to B Street in Grand Coulee, where they ran a Chinese Restaurant. That journey was featured in Reyes' book titled "B Street."
When his parents separated in 1939, the children separated. Lawney and Luana were sent to Chemawa Indian School, while Bernie went to live with his foster grandparents, the Halls, in Inchelium.
Eventually, he wound up with his father again, as did the other children. They all attended high school in Okanogan. In the 1950s, Indians were treated poorly, as his brother Lawney recalled. Some parents didn't approve of their children socializing with or dating an Indian, Reyes said. 
For the next nearly half a century, Whitebear lived off the reservation. He was diagnosed with colon cancer in the fall of 1997.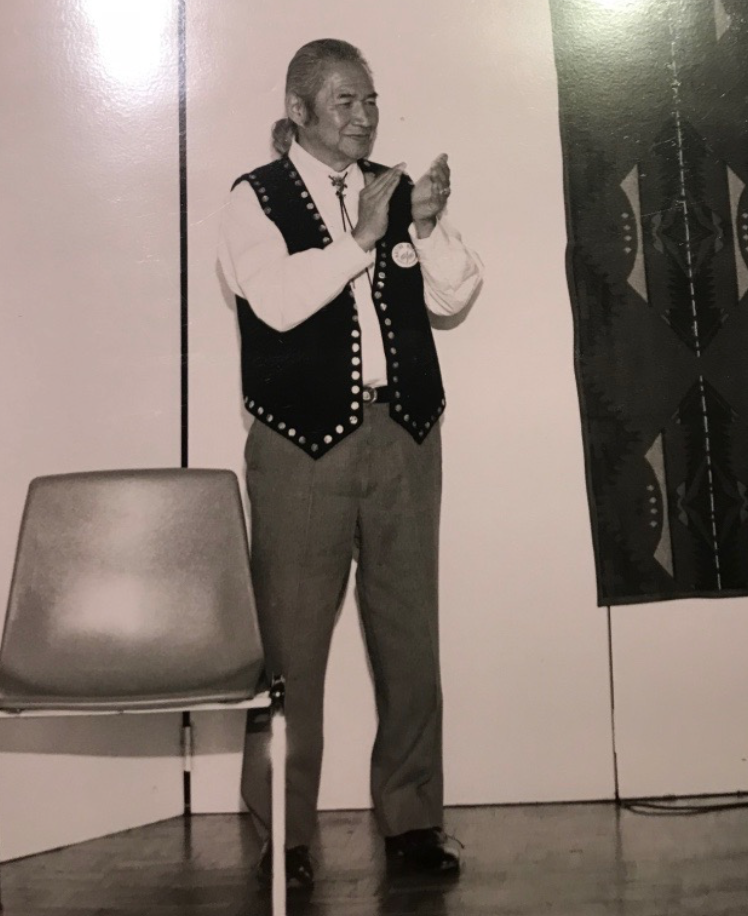 Gov. Gary Locke named Whitebear "citizen of the decade" and even made October "Bernie Whitebear month" in the state of Washington upon learning of the diagnosis.
Around the time of his death, the Associated Press checked on his health every day he was in the hospital, Reyes recalled. After he walked on, the Seattle Times ran front-page stories for two consecutive days on Whitebear's impacts.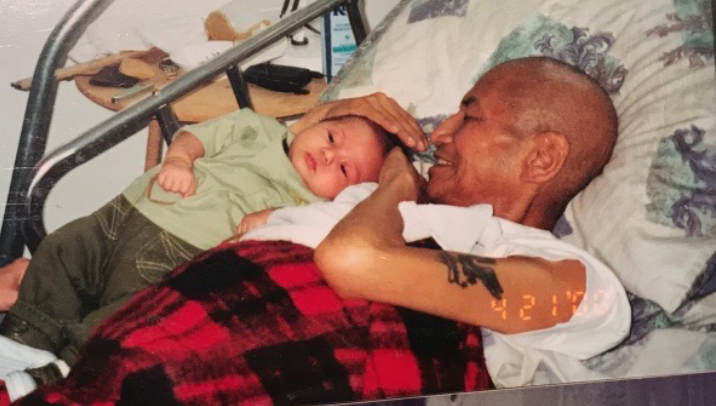 Native author Vine Deloria, Jr. said Whitebear was the most important Indian of the last century. "No one helped more Indians in need in the last century than Bernie Whitebear."
Then-mayor Paul Schell credited Whitebear with being an "edge-walker, someone who could cross cultures, explain and inspire without ever sacrificing his own identity. He was able to build a cultural community and, thanks to him, there is a clear respect and understanding of the first Americans here."
King County Executive Ron Sims called Mr. Whitebear's death an "incredible loss." "He was a remarkable figure in Seattle's history," Sims said. "We have a rich culture and he was one of the crown jewels."
A funeral service was held in Seattle before his actual burial at Pia Mission — the same cemetery his mother Mary, sister Luana Reyes and namesake James Bernard are buried. In Seattle, 24 motorcyclists escorted his body from the Seattle Convention Center to the Daybreak Star, including more than a dozen motorcycle cops.
When he started his mission to stand up for Native rights in Seattle, he had no support from the city of Seattle. The mayor would not even meet with him, Reyes recalls.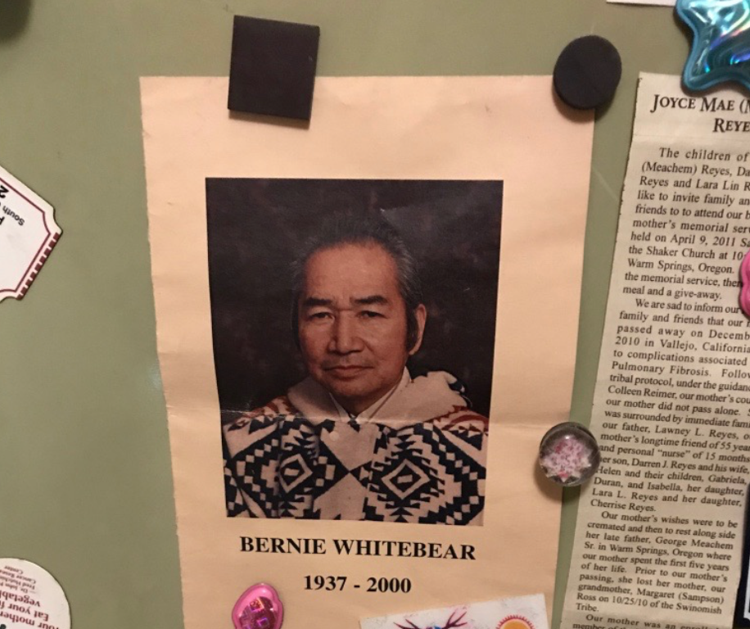 The tone toward Indians had changed drastically by the time of his death. In 2011, then-Mayor Mike McGinn held the sign up high at the announcing of the renaming of the Daybreak Star road to Bernie Whitebear Way during the annual powwow there in 2011.
"The government that Bernie Whitebear fought against, now honors him," McGinn said.
In the last decade, even more has been done in Whitebear's name. The eleventh floor of King County's Chinook Building on Fifth and Jefferson was named in his honor. An annual award is also given in his name by the United Indians of All Tribes Foundation.
The award states: "Bernie Whitebear dedicated his life to celebrating traditional and modern Indian ways and to challenging outsiders' perceptions. He is best remembered for leading the takeover of the land where the Daybreak Star Indian Cultural Center now sits, and for founding United Indians of All Tribes Foundation to ensure that the urban Indian community will always have a cultural home. In Bernie's honor, each year we recognize one individual who has made a difference in our community through perseverance, commitment, passion and love for our people and community."
Reyes, 87, still lives and drives in the Seattle area. It's common for him to take a trip down to China Town, where he and his brother would meet and visit. Sometimes it brings back good memories.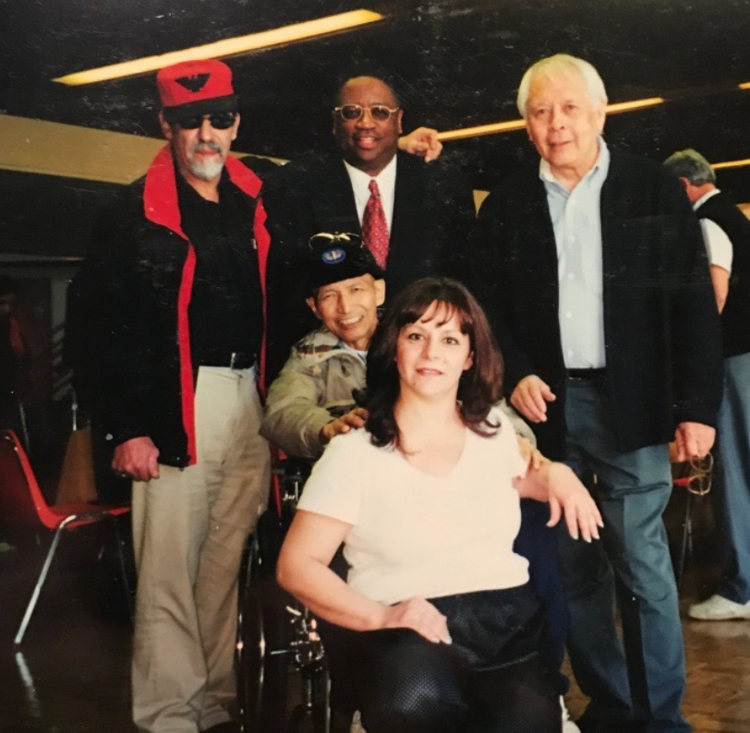 "I'm very proud of him," Reyes said. "In a way, he did something that a lot of our forebears did in their days, like James Bernard. I was very pleased he got the recognition he did.
"He didn't want Indians to go through the life he went through. He wanted them to have a better life. I think that's the reason he did so much for the United Indians."