SINIXT TRADITIONAL TERRITORY - There's sad irony in the fact the U.S.-Canadian border has been closed due to the COVID-19 pandemic since March, locking out many Sinixt from their traditional homelands in British Columbia, yet the Supreme Court of Canada is reserving judgment on a landmark case that determines those members' very right north of the border.
Driving up on Washington's State Route 25 that winds along the river and passes the traditional Kettle Falls fishery, one can imagine the free passage of Sinixt peoples through the region with the seasons, passing from north to south and back.
Recently, both countries announced the closure would stay in place at least until Oct. 21, but for now, the closure remains and the Sinixt residing in the United States are withheld from their traditional lands north of the border.
North of the border, the Sinixt were declared extinct in 1956 by the government of Canada, but court records show that approximately 4,000 Sinixt descendants currently live as part of the Confederated Tribes of the Colville Reservation. With the border still closed, the inherent aboriginal right of those Sinixt descendants stands in question as part of the court case, Her Majesty the Queen v. Richard Lee Desautel, that went in front of the Supreme Court of Canada, Oct. 8.
Through special exception working with Canada, only a few tribal members were able to travel to Ottawa - including plaintiff Rick Desautel, tribal elder Shelly Boyd and tribal member and documentarian Derrick Lamere. Those three travelers were forced to travel to Canada in mid-September and quarantined for 14 days before traveling from Sinixt Territory in British Columbia across the country, though even then they were unable to sit in on the hearings in the Supreme Court.
The rest of the tribal membership was unable to travel, but their spirits were there, they said.
"We're there in Ontario with our family, and we are here with our family as a distinct nation in control of our destiny, and our destiny is based on our culture, our traditions and our customs," said tribal elder Yvonne Swan at a gathering at the sharpening stone near Kettle Falls. "We were given the right by our creator, ḱʷəĺəncútən, to take care of this part of Mother Earth … Our original instructions are to take care of each other, take care of our way of life, take care of the land, the water. I was told that our traditional road is north and south. We traveled from here in the summer to up north in winters. We gathered food. We did what we were told and taught. This imaginary border was thrown across here, and our people were scattered … We are here today because [our ancestors'] prayers. We walked on their prayers, and we did the best we could in spite of all the opposition."
The Colville Business Council hosted a viewing of the historic hearing in the Colville Tribal Chambers in Nespelem. 
In Inchelium, CBC Chair Rodney Cawston and Inchelium district CBC members Joel Boyd, Roger Finley, Richard Swan and Marvin Kheel joined approximately 25 community members at the community center. They watched the hearing on a projector set up by the Colville Tribal Information Technology Department in a makeshift computer lab set up for students and community members affected by COVID-19.
The community served breakfast of pancakes, sausage, ham, gravy, biscuits, fruit, tea and coffee, hospitality unique to the small Colville Reservation town of Inchelium.
The hearing started in Ottawa at 9:30 a.m. EST, which was 6:30 PST, on the Colville Reservation.
"We have a story about our people and where we were placed by our Creator," said Cawston, speaking at the sharpening stone. "That is a very strong teaching of our people. This country, this is where we were placed. This is our country, and all the things in this earth around us were placed here by our Creator for us to live with. We didn't try to control our environment. We lived with our environment, and our environment, the natural world, took care of us. We respected that. My grandmother and my dad would tells us captíkʷəɫ means a lot more than just stories, it's the ways of our people. It's the Creator's laws in many ways, one of which, as I said, said this is where we were placed. There is nobody else who can tell us where our land is, where we belong, and what we call ourselves. Those rights were handed down to us by our Creator and carried down through all these generations of our ancestors and our elders."
Following the hearing, approximately 75 tribal members gathered at the sharpening stone near Kettle Falls to pray and sing. Many then traveled to the Waneta border crossing near Northport to sing again yards from the boundary, looking from traditional lands in the United States at unaccessible traditional lands in Canada.
"Our ways are getting more and more difficult for us, more and more challenging, because we are losing so many resources," said Cawston. "We are having to fight for our rights still today in the courts. When we listen to them and their definitions of how they feel about what our culture is and where we have a right, they think we have to meet all these conditions, but our culture predated contact, our culture and our ways. We have ways we can prove that and demonstrate it to the courts.  I sit back and it angers me that when we get into situations like this. Here we are in our country again, trying to convince somebody who isn't from here, who's laws aren't our laws, who's language isn't our language… I hope there is a candle, a fire lit, under our children. Some day, I don't know what our future is going to be like, but there will be a day and a time it will be up to them."
The hearing in front of the Supreme Court of Canada comes as part of a decade long court fight.
In 2010, Desautel was charged with hunting elk as a non-resident, without a license after a hunting trip near Castlegar, British Columbia, which falls within the heart of the Sinixt traditional territory.
Following a lengthy trial held in Nelson, B.C. in the fall of 2016, Desautel was acquitted of all charges and British Columbia Provincial Court Judge Justice Lisa Mrozinski upheld that Sinixt hunting rights endured to the present day and were constitutionally protected.
Two subsequent appeals by the Crown were dismissed by the British Columbia Supreme Court and the British Columbia Court of Appeals.
In their hearing in front of the Supreme Court of Canada Oct. 5, the Crown argued the lower courts had committed two errors in their rulings.
Said Crown attorney Glen Thompson in his opening, "The first error is simply this: The courts below applied the 1996 case Queen V. Van der Peet for who or what may be an aboriginal peoples of Canada. Van der Peet is not the correct test. That was an error. The second error is this: The courts below interpreted Section 35 of the Constitution Act of 1982 as though the geographic qualifier 'of Canada,' the language found in Section 35 that includes those two words 'of Canada,' they interpreted that as if it did not exist. That is also an error."
About their first submission of the appeal, Thompson argued the Van der Peet case, which is widely known as the leading case on aboriginal rights in Canada, did not aptly develop precedence applicable for the Sinixt case as Desautel and his fellow descendants enrolled in the Washington based Colville Confederated Tribes do not reside in Canada.
"Van der Peet does not address who or what is an aboriginal peoples of Canada, it simply addresses what rights fall within the scope of Section 35, not who the rights holders may be or who the rights may be exercised by. "
But Supreme Court member Hon. Malcom Rowe pushed back by asking, "Isn't it simple what the B.C. Court of Appeals said? Those communities and nations who were encountered by Europeans at contact had rights, some of which were preserved to greater or lesser degree. Those that were the successors of the groups who were present in what is now Canada at first contact, in a sense the rights flow through to them, and whether they are on one side of the border or the other side of the border, they are successors. By virtue of being successors, they hold the rights. Is it any more complicated than that and does that not flow from the general statement of the succession of rights set out in Van der Peet?"
Thompson responded emphasizing the Sinixt status in the U.S.: "I agree with you Justice Rowe that what the courts essentially say just that, the successor group is entitled to hold the rights. The difficulty is when you apply Van der Peet. Van der Peet doesn't address the question of the location of the successor group in the same way that would take account of the different dimensions that occur in this case. It's correct that they are saying all you need is a modern day community. A modern day community in accordance with the way the courts have adjudicated it suggests that modern day community could be located anywhere. In our submission here and what we are suggesting is that you must have a modern day community that is within the nation of Canada. It is not sufficient to say you have a modern day community that is located elsewhere."
In Thompson's argument, the Crown argues lower courts failed to answer what he called a "threshold question."
"If you look at Section 35 and the language, particularly the language in Section 35-1, which states 'the existing aboriginal and treaty rights of the aboriginal peoples of Canada are hereby recognized and affirmed.' Now the first part of that phrase does have to be read together, but what it does say is this existing aboriginal or treaty rights are held by or belong to aboriginal peoples of Canada. So that raises two questions, not the one that Van der Peet asks. The first question, the threshold question, is simply this: Is the claimant indigenous group an aboriginal group of Canada and thereby eligible to be recognized under Section 35 of the act? If the answer of that question is yes, then you move to the question the courts below answered. If the answer is yes, does the claimant group meet the test in Van der Peet to be considered an aboriginal peoples protected by Section 35. The courts refused to engage in this threshold question."
Thompson's colleague Crown attorney Holly Cochran further argued the second part of the appeal.
"Our position is that Section 35, proposedly interpreted, and by that I mean in an interpretation that has regard to the text, the context and the history of Section 35, including its legislative history of Section 35, leads us to the conclusion that Section 35-1 does not include within its scope indigenous groups that are wholly located within the United States, like the Lakes Tribe."
The Hon. Sheilah L. Martin asked, "My understanding of what you're putting forward is that the asserted aboriginal right has to be held by some kind of successor collective that is resident in Canada… I would like to ask you do we take into account under that analysis the history of the peoples involved? My specific question, to put a point on that, is that the Arrow Lakes Band were declared extinct when the last member died in 1956 or 57. Do you say then that was the time in which this group was no longer an aboriginal people of Canada when their last member died here? How do we deal with the movement of aboriginal peoples across borders and the reasons for their movement? I want you to address that."
In response, Cochran said, "I would wholly agree with you that in order to establish an aboriginal right you need a successor group. In order to establish a constitutionally protected aboriginal right our position is that yes that aboriginal community needs to be located inside Canada's borders. Mr. Thompson has already alluded to the possibility, which we acknowledge, that an indigenous group that is now located outside Canada's borders, like the Lakes Tribe, but has that historic connection to a community that was located inside B.C. at time of contact, and that's very important, and we do not discount any of that history, but the way that we acknowledge it, and the way that we say it is acknowledge in this court's wealth of aboriginal rights juris prudence is to acknowledge the Lakes Tribes may hold a common law right but it was not elevated to constitutional status." 
Cochran moved to the text of Section 35 of the Constitution Act, 1982, which provides constitutional protection to the indigenous and treaty rights of indigenous peoples in Canada.
"This court has not addressed specifically what the words 'of Canada' mean and what work they do," said Cochran. "Looking at Section 35 in it's entirety here. You'll see right off the bat that the words 'Aboriginal Peoples of Canada' is not used only in section 35-1, which is the provision immediately at issue, but also in big bold capital leaders in the heading of part two, 'Rights of the Aboriginal Peoples of Canada.' Subsection one of 35 of course states the existing aboriginal and treaty rights of the the aboriginal peoples of Canada are hereby recognized and affirmed. So we would submit what that is doing is it constitutionalizing all the common law rights that were in existence in 1982, that are held by the aboriginal peoples of Canada. That's a possessive phrase there. Subsection two includes a definition of 'aboriginal peoples of Canada.' It states in this act aboriginal peoples of Canada includes Indian, Inuit and Métis peoples of Canada. It simply repeats the phrase 'of Canada.'"
"It actually says 'includes,' which sounds non-exhaustive," said the Hon. Andromache Karakatsanis.
"Yes, it says 'includes,' which is non-exhaustive," said Cochran. "I would say it is non-exhaustive, in that it may include groups other than the Indian, Inuit or Métis peoples, it may include other groups…"
"Of Canada," interrupted the Hon. Russell Brown. 
"Exactly," said Cochran. 
"The Indian, Inuit or Métis Peoples of Canada," said Brown, "I'm not sure what this gets you. Does the non-exclusivity apply to the Indian, Inuit and Métis peoples or does the non-exclusivity apply to the Indian, Inuit and Métis peoples of Canada?"
"I say it's the latter, and it gets us very far," said Cochran. "We know legislative drafters were very deliberate in their word choice and in the grammatical arrangement of those words, so I say the repetition of the phrase 'of Canada' at the end of section 35-2 can only serve as the purpose of being a geographic qualifier. So in other words there may be aboriginal peoples included within the scope of section 35-1 who are other than Indian, Inuit and Métis. That's non-exhaustive, but Section 35-1 does not include groups that are outside of Canada's borders, and that's what the repetition 'of Canada' gets us."
In his statement, Desautel's attorney Mark Underhill defended the lower courts application of the Van der Peet precedence as the very proof of the Sinixt's aboriginal rights in Canada.
"What the trial judge found was that not only were the Sinixt People in the West Kootenai or Arrow Lakes Region since time immemorial, they were there at contact obviously, but that their very identity was defined by being from there," said Underhill. "I watched of course from my room the debate this morning about whether the question of 'aboriginal peoples of Canada' was a threshold, an anterior or sort of implicit in the Van der Peet test. I want to give you my position on that but say either way you can get to it in the question I urge upon this court.
"First of all then, the court below got it exactly right when they said when we apply the Van der Peet test and find the Sinixt people have established a right to hunt they have determined the Sinixt are an aboriginal peoples of Canada. Why? Because that exercise involves looking to see whether there was a collective present at the time of contact that had hunting integral as a part of its culture and that there was continuity in that hunting remained integral to that collective today. Who else, I say to this court, but an aboriginal peoples of Canada can meet the Van der Peet Test. One therefore has to go no further, but even if you do accept the Attorney General of British Columbia's position that it might be a threshold question, and let me be very clear about this: The attorney general of British Columbia's position is that they want to import a modern day residency requirement. 'Of Canada' to the Attorney General of British Columbia means resident in Canada today. That is what the argument you heard this morning is in substance. I say modern day residency has no place in Section 35 or modern aboriginal law. … 'Of Canada' has to mean those people who were here at contact and who's identity is derived from Canada. That is who is 'of Canada.'" 
The question then goes to the nine judges of the Supreme Court of Canada, and the court is expected to reserve judgment for several months.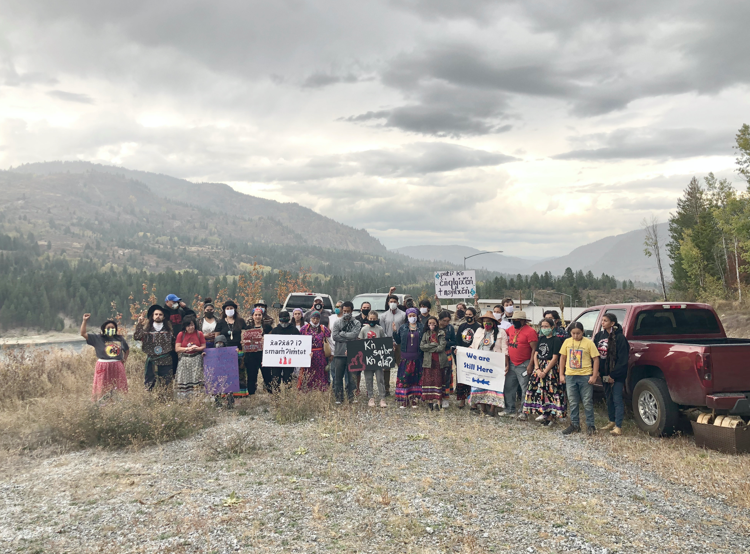 Standing on the steps of the Supreme Court building in Ottawa after the hearing, Desautel, pragmatic and to the point, said, "My hopes today are the Supreme Court will make a decision in my favor and open up the country to hunting, fishing and other rights we have in our traditional territories to future generations of our Sinixt people. I feel a little sad today my wife couldn't be here today. She started out with me, but she's home taking care of everything."
Standing with him, Boyd said. "In this tumultuous era, Indian voices are raising across North America challenging assumptions of colonization... Today's Supreme Court Hearing addressed the political genocide of our people and ongoing of rights of our indigenous relatives everywhere and our collective connections to the land. Our resistance to the government that continues to deny our very existence after declaring our people extinct in 1956."
Nearly 2,400 miles away in traditional lands of the Sinixt people at the Waneta U.S.-Canadian Border Crossing, the Sinixt descendants stood together to shout a message repeated across the region, in person and in social media posts: "We are Sinixt! We are still here!"