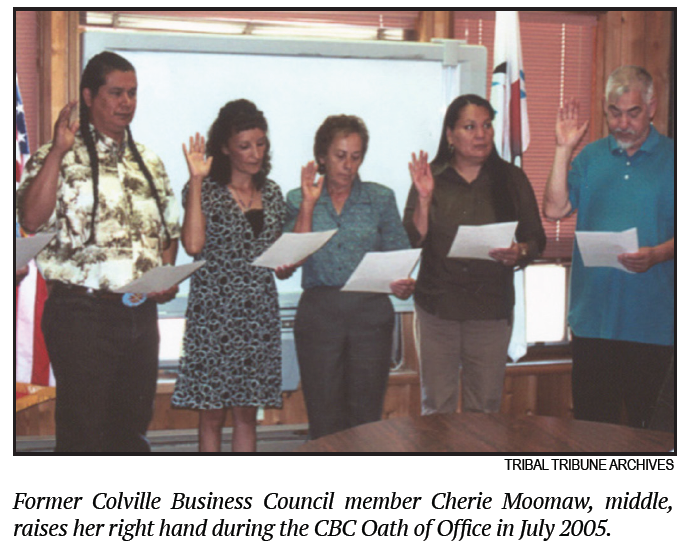 Former Colville Business Councilwoman Cherie Moomaw has passed away.
She was a three-term CBC member from the Omak District, and before that was well-known in the rodeo circuit for her trick riding.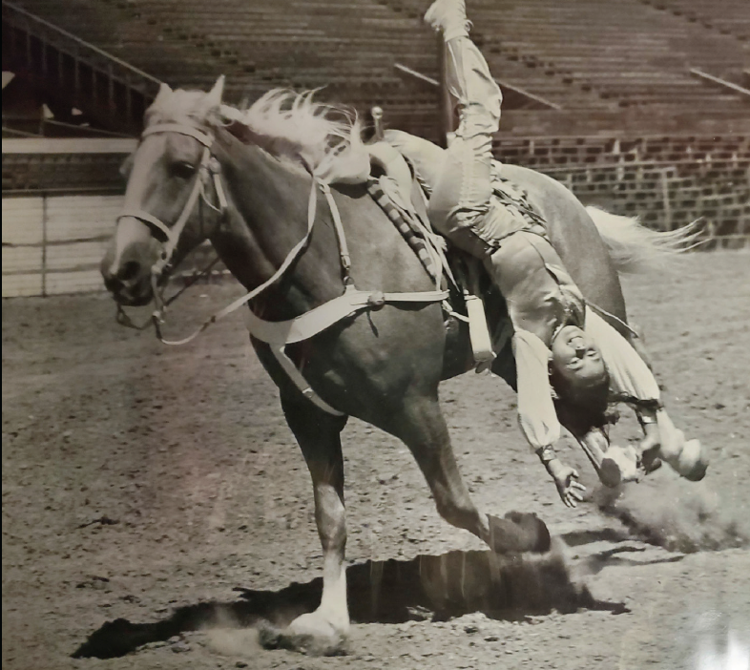 "Mom started riding horses around two or three," her son Monty Jury said. "Her dad would put her on colts he was breaking to get her from under his feet. She adored him. He was her everything.
"She started trick riding around 7 years old and continued to age 12, learning from dear friends and family of the Halls. Elbert 'Lucky' Hall showed her the skills to be the accomplished rider she became, which was an honor amongst the circle they were in. He also gave her his horse Sonny, along with a saddle. She rode when others didn't ride due to the weather."
Moomaw told her Jury many stories of the accomplishments she earned in her lifetime. 
"One time, in particular, she was riding at the Pendleton Round Up and the governor was there and we wanted to see the trick riding," Jury said. "It had been raining for a few days and the conditions were very dangerous. None of the other riders would ride. So grandma and mom were asked. So mom got on her sure-footed pony Sonnyboy and rode. After she finished, one of the cowboys came over because the governor wanted to meet her.
"She was reluctant because she had split her outfit open but the cowboy covered her with his jacket as he swoop her off his horse and carried her to meet the governor," Jury added. "It was an embarrassing and honorable time for her. Grandmother was asked to have her go to Madison Square Garden (in New York) to ride and also do movie shows at the time, but the Creator had a different journey for her. She proudly lived as a humble, caring, loving mother, friend, entrepreneur and leader."
When Moomaw joined the business council in 2005, some recalled her coming in with experience in business, others also recalled her rodeo prowess.
"The years I served with her I thought she did pretty good," said former Nespelem District councilman Deb Louie. "She seemed to know business because she had her own business there. She was like a little bull dog, when she went after something she went at it."
"Cherie was very proud of her family's rodeo cowboy heritage," said former CBC chairman Michael Marchand. "When young, she performed trick riding and stunts and was rodeo royalty. She was a horse woman. She later ran several businesses. On council, she advocated for energy development. She was for having a tribal utility and wanted the tribe to get into solar and other green energy. She supported tribal and tribal member business development, believed in education. She strongly believed in tribal law and regulations and expected leaders to act in ethical and professional manners."
Other former colleagues cited her knowledge and mentorship. 
"Cherie brought a lot of knowledge and history to the table with regard to the Colville Tribes, the Tribes' Constitution, the administrative, financial and legal branches of the tribal government," current Omak District councilwoman Karen Condon said. "She was just as knowledgeable of the BIA operations, too. It is rare to serve on Council with someone that knowledgeable. I will surely miss Cherie and our conversations that ranged from health, to legal issues, to organic farming, and so on. Cherie's last big project was the construction of her earth-built home, which she believed was the model home for tribal members since it was compact, energy efficient and financially obtainable. And she was right, her home was all of those things -- a tiny home with heart and efficiency."
"Cherie was a kind-hearted person. When I got elected to Council, I felt like I was being thrown to the wolfpack, and (Cherie) was there to rescue me," former Inchelium District CBC member Juanita Warren said. "We became friends. She assisted me with orientation, walked me around to the different departments. She was helpful and knowledgeable about how the tribe functioned. She had the best filing system. Any resource I needed, she had it. Back then we joked about having a 'hemp' store. She could grow the product on her farm and we could have it processed, and have the store in Inchelium. Locally-grown hemp was our dream plan (laughing)."
Warren recalled a special story that exemplified Moomaw. During a fire in the Omak District, Moomaw's home was threatened and the chief of police tried to evacuate her.
"She told him no (with a few other words)," Warren recalled. "She was going to save her home. She marched past him and got on a CAT, put a fire line around her home to save it. This man was impressed with Cherie and her abilities, the farm girl."
As stated by some, her due diligence was one of her strongest abilities. Former CBC chairwoman Jeanne Jerred said Moomaw was instrumental in removing a 10-signature podium the CBC then used. 
"Cherie and I got along quite well," said Jerred. "She always thought things through. She didn't just go along with people to be friendly. She concentrated on trying to get the information; she was the one that was actually responsible for helping get rid of 10-signature podium in the secretary's office. There was a few of us that didn't like going through the 10-signature process every day and she made it one of her goals to eliminate that, and I think she succeeded in it. She was an easy person to get along with, although you might not see eye to eye. She would listen to what you had to say and ask that you listen to what she had to say."