Much more than an Oregon State Boxing Championship was on the line, Aug. 10, 1970 in Eugene, Ore. A major step in Mike Seyler's dream of becoming a world champion boxer was just minutes away from him. He just had to finish the fight.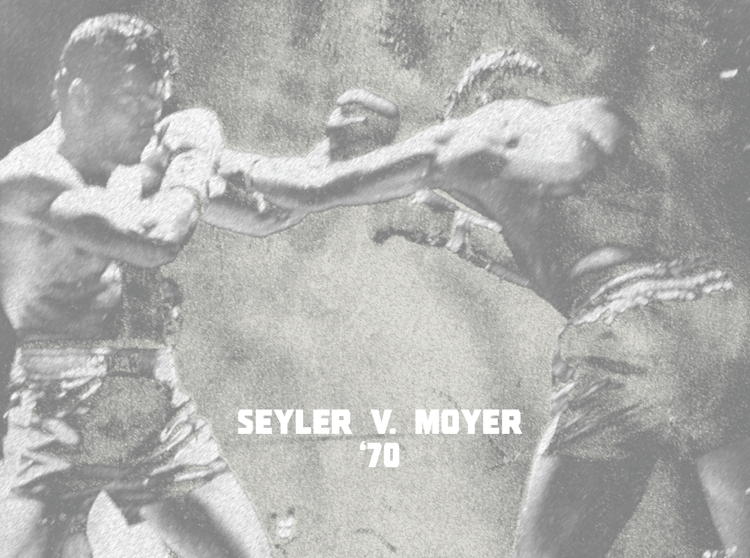 Entering the seventh round in the main event that night at the Lane County Fairground Arena, Seyler had been beating Denny Moyer convincingly in the middleweight battle. The Inchelium scrapper — who fought out of Springfield, Ore. — repeatedly rushed his opponent, never letting him get into rhythm. He led all fight cards going into the ninth.
"I couldn't seem to get off right," Moyer admitted after the fight.
Seyler had opened a cut above Moyer's eye — the same one which had cost him back-to-back losses.
A victory seemed imminent. 
But the momentum shifted, as it can in seconds in boxing. Late in the fight, Seyler took a hard right to the mouth, puncturing three teeth through his lips. Shortly thereafter, he began swallowing his own blood. 
The referee deemed the fight too dangerous for Seyler to continue.
He was in disbelief. He thought otherwise.
His ever-so-close pinnacle was handed to his opponent. Next day, the headlines read: "Moyer gets big win."
What could have been the greatest launching point of his career to that point ended in a technical knockout. Just two years later, Moyer ascended to getting a shot at the world middleweight title.
That never happened for Seyler, but it was always on his mind.
"My goal was to be the champion of the world," said Seyler, who is now in assisted living at the Colville Tribal Convalescent Center in Nespelem. "That's one fight I should have won."
It's been 44 years since Seyler, 74, was last in the ring. He now suffers from pugilistic dementia — a disease linked to contact sports.
Seyler says he can remember his upbringing, his boxing career and his family, but he can't remember what he ate for breakfast yesterday. He also draws a blank — at times, for words.
"This memory (crap) really makes me mad," he says.
Though it's difficult, Seyler is able to control the frustration. The success the Colville tribal athlete achieved was, in large part, due to channeling his anger into something positive.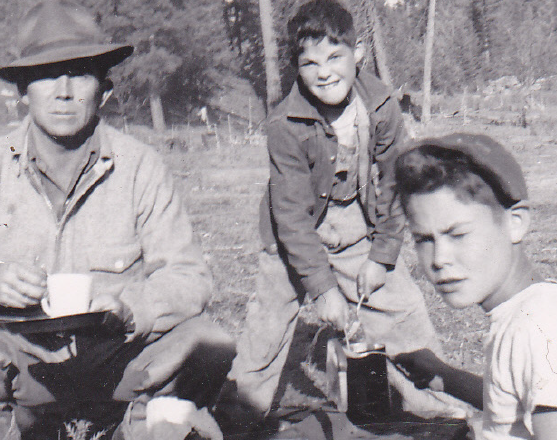 THE YOUNG AND THE FATHERLESS
Born in September of 1943, Seyler never knew his father, Alfred "Boss" Seyler. Boss, who has a creek named after him in Inchelium, died from cancer during World War II at a military base on the East Coast. Seyler's oldest brother, Earl McClung, was also serving overseas in the Army paratroopers. The child, affectionately known as "Mikey" by his mother Philomena Irene (Aubertin) Seyler, had his brother Gary McClung, who was six years his senior, as his primary male influence.
"I never had a dad," Seyler says. "That really hurt me when I was younger. My brother Gary … couldn't really look up to him. We was closed to same age."
Struggling with his temper but yearning for belonging, Mikey often tried to find a place of respect in his brother Gary's life. But being the kid brother often came with being roughed up and, at times, left out.
The young Seyler didn't handle being excluded well.
He recalls a time when Gary and his friends constructed an elaborate fort near the spillway at Hall Creek. The boy's club had a door that flipped up and down. They told Mikey he couldn't join their club. 
His response: wait until the fort was vacant and burn it to the ground.
He was never caught, but not long after the incident, Seyler was sent to St. Mary's Mission in Omak for two years of schooling. He moved back to Inchelium prior to his freshman year, when he accidentally shot himself through his shin playing Quick Draw McGraw with a .357 magnum pistol. The injury secretly hampered him during his boxing career, but also helped him draw favor from the crowd. While most boxers would utilize evasive maneuvers, Seyler's best option was to move forward, as he lacked ability in his foot.
"I had a tough job fighting because I couldn't go backwards," he said. "Everybody thought I was tough because I wouldn't back up from nobody. If I had a choice I'd back up."
Seyler dropped out of school as a freshman, and by 16 his body was decorated with tattoos, including a cross in the center of his chest and praying hands that say "Love and Hate." As a teen, he started drinking and smoking cigarettes. When he was 17, he and his friends decided to break into the Lucky Logger distribution building in Colville.
"We broke into it one night," he says. "We stole eight cases of beer and four boxes of wine and took off from there and started drinkin'."
A cut on Seyler's hand led to his arrest for the incident, as police searched for someone who possibly cut their hand while breaking a window to enter the facility.
"They caught me," Seyler says. "I went up in front of the judge and he gave me 15 years for stealin' some beer."
He believed the long sentence was due to his status as a Colville tribal member. A later panel reduced it to two years.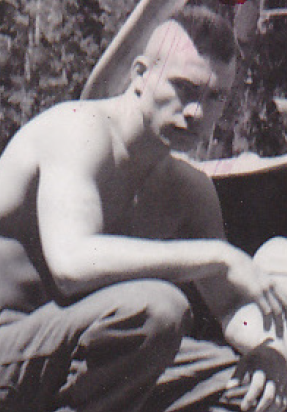 Seyler was sent to Walla Walla for a night, prior to being shipped to a reformatory school in Monroe. He credits the experience for his first two real fights. And had he not controlled his anger, he might have spent many more years behind bars.
"I had a big mouth," he says. "I was out playing basketball on the court, and this colored guy's ball come down my end of the court. I grabbed it and threw it back to him. He was on drugs. He come over to me and says 'You leave my ball alone.' I said, 'I don't give a (expletive).'"
Later that evening while the inmates were in an auditorium watching TV, Seyler was caught by surprise with a knife in his back from the same man.
"He says, 'You pull your own god damn time,'" Seyler recalls. "I said, 'As soon as you pull that knife out, your ass has had it.'"
When the knife was removed, the standing Seyler dropped to his knees.
"It hit a nerve," he said.
A friend stopped the bleeding and when Seyler had recuperated, he went straight to the barber shop, determined to retaliate.
"I says, 'Can you get a blade for me?' He says, 'Yeah, I can sneak it out,'" Seyler recalls. "He gave me a straight-edge razor."
Seyler brought the razor to dinner and confronted the man, holding the blade under the table. 
"He started apologizin' right there," he recalled.
It was a key moment in Seyler's life. He could have hurt, even killed the man, and perhaps stayed in the prison system. But instead of getting revenge, Seyler calmed himself.
Looking back on his time in reformatory school, Seyler said a year-and-a-half of hatred had built up in him.
"It was anger all the time," he said. "I shouldn't have even been there. They sent me there when I was 17 and that's against the law. I was just generally pissed."
Near the end of his sentence, around 1959, he was sent to an honor camp near Tonasket. He built roads using heavy machinery for 2 ½ cents an hour. 
Out of reformatory school and now age 20, Seyler was looking for an opportunity to start working. His brother Gary was welding in Oregon and offered to help find him a job.
THE BEAVER STATE
Seyler started working at a mill in Oregon. After work, he would go to the tavern "about every night," he said. "I started fightin' right there. That started every time I come in there."
His brother Gary, who also fought — sometimes with Mike — saw the potential in his younger brother.
"(Gary) says, 'God damn it, you're fighting all the time. That don't pay no money," Seyler recalls. "'Why the hell don't you get into amateur boxing?"
The seed his brother planted grew, and Seyler began training in a gym. "After a while, that (idea) kinda rang a bell," he says.
He found a passion for training that extended beyond the sport. The heavy bag, in particular, helped him release his anger. "I'd hit that thing so damn hard I finally got rid of the anger," he said. "Boxing helped me. Boy I used to work out like hell on that thing."
His skills were improving. He was winning fight after fight before entering and winning the golden gloves tournament put in by the Amateur Athletic Union.
He started to become known for his fighting.
A veteran boxer named Fred Moe noticed the potential in Seyler and came up to him at a nightclub Seyler was part-owner of.
"Mike, why aren't you turning pro?" Moe asked.
"I haven't thought about it," he responded.
"You'll make big money fighting pro," Moe said.
Seyler decided to make the leap, taking on Moe as a coach. Moe helped him add a left hook to his arsenal of punches. 
"I told him I cannot throw a left hook," Seyler recalled. "He stood me up. He showed me how to do it. You turn your shoulder at the same time. Pop says throw it from there, just like that. You spin off this foot. That way all the weight will come all the way up and right out of the hook."
Moe took his apprentice to Montana to watch his first out-of-state professional fights. Moe introduced Seyler to a fight promoter, who asked if Seyler would fill in on the card after a first round knockout spoiled the event.
Seyler was itching to get in the ring.
Moe said, "No."
"Come on pop," Mike responded. "Hell, I can fight."
"I said you're not fighting that guy," Moe followed. "You're not fighting that guy. He just knocked this guy out in the first round."
"I'm ready," Seyler said.
Seyler told the promoter he would fight. Moe helped him put his gloves on to prepare him for the fight, before stunning him with his words and action.
"You're on your own," Moe said before exiting the building.
The announcer introduced Seyler, who continued to look around for his coach.
The bell rang and Seyler found himself being worked over. "We got out there in the ring and this guy, man, he was throwin' punches on me all over the god damn place. And it was the first round, too. Punches from all other directions."
Though he hadn't yet perfected the left hook Moe taught him how to use, Seyler had an opportunity and took it. He delivered a crushing knockout blow to his opponent's head. The man remained on the canvas until an ambulance arrived and took him away.
After the fight, Seyler went outside to the car he and Moe used to get to Montana. Moe was sitting inside.
"Pop, how come you wasn't in there?" Seyler said.
"Because I told you not to do it," Moe followed.
"But I won in the first round," Seyler pleaded.
"But I told you not to do it," Moe said.
Seyler says he learned an important lesson on obedience in that instance. He put all of his trust in his coaches.
"That learned me right there," he said. "When somebody tells you not to do something, don't do it. You gotta listen. They know better than you. He was an old fighter and he knows … anything can happen out there."
A regular guest at Moe's house, Seyler connected with the man and his wife due to their shared Native American heritage. Moe's wife, a postmistress who also knew how to tailor, created a ring outfit for Seyler and gave him the brand, "Indian Mike," which he wore to all of his fights.
For years during his boxing career, Seyler and Moe spent time together. They even came back to Inchelium to see Seyler's upbringing. It was the father-son relationship Seyler had longed for.
"I didn't have a dad to look up to until I went to Oregon and met Fred," he said. "And that's what I told him too: He was the closest thing I had to a dad."
And Seyler always thought of Moe when that left hook connected and rocked his opponent.
Though he was gaining respect in the ring, there was still one lifelong rival who occasionally wanted to bareknuckle brawl — his brother Gary.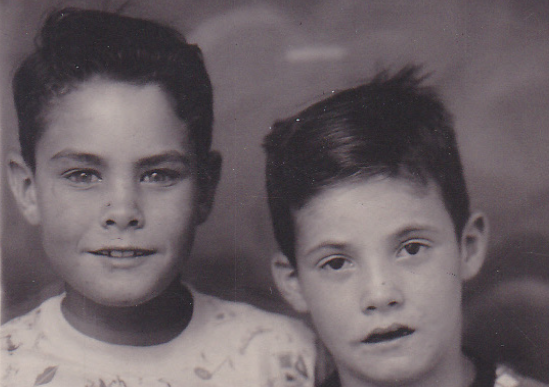 MUTUAL RESPECT
Respect wasn't just given to Seyler from his brother Gary. It had to be earned. When Seyler moved to Oregon, he found himself fighting his brother multiple times — typically when alcohol was involved.
"I came back and made up for (all the times he beat me up)," Seyler says, laughing.
This didn't sit well with McClung, who had experienced a life of being the tough, humiliating older brother.
Seyler has a vivid memory of the last fight between the two. They're going at it and he punches McClung to the ground.
He was growing tired of his brother attempting to take him on.
"Gary... You wanted to fight. Get up," he said. "But I quit. I don't want to fight you no more."
McClung gets up and goes all in.
Seyler finds it humorous.
"That's the hardest you can hit?," he says.
The demeaning must have been just what McClung needed to give it up.
"That's my last fight with you brother," McClung said.
Through becoming a dangerous fighter, Seyler gained the confidence to share a lifelong secret with his brother.
"You remember that fort?" Seyler says. "I apologize. I set it afire."
"What?" McClung follows. 
"Yeah. I set it afire," Seyler said.
"That's all done and over with," McClung said. 
McClung was one of Seyler's biggest supporters and fans in Oregon. Seyler said that was one of the driving factors of why he made it so far.
"It was important to make my brother proud of me," he said. "I wanted my family to be proud of me. I just wanted the town of Inchelium to be proud of me."
Though he was about to set off on a boxing campaign that would see him ranked No. 32 in the world middleweight rankings, and a top-10 fighter in the northwest, Seyler thought frequently about returning home.
"All I wanted to do was come home," he said. "And I wanted the people to be proud of me when I got there."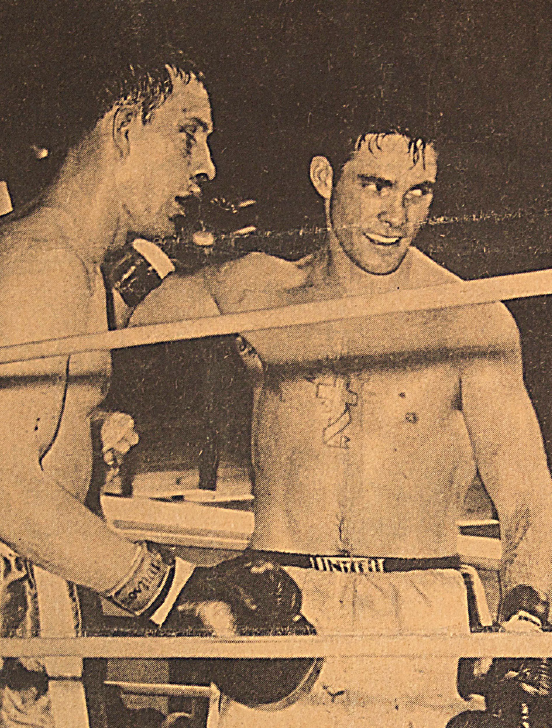 INDIAN MIKE MAKES A SPLASH
Seyler debuted on Aug. 4, 1964 in Portland with a win over Neil Green, another fighter making his professional debut. He went undefeated over the next two years, with notable wins over Arizona State Middleweight title holder Fred McWilliams (9-8-1 record at the time); Jimmy Walters (17-1-1); Chuck Putney (26-22-7); and Clyde Williams (9-4).
On March 25, 1966, Seyler earned his first professional belt. He defeated Howard Meredith by knockout for the Oregon State Super Welterweight title.
It took until Nov. 3, 1966 for Seyler to be beaten. He lost to Mike Tunney (9-2) by technical knockout at the Seattle Center Coliseum. 
Over the next four years, Seyler went 7-6-1 over 14 matches, but was still 18-7-2 overall. He was becoming a main event fighter, and the toughest opponent on paper he'd ever faced until then, Andy Heilman (30-3-3), was scheduled. Heilman, the  North American Middleweight Champion, knocked out Seyler in the fourth round during that 1967 fight.
Around the time of the relative rough patch in his career, two major events occurred — he broke his neck in a car accident and quit smoking.
In March of 1969, a reporter caught up with Seyler after the automobile accident, which had occurred on Labor Day Weekend the previous year — about a week after a draw against Mario Spragio (4-16-2) in Springfield. Seyler's car left the highway and crashed near his home in Sweet Home. His broken neck was diagnosed in medical terms as a chipped vertebrae in his neck.
"After an operation and a few months of wearing a neck brace, the popular middleweight is back in the ring," an article stated.
"The doctor says my neck is stronger than ever," Seyler said at the time.
The first of two career fights with Joe Hopkins was on the agenda, and perhaps the wreck provided Seyler with some much-needed clarity and direction.
"I know Hopkins is tough," Seyler said in 1969. "And some people have already told me I can't beat him. But I've waited around long enough. I want to go someplace in boxing right now."
In order to do that, he quit smoking, which he had surprisingly continued doing throughout his then five-year professional career. After quitting cold turkey for a number of months, he got in the ring and noticed an immediate difference.
"My first fight after I quit, I couldn't believe it," he says. "I had more wind and more stamina. That convinced me right there."
Following the relative rough patch, Seyler won seven fights in a row over a seven-month span, including a notable victory over Walter Kelly (15-11-5). He was again moving up the ranks of the middleweight class, with Ring Magazine ranking him No. 32 in the world.
Reporters at the fights noted Seyler's returned ferocity during matches covered, as could be seen in an article on his fight versus Ron Thompson (16-6).
"Seyler carried the offense with a stinging left jab and crashing left hooks and threw in just enough right uppercuts and crosses to keep his opponent on the defense throughout the fight. Whenever his opponent tried to open up, the slick-footed Seyler danced away most of the time and then countered with a bombardment of his own. Seyler was much quicker and eluded him.
"Three smashing right hand blows rocked Thompson. Not quite halfway into the sixth, Seyler delivered a solid overhand right to the jaw that knocked Thompson down in his own corner and the referee stopped the bout. The referee said he stopped it because he's not going to get someone killed in there just for a bunch of people screaming for blood."
In his own words, Seyler was a boxer. "But if you want to punch it out, then I was a fighter. I couldn't go back, so I had to go ahead and either you're gonna fight and you'll have to go right with it and we're gonna punch it out; or, you're gonna back up and take it. I guess I was kind of a brawler."
All of the success and hype led Seyler (25-7-2) to a chance at the Oregon State Middleweight Title against Denny Moyer, then an accomplished boxer at 70-22-3.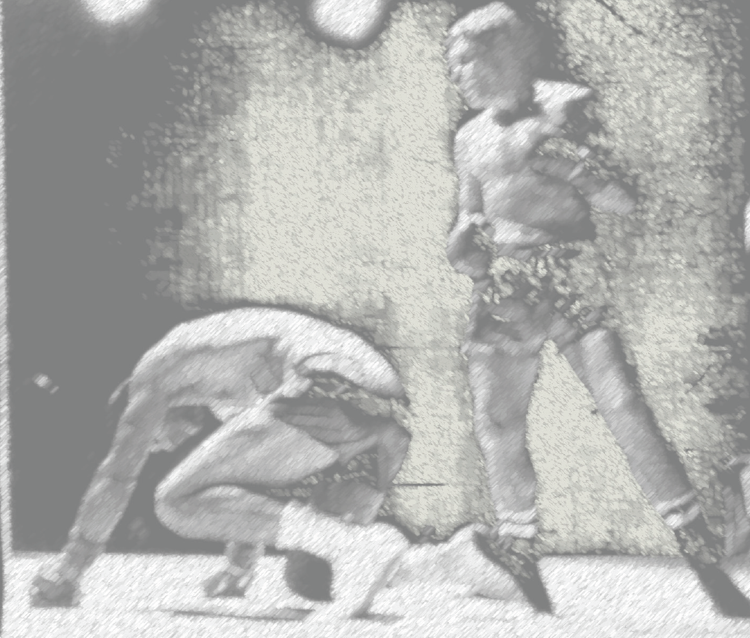 THE HEADLINE OF HIS CAREER
Twenty-six-year-old Mike Seyler was touted as an up-and-comer prior to fighting Moyer.
"That was when I was in my prime," Seyler said.
Local media reinforced that.
"Seyler has been in with some of the best middleweights in the world," one newspaper wrote.
Indian Mike had a rigorous training schedule of sparring three rounds every day; doing three or more miles of road work; and putting "tenacious, bruising work on the punching bag."
Moyer was ranked ninth in the world by the World Boxing Association. Seyler and Moyer knew each other as sparring partners and had a mutual respect.
The fight was scheduled for the Eugene Cow Palace on Aug. 10, 1970. The gate took in more event-goers than any in five years, according to a report. It was, perhaps, the biggest boxing event in the state of Oregon in recent memory.
The bell rang and the Seyler went to work on Moyer, four years his senior.
"It was expected Seyler would be landing some heavy leather, which he did, and that Moyer would rely on his boxing skills and that also took place," an article read.
Midway through the first round, Seyler stumbled and his head caught Moyer's left eye, providing an "ugly, but not crucial, cut," a newspaper wrote. The same cut had cost Moyer losses in his previous two fights.
Moyer knew it was an accident. "When he came into me I had my hands in back of me like a damn fool," he said.
Though the fight met the expectations of the media, Seyler was not expected to be leading by the end of the seventh round.
He was leading every card.
There, in the eighth, Moyer connected with Seyler on the aforementioned blow that caused his teeth to come through his lips. 
Seyler's teeth had punctured through his lips, making it difficult for him to close his jaw. Each punch provided an even sharper stun.
After another knock down in the ninth, the referee called the fight.
"I just snapped out a right and he went down," Moyer said.
"It didn't hurt bad but they were shock punches and I went down," Seyler told a reporter.
Moyer gave Seyler credit for his performance in the fight.
"He's tough," said Moyer, who in 2001 was inducted into the World Boxing Hall of Fame, where he was considered the greatest boxer in Oregon state history. "(Seyler's) a tough fighter. He was a lot harder to fight than I thought he'd be, even at that. Maybe he just wouldn't let me get uncorked. I felt better as the fight went along, though I couldn't seem to get that little bit of timing I needed."
The media caught up to Indian Mike after the fight, who was smiling.
"I'm going to take a week off and go back to the (Colville) Reservation and do some hunting and think about it awhile," he said.
Three months would pass before he was scheduled to re-enter the ring. He had developed a reputation as someone who was a crowd-pleaser, and a boxer who could continue to rise in the world rankings.

BATTLING NOTABLES
From 1971 to the end of his career in '74, Seyler's opponents had a combined record of 136 wins and 55 losses. He was a main event fighter who fought in Las Vegas, Portland, Seattle and Edmonton. 
He lost a decision to Ron Wilson (43-10-5); was TKOd by Armando Muniz (10-0) in the third round; and suffered back-to-back TKO losses to John L. Sullivan (4-0) in the ninth and seventh rounds respectively.
Prior to fighting Sullivan, Seyler had been out six months. "I just couldn't afford to fight," he told one newspaper. Instead, he saved up money from working in Portland.
One newspaper called the Sullivan fights "the most stimulating boxing Eugene has seen in some time. They were slugging matches that appeared could end many times."
Seyler acknowledged he was a bit rusty coming into the first fight, but believed "he has enough cunning to defeat Spokane's scrappy John L. Sullivan," one newspaper reported.
"It's been four months since I've been in a gym," Seyler said at the time. "He'll have the speed and probably be able to outbox me… He'll have everything but experience, and I think that'll beat him.
"With this guy," Seyler added, "I don't think my lack of gym work will make that much difference. I think I can take my time. He's just going to play around for four or five rounds and I'm not going to chase him and run out of gas. He probably won't go toe-to-toe."
What Seyler did not anticipate was the difficulty of fighting a left-handed boxer, known as a southpaw.
When he entered the fight, he found himself powerless at times.
"I had never faced a southpaw before," Seyler said at the time. "It's hard to use a left jab on a southpaw. Getting your balance shifted is a problem… You have to change your foot stance."
Sullivan was known for prancing in the arena. He was performing his stunt when he tagged Seyler with a left and drove him to the canvas during one fight.
Staying in the fight, Seyler nearly scored a knockout in the eight. "A Seyler punch rocked Sullivan, who went down," a newspaper wrote. "He took a nine count and wobbled to his feet. He kept wobbling until the end of the round. He sat on the stool in his corner as his handlers worked feverishly over him between rounds. 
"When Sullivan answered the bell for the ninth, fans figured it'd be the last one he'd hear. They were right. A minute and a half later, Seyler was on his back, a victim of a vicious Sullivan right."
Seyler was given a rematch three months later, and took his training to another level. He put in more than 100 miles of road work and practiced against left-handers almost every night.
"I think I've got it down to where I can overcome southpaw now," he told a newspaper. "I'm just going to go in and put the pressure on him. I'll just have to play it by ear. But I'll be out there to fight."
Seyler played it by ear — literally. He smashed the eardrum of Sullivan during the fight. But he still found himself defeated after seven rounds.
One reporter mused at the fight's intensity.
"John L. Sullivan couldn't hit a gallon bucket from two feet away," he said. "All night long he kept spitting on the press row even though his handler offered the bucket."
Adding, "I couldn't help but watching faces in the crowd as Mike Seyler staggered off the ropes, fell to one knee in a gesture for help and then looked out at the audience. His face looked like a culled tomato. Not one face winced back. One woman was on her feet shouting, "kill, kill.'''
Seyler unleashed blow after blow against the side of Sullivan's head, and the gritty Irishman was unwilling to yield, all the while pounding Seyler's belly, the reporter added.
Seyler said, "I hit him with one of my best punches. He started to go down but…"
"Had Seyler stood in the center of the ring and connected with a four-by-four, it might not have fazed Sullivan," the reporter continued. "It is Seyler, battered and almost out in the sixth round after convincingly playing the part of leather punching bag for most of that round, coming out in No. 7 throwing haymakers. Even though he could hardly see, he was trying to win until the end."
Some fans called it the best fight they'd ever seen, according to a newspaper.
Asked to compare Sullivan to Denny Moyer, Seyler replied. "Moyer is a better boxer, but he could never take the punishment that guy could take."
Later in life, Seyler reflected on the Sullivan fights. "He just dragged me up the wall. You cannot fight a southpaw. The first time it was my fault because I really didn't train for it. So I really got in shape next time (before losing). Them southpaws … I can't fight em.  They're just awkward to fight."
After the four straight losses Seyler announced his retirement. 
But 11 months later, he found himself back in the ring, not quite ready to hang up the gloves.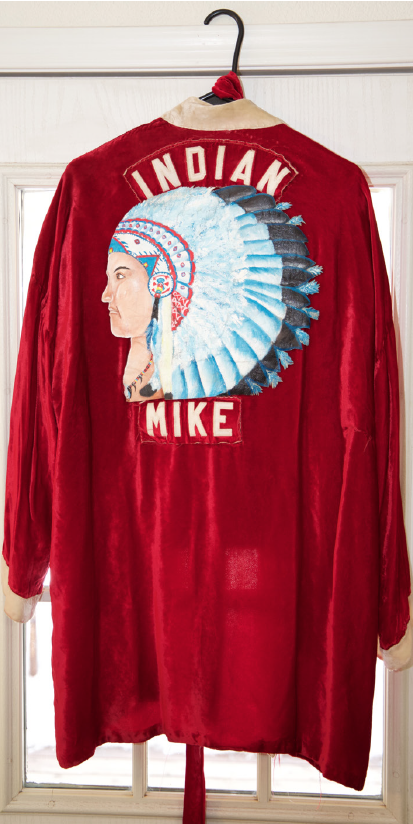 THE TAIL END
Seyler was no stranger to boxing in Canada. He fought twice in Edmonton, a city considered in the Northwest boxing scene, prior to scheduling a main event bout with Johan Luow (13-3). 
Prior to both of their first retirements in 1971, they were ranked in the top 10 middleweights in the northwest. Seyler was ranked eighth, while Louw was ranked sixth. 
Luow won his first 13 professional fights, dropping three straight prior to facing Seyler. Louw was the No. 1 contender for the Canadian Middleweight Title prior to retiring to attend school, and then returning to the ring.
A 1972 article drove home the financial struggles boxers faced in those days. Five of Louw's fights in that summer were cancelled prior to the fight with Seyler. Louw didn't earn a penny, he told a newspaper, despite five months of intensive training. Louw won the fight with a seventh round TKO, but any revenue generated was to come from profit share from the fight. The fight took in a loss of $5,000.
Louw fully retired after the fight, but Seyler continued on. 
Three months later, Seyler agreed to fight George Mankins (9-2) at Seattle Center Arena (KeyArena). He knocked him out in three rounds. 
Then came David Love (14-4) two months later. Seyler suffered a TKO in seven rounds. A month after that, he knocked out Joe Hopkins (20-16-2) in two rounds. Two months ahead, he outlasted Vicente Medina (9-11), who would go on to become one of the world's top middleweights, in 10 rounds. Three weeks later, he lost of George Davis (10-10-1) by TKO in five rounds.
Seyler's contract with his manager had him scheduled for multiple fights. But at this stage, in 1974, all the Colville Indian could think about was returning home. Though he had fought in Spokane and Seattle, he never had a chance to shine in front of his tribe. He told his manager to book a fight in Omak and that was it — he was done. He'd walk off the canvas and come back to his tribal community for good.
"This is my last fight," he said.
"Mike, you can't do that," his manager followed. "You've got a contract. I've got fights scheduled for you."
"I'm tired," Seyler recalls saying. "That's it."
Perhaps knowing his boxer would be leaving the sport after the fight, Seyler's manager — unbeknownst to him — bet against his fighter, putting money on Roxie Mosley.
Seyler won the fight, and learned of the bet shortly thereafter. An Indian guy says "Mike, damn good fight." He told Seyler he won a lot of money and pointed to the guy he bet — his manager.
"That was my fight and I was glad because he lost, but I won," Seyler smiles.
But, Seyler re-illustrates, the fight — the last time he donned his 'Indian Mike' wardrobe — was for his people. 
"That was for them, not for me," he says. "One more fight (for my reservation)."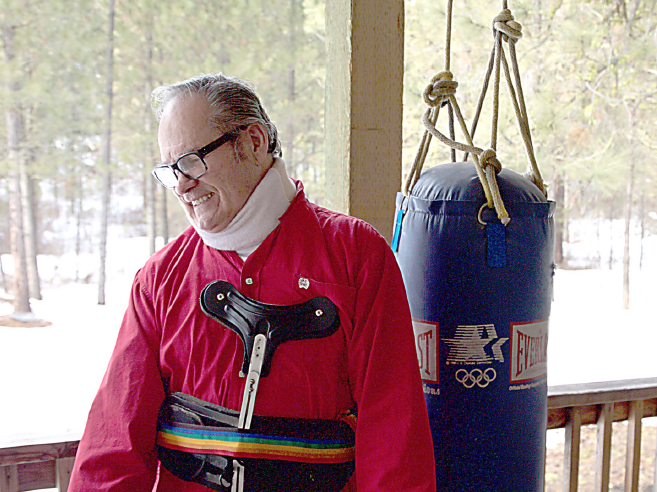 HOME
Not long after moving back to Inchelium in the 70s, Seyler was selected to manage the tribe's Rainbow Beach Resort.
In his off-time, he established a boxing club in town, using a ring he had purchased. He recognized that many could benefit from the sport that helped him rid the anger from himself.
"I wanted all these guys to get into this," he said. "I wasn't the most decent kid in the world. I took a lot of anger out on people. And that's what I didn't want these guys to do. It helped me."
Seyler would show children how to punch, how to work on their timing and more. He even had a repeating joke.
"I'd tell them, 'No matter what I teach ya, there's one thing I'm gonna hold back from you,'" he recalls. "They'd say, 'Well what's that?' I'd say, 'I ain't gonna tell ya, I might have to use it on ya.'"
After two to three years at Rainbow Beach Resort, he moved on to a position with the Inchelium-Gifford Ferry, where he worked for 22 years.
Seyler returned home hoping for respect, and says he got it. Prior to moving back, he cautioned his wife Betty that "when we move home, I know damn well there's gonna wanna be fights because I was a boxer."
There were none, however. "I didn't get in one fight from any of these people."
He raised four children in Inchelium, and had more than 20 foster children.
"A lot of people call him dad," his daughter Pam proudly says.
For a long time, however, Mike was still the baby of his family. This could be illustrated by a story involving his brother Earl McClung, a game warden for the Colville Tribes who brought him along on an assignment near Kelly Hill. A cougar had been reportedly chained up inside a cellar.
"Earl come down to the house and says, 'Mike, I got a problem up on the north half. You wanna ride with me?'" Seyler recalls. "We walked through there and this (cougar) was chained up and everything. Earl kneeled down and that cougar come over and started lickin' him. I kneeled down and the stupid thing started lickin' me and playing."
They took the chain off the cougar, who had been fed several times by an unknown person. When they unchained the cougar, they began walking back to the truck.
"Earl left his god damn front door open," Seyler recalls. "(The cougar) just jumped in the front seat."
The cougar started to panic a bit, Seyler said.
"Just leave him in there," Larry Finley, another game warden on the call, said. "He's scared."
McClung got in, shoved the cougar over and closed the door.
The cougar latched onto McClung's head, and Seyler immediately rushed in to help his older brother.
"Man I jumped open the door, reached in there to grab (the cougar) on the back of the neck," Seyler recalls, pausing to show the scars on his forearm. "The cougar grabbed me right there."
McClung grabbed the distracted cougar by the tail and yanked it out of the vehicle.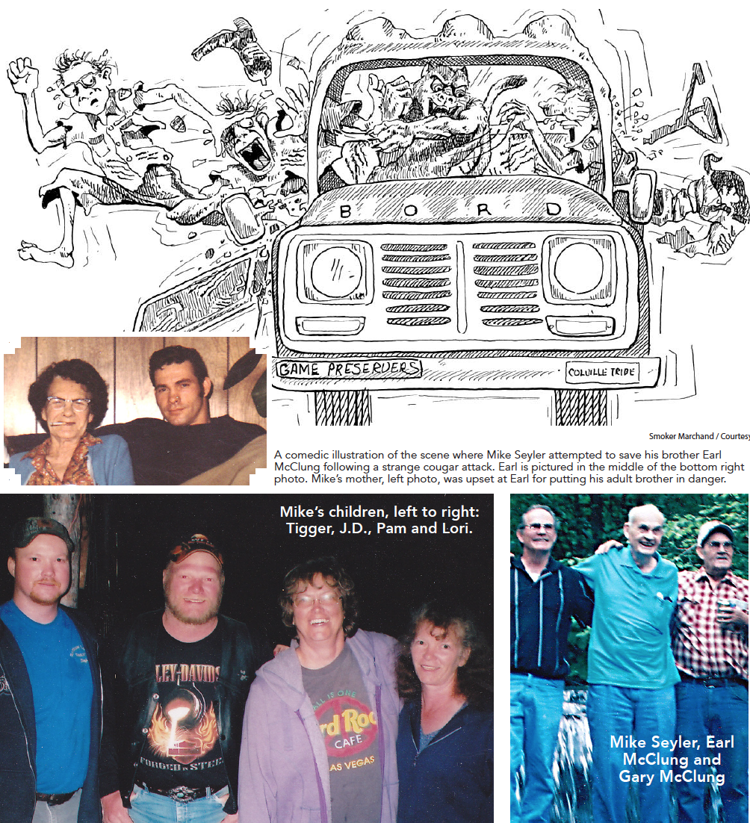 Once outside of the truck, the animal went back to its domestic state. 
They loaded it up and brought it to Colville. The brothers went to the hospital to get stitched up, but ended up waiting for a long time. Beginning to get angered, Seyler addressed the concern for waiting with the nurse, who told him everyone's outside looking at the cougar.
"I said the damn cougar is more important than me," he recalls. "How 'bout stitchin' me up?"
His mother caught wind of the incident, and as if it were just another childhood accident, took it out on McClung for putting 'Mikey' in danger.
"She was really pissed," he said. 
"Who was in trouble?" Pam follows. "Earl. Because Mikey's the baby."
"That's right," Seyler says, smiling.
Memories up to that point in life stick with Seyler. But lately, he's struggled with little things. He now requires full-time care.
Though his fall occurred in 2014, Seyler was not diagnosed with pugilistic dementia until the following year. As he sat in a recliner in the living room of his single-wide manufactured home, he donned rainbow suspenders and a neck-brace, looking fairly immobile during a 2015 interview.
"I'm trying to get out there and work on my heavy bag but she (Pam) won't let me," Seyler said.
"It's been a really long six months for him to not be able to do much," she says. "He likes to jog, skip rope."
Seyler's dementia grew to the point where his family began to worry: it began affecting his memory, daily living skills, he needed a driver, and there were household hazards, Pam said.
The condition led him to needing full-time care at the Colville Tribal Convalescent Center.
Though he struggles with his memory, the life story of Indian Mike Seyler has yet to fade.
Summing up his own career, he believes the reasons he did not achieve his goal and become a world champion was a lack of training and having the wrong manager.
"And probably me," he adds. "It's all up here [pointing to his head]. If you want to go somewhere, it's all up here."
The fight isn't over for Mike Seyler. It's just shifted to a new ring.