—Tribal elder Dan Edwards, a contemporary Okanogan Indian, lived a nomadic lifestyle that saw him travel near and far — before finding purpose in his homeland.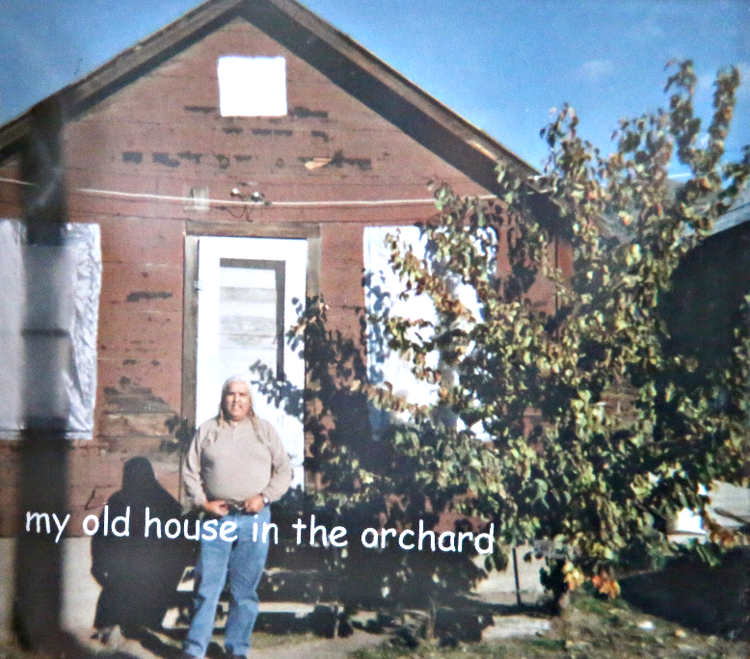 Dan Edwards was born in one of the coldest winters his family could remember. He came into the world in October 1949 in a one-bedroom shack in Oroville, at a housing arrangement for apple pickers. 
Just a few months old during the cold January of 1950, Dan was treated with special care. He was kept warm by being nestled between his mother, Cecilia Edwards, and aunt, Annie Dick, while a fire was maintained around the clock. 
A look into the state's history reveals it was one of the worst ever. In Spokane, for instance, January temperatures reached 18-below with more than two feet of snow.
One can only imagine what Oroville was like.
"My dad told me one time, the year you were born, it was so cold (my brothers) Henry and Hubert kept fire in that shack," he remembered. "All there was in there was a little wood-cook stove."
The son of two full-blooded Indians who were raised in their traditional ways, Edwards was raised with a cultural outlook belonging to the Okanogan Tribe and the Simpcw (formerly known as North Thompson) First Nation.
"I knew Native Pride before it was 'Native Pride,'" Edwards said. "Both my parents were born in 1907. I was raised by old Indians. You see a lot of these young people now: 'Native Pride,' 'this' and 'that.'
"From the second I was born, I was Indian. ... And from the last breath I expel, I'll be an Indian."
Perhaps part of that philosophy explains his life as a modern-day nomad — taking off across the country with confidence to survive, and returning with stories that define his life. 
ORCHARD BOY 
Edwards was the youngest of 11 children born to Dan and Cecilia Edwards. Dan was known by his Indian name, "Kok-sel-hu-lau," which translates to "One who runs close to the ground."
He was born in a one-room picker's cabin on George DeMerchant's orchard. DeMerchant was beloved by the Edwards', even becoming Dan's godfather. He was a business man who always dressed nice, Edwards recalled.
"They were rich white people but they were just the salt of the earth," he said. "They were older like my parents at the time and had a lot of older values."
The family lived in a 4-room cabin on the property. It was where the Edwards lived for at least 10-12 years in Dan's life.
As a young boy, he attended Oroville School, where he found himself to be a minority.
"There were some Indians there. Not a lot," he said. "I had a pretty tough education, just being an Indian in a predominantly white school. Indians were looked at (negatively)."
The upbringing shaped his life, Edwards said.
"The time we spent there, a lot of the formative things that happened to me occurred," he said. "The things that compelled me to become the person that I am… They were generated at that time.
"Family was everything to me," Edwards said. "Family still is. I grew up with a strong sense of family because my mom and dad. Mom and dad were the patriarch and matriarch without a doubt. There was no denying that. But the family hierarchy was maintained: the elders taught the young ones what they needed to know, and it went straight on through me."
Though his parents were accustomed to the old way, Edwards experienced a country lifestyle while on the orchard. It was a way to earn a living, and Dan Sr. rose to the rank of foreman in the orchard.
"(Growing up on an orchard) was great," he said. "Bout from here (in his living room) to the end of the driveway (a few hundred feet) there was an irrigation ditch. That was our swimmin' hole. We could walk down about a mile or so to the lake, Osoyoos Lake. That place we swam at down there was undeveloped."
There, the family held picnics, where they'd prepare a meal and sometimes drink soda. A more developed beach was off in the distance, where Edwards recalls seeing people crammed, sitting shoulder to shoulder. 
"We'd be watchin' them," he remembers. "Why are they doing that? We got plenty of room over here."
Once in a while, the Edwards children got to travel into the town with DeMerchant, who bought the latest Cadillac vehicle every year, Edwards said. 
"He'd pick up mom so she could run errands," he recalls. "We'd all be in the back, me and my two sisters. We'd go down — at the time Ben Prince's (food store) was where the Pastime Tavern is on Main Street, Oroville."
Edwards' mother was treated nicely by Prince.
"He was another one who just loved my mother, would do anything for her," he recalled. "He was one of the old business men, black suit, white shirt and tie and a hat all the time. And he had this cigar as big as his thumb; I don't think I ever seen it burn, but it was burnt. It was plugged into his face the whole time.
"(Prince) would do things for mom," Edwards added, noting he allowed her to run up a tab if she could not immediately pay.
Eventually, Edwards aspired to make his own money. At age 13, he wanted a bicycle.
"My dad said, 'Well, earn the money and you can have one.' I got some brush in the field, they had a tractor," he said. "What I did was I went out in the trees, threw the brush in the middle and the tractor would come pick it up. I got 85 cents an hour."
"I bought the bike," he said. "Then my brother ran over it in his car (on accident)."
Though there were some challenges to being raised in Oroville, Edwards recalls it fondly. 
"I had a well-rounded education, a well-spring of practical experience from just a whole array of Indian people, and all of them were my brothers and sisters," he said. "Because no matter what, my brothers and sisters were all raised to be individuals: stand your ground, loot-em-ut-mirumsum — (translating to) don't ever sit on your medicine."
Elaborating, Edwards says: "You're offered things throughout your life. You're offered abilities by the Creator — whether you use it or not is up to you. … It's given me a deeper sense of who I am in this world."
Edwards, however, needed to experience tougher times before he'd find his purpose.
When asked where he graduated high school from, he noted: Garrett Hines High School in Shelton, Wash.
"That's where they sent me; I spent three years over there in prison," he said. 
ADULTHOOD, THE ROAD 
Edwards says he left home at 17 and never really went back.
"I just ran wild," he said. "I never really spent a lot of time in association with the family. I'd go see my mom and dad; it was the respective thing to do — even as dysfunctional as I was, the matriarch and patriarch was there."
"I probably spent 30 years running around the world," he said. "Just going to be going."
Looking at a braided man with traditional garb on — including many pieces that contained buffalo imagery or bones — one might not guess that.
"I was a whole different person then," Edwards said. "I got 26 years of sobriety under my belt. I smoke pot, but I only started doing that when it was legalized."
Though he was raised with a strong foundation, Edwards says he got caught up into modern society in the 1970s.
For Edwards, that, in part, meant mobilizing at the drop of a hat.
"I'd go out and live anywhere in this world," he said. "And I didn't have to rely on the (Colville) Reservation for anything."
It was a nomadic lifestyle that saw him follow in the footsteps of his ancestors — and farther.
"At one point, our (Okanogan) people would range into Montana," he said. "We'd go steal their buffalo, steal their women. That was the strength of the people in this country. They talk about the Sioux, the people on the plains. That's all good and well. But living in this (Okanogan) country depends on a whole different criteria. 
"To run away from this place and back to it, we did great. We covered the area. We did not saturate it. When the acts fell and all things became as existing, that ideal of truly being part of the land was still there. And I still carry that with me, because I grew up with that."
Edwards took off for adventure and a try-anything mentality; notably, he recalls riding a bull at a Yakima rodeo just to do it. 
"I just went because it was a big gathering of people, Indians," he said. "I got introduced and rode a bull in the rodeo. Because I wasn't professional I just went and rode exhibition. I tried it. … I went and did that."
When an opportunity to travel to Paris came, he jumped on it. Edwards was a student at Wenatchee Valley College and a humanities class offered a 10-day European trip. He proudly says he stood on top of the Space Needle and the Eiffel Tower within three days.
Perhaps the most telling moment of his go-anywhere lifestyle came while shooting pool at a local bar one night. He decided during the game he was going to go to Reno, Nevada. So he rushed it to completion, promptly drove home, packed his stuff and figured out a way to re-establish himself in a completely new city — eventually earning employment at the Chevron Corporation. 
Edwards also tried out living in Michigan, Alaska and California, among other states. He attributes experience in construction as helping him stay afloat wherever he went.
"I spent a good part of my life working construction," he said. "Just the hands-on nature of construction got me into a lot of doors that otherwise I may not have."
Summing up his "going-to-be-going" lifestyle, he said: "In all actuality, my life for the most part was lived for this time [events he could reflect on in his later years]."
That full confidence in his own survival against unpredictable odds is something he still carries to this day.
Perhaps it was preparation for life-changing events that were coming in the near future.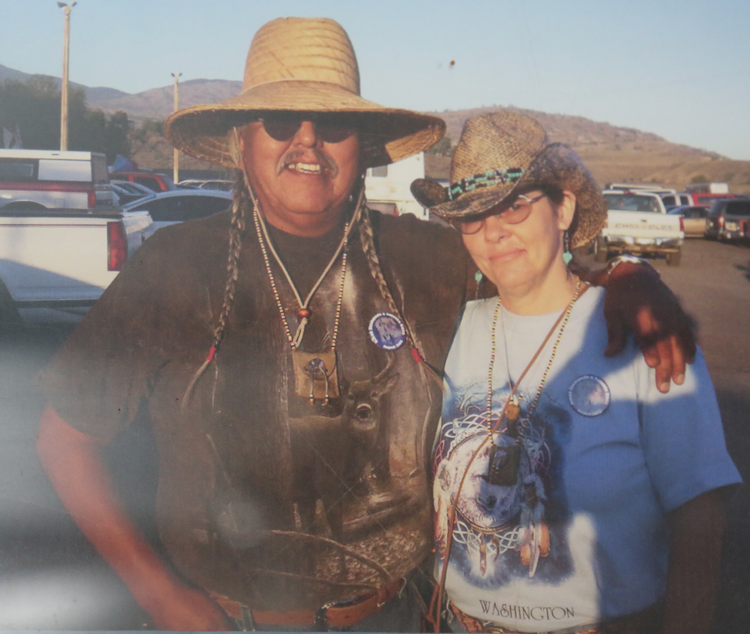 SETTLING DOWN 
Sixteen years ago, he settled down, buying land in his ancestral territory, which resulted in a coincidence he believes the creator designed.
"A couple months after I bought my house, I met Heidi, my wife," he said. "That was supposed to happen. It's too far-fetched for me to believe it to be a random confluence of events. The Creator had a design for her and for me."
Edwards was working for Colville Tribal Solutions Corporation and his future wife was working in landscaping on a project.
"Being in construction, I notice the end result of everything," he said.
He saw an attractive end result, and an attractive woman.
"Boy, you do some nice work," Edwards recalls saying of some landscaping. "She came back from California and was living in Keller, her and her three girls."
Edwards noted a troubling living situation in Keller, and eventually invited his girlfriend and her children to move to Omak with him. 
"One day I just said you guys need to get out of there," he recalled. "Come stay over here. That's just not a good place.
"She took my invitation and she's been here since. She's the best thing that ever happened to me, her and those girls."
Edwards explained to the girls he was not there to replace their own fathers. 
"You have your own dads," he recalled saying. "That does not change. I am with your mother because I love your mother and I want you to understand I'm here for you. There will always be a roof over your head."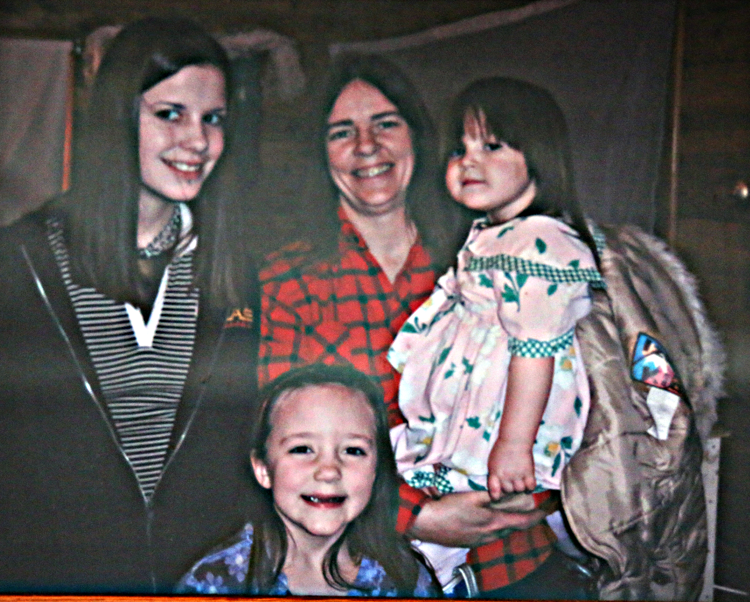 A sign of appreciation from the girls for nearly two decades of dedication to them hangs on the wall, burnt in wood.
It reads: "A father isn't defined as the man who makes the child, but rather a man who extends his hands and time to help with the child's raising and his heart to love the child through anything."
Just looking at the sign made Edwards emotional.
"Every chance I had I encouraged them to do something," he said. "Never be afraid to try anything. Try anything once. They're very intelligent people and I'm really proud of what they become."
Looking around his home, the walls are dense with photos. Edwards spots a picture of himself in his 50s, where he's a much larger man. Now, he's under 199 pounds, the least he's weighed in nearly 60 years. His thick braids have thinned due to medication from a heart attack suffered in 2017, he says.
"I had three blockages, and two of them were really severe," he said. "Medication has done my poor old braids in."
The weight loss can be attributed to his wife and daughters' urgency to switch his diet around. 
"They got me to read labels," he said. "I look at labels now and say, 'I ain't putting that in my grandchildren."
Edwards keeps a book of important labels, himself, for his own children and family members. The book contains Indian names and genealogy for the Edwards family, along with short stories and other important tid-bits of information. He noted Sinixt leader James Bernard's speech in Washington, D.C. was in there. The book is about three inches thick.
"It's different things I thought that my kids should keep in mind," he said.
Edwards raised his stepchildren with an open mind, and an emphasis on perspective, he said.
All of the sudden, Edwards got into fatherly character to explain.
"See this pen," he said, showing a pen held in his right hand while sitting at a table. "Fact being, you and I both know that I have this pen in my hand. (He then drops the pen in an unkown area.) You and I both know that I dropped this pen. Now, I know for a fact that it hit the floor, you don't.
"From your point of view, I dropped it behind the table. I told the girls everything is a matter of perspective. You have to keep clear where your perspective is at." 
Edwards takes great pride in his family. He says he always tells them he loves them when they leave from visiting or get off the phone.
"The reason for that is one of these days I'm going to walk out that door and I'm not going to be coming back," he said. "And the last thing I want you to realize is the last thing I said to you is, 'I love you.'"
Though he lives off the reservation, Edwards looks at the 1.4 million acres owned by the Colville Confederated Tribes through his father's perspective.
"You look at the true analysis of what we have," he said. "That's all that history left us. My dad told me that a long time ago."
Edwards grew closer to his father than he imagined. During his father's memorial, he was given his father's Indian name, which is very similar to his first Indian name.
"They offered me his name," Edwards said. "And it was my responsibility to take it. So I took everything I owned over the my sister's house, set it out in the yard and gave it away. I had a dinner, fed the people, had them take the plates, cups, forks and everything. I gave away my truck, gave away all my guns. 
"When I was finished, I was sitting on a chair that wasn't mine, that was my sisters. Only thing I had left was a pair of sweat shorts. That's all I owned as I started out as, 'Kok-sel-hu-lau.'"
Now, he's a property owner in Okanogan County, in land off the reservation. He has a wealth of DVDs, photographs, and family love. He also calls into possession animals that appear  on his large lot. At one point, a hawk lands near a group of grouse, looking to prey.
"Ah, there's my hawk," he said. "Sometimes he's successful."
"(Sixteen years), this is the longest I've been in one spot for a long time," he said. "I was talking to an old Indian over in Seattle at a powwow. I was telling him: 'I do all these things. I've been here, here and here, but I always end up back in (my tribal) country.'"
The man said, "Look at the country you're from. Your people have been in that country for no less than 10,000 years. You're Okanogan. You're Okanogan every day. And that's why your land grabs you: You belong there. You don't need to be anywhere else."
When asked what he wanted to share with tribal members who would read his story, Edwards reached for a bag of beaded drum sticks he crafted that occasionally become gifts. One is particularly ugly, he points out, because the head of the stick, wrapped in buckskin, gained deformities after it was finished. It will be used as a piece of perspective for the ensuing conversation as he channels storytelling abilities.
"The true nature of being a human being is knowing your equality, not only amongst man, woman, but to know your equality in all things," he said. "Because I came into existence, and I have reason to be, no different than you. It's like this right here, this stick. The tree that this stick came off stood out in that forest for 80 to 100 years. At some point, someone came along, chopped it down, and this became a part of something else, and ended up as a wooden dowel, and ended up here in my hand. 
"That tree in the forest stands the same ground as you and me. Now the reason to be, for nothing else, it came in to be as an example for this conversation. The commonality of you and me and that tree is that we come into existence and have reason to be — it's no greater, no less. The true equality of things: I'm no less than the sun but no greater than the smallest of raindrops. We are all children of the Creator. So if you get past God, and look out and look into the face of the Creator, you understand where you need to be in the face of this world."
He uses his sobriety as an example of finding his path in the world. At the time, he had another family going, including sons. All in all, he said he's help raise nine children over his life, including a biological son, Austin.
"In 1992, I needed to get away from it and I knew that," Edwards said. "I was thinking about (my children) and I was thinking, well, if I'm going to be worthwhile to those boys or whatever, I gotta be worthwhile to myself first. So I put myself in treatment. 
"And like I said, I grew up being Indian, but I reintroduced myself to it. I got further way from the religious perspective of life and encompassed more of the spiritual aspect of what we do on this earth. I became the person that this world needed me to be."
But who is that person? 
Edwards has become a cultural leader who helps take care of the fallen.
"In the last 20 years, 25 years, I've been tasked with taking care of a lot of people going out of this world," he said. "I say prayers; I sing for them; take care of them when they're on their journey; help them away from this world."
It was an opportunity that landed in his lap, he said. After someone had passed many years ago, he was asked to help.
"I said, well yeah, I know what you need to do," he said. "Get you some fur boughs, some cedar, let me help you. I'd start putting things together for them, and there's a process to it. It's different for different tribes. I know mostly Okanogan."
Edwards stops and gets into character, speaking in Salish and then translating.
"I tell people I prayed to the Creator to make my eyes good so I may see the people I need to speak with and see the places they need to go."
And, he says, "I see them. The whole person."
Edwards feels he's contributing to the complete picture of human history.
"The Creator took up his pen and drew a line," he said, using the deformed drumstick again as a visual aid. "One end to the other, and that's your whole life. You pick up everything you need to know to be who you need to be for this world. This world needs you to be somebody. I'm here to help you be that person, and so is everyone else you run into.
"You have to be on your game 100 percent of the time. You will affect people you will have absolutely no idea that you did. … You make an impact on this world, make the best impact you can."
Retired, Edwards spends some of his free time reading books. He brings out three Indian law books he's studied.
"When I look something up, to me knowledge is power," he said. "And the true power to knowledge is not in the accumulation, not even in the retention. The true power to knowledge is in the sharing. The more people know something the better off it is in the world." 
Faced with a new question, Edwards paused for a short amount of 20-30 seconds in silence before explaining himself his actions — or inaction.
"The thing about old Indians, when there's a lapse in conversation, they're not ignoring you. They want to make sure it's as honest as they can portray it."
Dan Edwards gave a genuine glimpse of his life: He's a man who searched for purpose near and far — eventually needing to be reintroduced to his Indian ways. 
A half-century after starting his journey into the world, Edwards found himself a short drive from the old cabin he was born in — a place women who loved him gave their warm bodies protect him during the extreme cold. 
His calling, in some ways, was parallel to his own life: He provided warmth and shelter to a wife and three girls, and — ever the experienced traveler — he began helping spirits on their journey in the unknown.
In Edwards' own words, perhaps it was part of the Creator's design.
Editor's Note: This story is part of our 70+ elders series. If you'd like to share your story to be told, contact the Tribune at (509)634-2225 to schedule an interview.