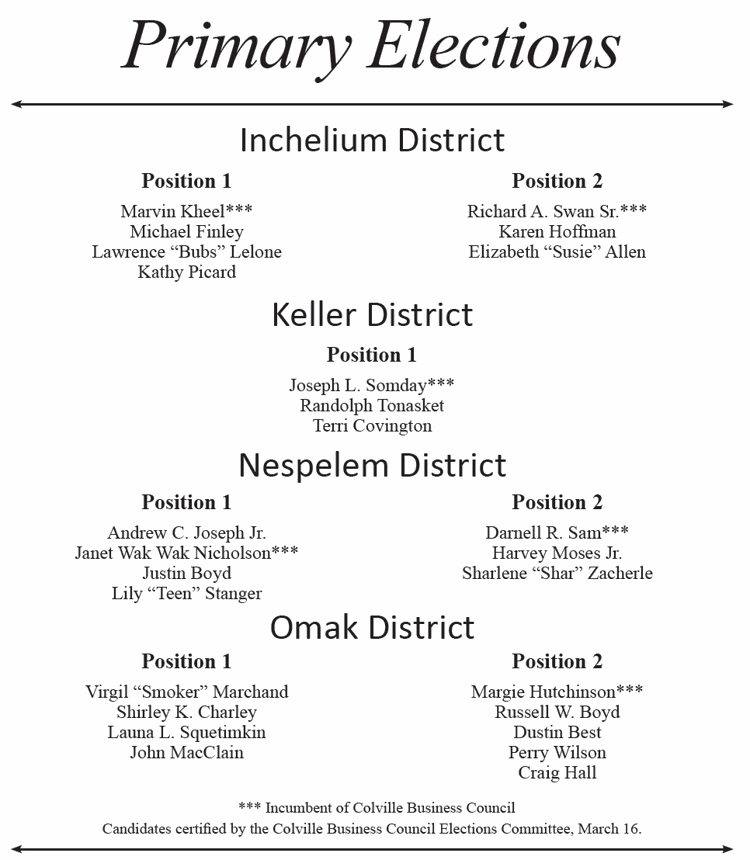 Note: All candidates appear in the order they appeared in the Tribal Tribune print edition. Not every candidate in this year's primary election submitted a candidate forum letter to the Tribune. See the above list for all candidates in this year's primary.
INCHELIUM DISTRICT POSITION 1
Marvin J. Kheel, incumbent
Greetings lnchelium District, my name is Marvin Kheel, and I am asking for your continued support in the up coming Elections for Position #1 in the lnchelium District. 
I would like to thank those of you that have supported me during my 2-year term as lnchelium Tribal Councilman. I believe I have filled this roll with Honesty, Integrity, and dedication to the membership. 
During this last term I have served as the Tribal Government Chairman, Vice Chairman community development, 2nd vice chairman of management and budget, I also was chair of the law & justice, and vice chairman of the tribal government from 2014 to 2016. 
I have been attending monthly meetings with the Ferry County Commissioners and have a good working relationship with them. In the next few months, the Ferry County Roads Department will be starting construction on the lnchelium Hwy wash out, where we have been using the detour for the last 3 years. The meeting we had last month with the Ferry County Commissioners stated they were just waiting on the right of way to be signed from the current landowner. Inchelium Short Cut Road will also be under construction this coming summer. I also have been attending meetings on the Local, State and Federal level for funding to improve our resources. 
I would like to address the growing concern about the epidemic happening with the Covid-19 Virus. At this time all 14 of the Tribal Council members and the Administration are working hard to ensure the safety of the tribal members (elders, and youth). 
The Colville Tribes Emergency Operations Center is in place and open 24 hours. 
Contact Information: (509) 634-7350 It is VERY IMPORTANT that you check in on elders and family members to see if they are in need of anything. 
Follow the steps to keep yourself healthy: 
1. Increase handwashing and use of Alcohol based hand sanitizer 
2. Respiratory Hygiene/ Cough etiquette 
3. Social distancing keeping 6 feet or more when interacting with others 
4. Clean and disinfecting personal surfaces regularly 
5. Remain home when possible through the duration of the illness 
6. If sick or suspect you have the illness quarantine yourself from others 
I will always be committed to helping you out however I can. My door is always open to you to stop by with any questions or concerns you may have. 
I thank you for your support the past 2 years. I am looking forward to your continued support serving as your lnchelium District Representative. 
Respectfully. 
Marvin J. Kheel 
Michael Finley
Fellow Tribal Members: 
I'm happy to announce my candidacy for the upcoming tribal elections for Position #1 from the Inchelium District. I previously served as your Inchelium representative from 2008-2014. Since leaving office, I went into the private sector serving in multiple capacities, which included starting my own consulting business where I have served various tribes across the nation and/or companies looking to do business with tribes. This has kept me informed and current on the issues impacting Indian Country. I also purchased the Inchelium Short-Stop, which has been an awesome experience. Owning a small business that provides a much-needed service and employment opportunity to our community is important to me. 
I was also appointed to the Board of Trustees at Eastern Washington University by Governor Jay Inslee in 2014, and still serve in that capacity today. More recently, I accepted a part time position as the Tribal Liaison for the Washington State Historical Society. 
My schedule is hectic but the work is both engaging and rewarding. My remaining time is spent with my family, mostly attending one of the many sporting events my kids are involved in throughout the year. 
There are many critical issues impacting our tribe and lands, but nothing is more important than the future of our water. This was an important issue to me when I last served on CBC and remains so today. Since time immemorial, water has been the lifeblood to everything living. Without access to ample, clean water, we have no future. Therefore, having control over our waters and its protection and enhancement to sustain our tribe's future should be paramount. It's vital that we continue to work toward quantifying our water rights here on the reservation. Although the tribes have made great strides toward this goal, we are far from the finish line. More work remains, and I will make it my highest priority we stay course toward that end. We may not all agree on how will get there, but we all agree on the end goal and to me that is what's most important. We owe it to our children and those that are unborn to see this done. 
We must also continue expanding our business portfolio. This includes taking full advantage of our gaming compact by locating and developing new gaming sites. The purchase of the property in Pasco was a great move; however, the task toward making that property eligible for gaming purposes is daunting at best. It requires we steer through what is known as the "Two Part Determination," as mandated by the Indian Gaming Regulatory Act. The Act requires that if the land was not held in trust prior to 1988, it must follow the guidelines under the Two Part Determination. This is an exhaustive, time intensive, process that only a handful of tribes across the nation have successfully navigated, and the Spokane and Kalispel tribes are among them. 
Purchasing and converting non-contiguous trust properties (such as Pasco) should be a priority. These properties serve business interests other than gaming, such as expanding our Colville Fuels chain. With each new site opening off reservation, it provides a new revenue stream to the tribes through the tax dollars we earn from our Fuel and Tobacco compacts. Rather than these tax dollars going back to the state, they come back to the tribe to provide much needed revenue for essential governmental services that benefit the membership. 
I realize there's much concern surrounding the direction of our tribe. I also share that concern and humbly ask for your support in the upcoming election. 
Limlmtx, 
Michael Finley 
Inchelium District
Lawrence "Bubs" Lelone
Greetings,
My name is Lawrence "Bubs" Lelone and I am seeking you support for Tribal Council position #1 in the Inchelium District. I was born and raised in Inchelium, a 1990 Inchelium High School graduate. A little about myself; enlisted in the US Air Force after high school and served 5 years honorably. Attended Spokane Community College and graduated with an AA in Forestry. Soon after, I started working for Omak/Nespelem Forestry as a Technician with the Bureau of Indian Affairs. In 2008, moved to Missoula Montana to work with the Bureau of Land Management in the Forestry Department. While in Missoula I furthered my education by attending the University of Montana. In 2015, returned home to work for Inchelium District Forestry as a Forester/Silviculturalist where I currently reside. I have been married to my wife Stefanie for 23 years and we raised 4 children; Edward, Riki, Kenneth, and Tesla. During all these past years I can look back and say I met some amazing people along the way; family, community members, tribal leaders, elders, co-workers, supervisors, and friends from whom I learned a great deal from. I must also give lots of credit to my mother for teaching me at a young age to treat others with respect, kindness, and to work hard in life. As your representative I will always treat you with respect, kindness, and will work hard for you all. Please look forward to my official letter in the mail coming in April 2020. Once again I am humbly asking for your support in the upcoming election. Thank you very much. 
Sincerely,
Lawrence "Bubs" Lelone
Candidate, Position #1
Inchelium District 
Kathy Picard
My name is Kathy Picard, I am running for the lnchelium District, Position. I received my Bachelor of Arts Degree in General Studies from Eastern Washington University and completed my Master's Social Work degree in one year from Walla Walla University. I have been with my husband, Curtis Clark for 20 years, we have 2 children and 6 grandchildren. My parents are Sheilah and Stretch Cleveland and my grandparents are Rosie Seymour Hall and Dewey Hall.
I worked for the Department of Social Health Services Children's Administration in Spokane Washington for 15 years as a Supervisor for the Indian Child Welfare Unit. I was promoted to Seattle in the Indian Child Welfare Office as an Area Administrator for 3 years. In the Spokane and Seattle offices I was responsible for 13-90 employees. As the Administrator in these positions, I also had the responsibility in budgets which included the expenditures and going outside and getting other financial resources. I resigned from the State in May 2016 and returned home to lnchelium.
Initially before I received my degrees, I worked for the tribe as Alcohol Program, Mental Health Assistant, Youth Home, and Child & Family Services(CFS). Since returning home I have been employed as as Domestic Violence Advocate for 2 years and was promoted to the Program Manager for Social Services. As the Social Services Program Manager, I oversee Supervised Account Holders and the Adult Protection Investigators. We have been strengthening our APS Program whereby applying and was awarded for a $583,000.00 grant from the Department of Justice. With this grant I was able to hire and Admin and a Senior Advocate Social Worker. This worker works and follows the elder and will assist with referring the elder for services and to oversee their progress. There is also money for direct services such as in home counseling and provide a safe place for the elder if needed. This is a 3 year grant.
Have you been frustrated about what's happening in the council chambers as I have been. It's determination that so many of our members have been mistreated unfairly and as a result they find themselves struggling more than before because they find themselves unemployed. This has placed their families and their home in jeporoday it is also left the membership with the feeling of uncertainty for their own future employment. Many times this past year, we were not given the opportunity to question our leaders as to the reasons why the many changes that have been made by not having our monthly district meetings. The general membership meetings are useless to us in trying to find out where we are financially as a tribe.
Not knowing our financial situation is scary it doesn't give us security nor does it secure our future of our children. At some point of time, you would think that our elected officials would understand what it means to us to know everything that is going on with our homeland. As a candidate it is my intentions to keep the people informed of all serious decisions for the betterment of the people.
INCHELIUM DISTRICT POSITION 2
Karen Hoffman
My name is Karen Hoffman, I have been married to Fred Hoffman for 29 years. We have lived in Inchelium for 24 of those years. We have worked hard to raise 5 children together. We are currently raising 3 beautiful granddaughters, and we wouldnt have it any other way. I started out working in retail and sales for a few years. Then in 1994 I moved into our Inchelium Forestry Program. I started as a Forestry aide in a 2 year program to work into a forest technician by taking college classes. Once finished I became a technician working in Presales. I learned and worked all kinds of different jobs throughout our program. I have also worked in Wildland fire as a firefighter then moving into Expanded dispatch for a number of years. I have sat on our Inchelium School Board for many years. Also, I volunteer within our community to assist families with fundraising for the youth, I love to assist with the Boys & Girls Club, community dinners at the Community Center for the youth and community members and volunteering at our school during special events. 
I am running for position #2 in the Inchelium district. I truly believe we need a strong voice to stand for our people, I would like to be yours. I dont think anyone should be silenced or have to wonder what is going on with our tribe as a whole. All information needs to be brought back to the membership. Council should be getting membership feedback before making huge decisions that effects our tribe. Updates are a must, open communications and comprehension is a huge component to keeping good working relationships. Honesty, respect and dignity are strong characteristics that I do not take lightly. Everyone matters no matter who you are. I can be contacted anytime if you would like to talk. 
Thank You, 
Karen Hoffman 
509-680-5410
P.O. Box 36
Inchelium, WA 99138 
Elizabeth "Susie" Allen
TRIBAL MEMBERS: 
My name is Elizabeth "Susie" Allen, I am an enrolled SINIXT band member of the Colville Confederated Tribes. I am very proud and honored to have served a total of four-terms (8 years) on the Colville Business Council from 2007-2011 and 2015-2019. I am requesting your support for the Inchelium District Position No. 2 during the Primary Election on May 9, 2020. I bring to the table my background in Information Technology, TERO, Financial and Purchasing positions I have held within the Tribe spanning over 36-years. 
TRIBAL MEMBERSHIP
Here is what I have done and will continue to do across our Tribe 'RESPECT THE PEOPLE", their "CONCERNS, QUESTIONS and OPINIONS"! Honor the memberships "FREEDOM OF SPEECH" under Colville Tribal Code Title; Chapter 5 Colville Tribal Civil Rights Act; 1-5-2 (a). This leader understands each Tribal member has "Inherent Constitutional Rights" including our Tribal Laws. 
I will work for and alongside you to make communications improvement within the Tribal Organization. We need COMMITTED LEADERS, for the day to day management oversight of our Tribe's critical multi-million-dollar governmental operations. Be transparent with the membership utilizing all forms of communications. Yes, there are Council policies our leadership must abide by in terms of confidentiality. However, there is no reason not to provide a professional response, whether it's accepted/not accepted by the membership (we can agree to disagree), but be the leader to rise above and communicate, it's that simple. 
HUMAN RESOURCES/EMPLOYEES
The Employees and HR program are the critical backbone within the Tribal organization. The Employee Policy Manual provides the professional responsibilities all employees must abide by. The EPM policies are not always fairly administered across the board on many levels. The EPM needs to be improved to ensure all employees are fairly treated across the board, removing all roadblocks that hinder them today at all LEVELS. The EPM is supposed to reflect the Tribes' values and customs influence the terms and conditions of employment. It should assist (all) decision makers in creating and preserving a workplace that is fair to ALL employees. I support implementing a policy that works, not hinders the processes. 
ACCOUNTIBILITY
Tribal members, we as a Tribe have not broken the code on the word "ACCOUNTABILITY" to the membership. It involves electing LEADERSHIP who truly desires to ensure accountability that demonstrates transparency throughout the organization. That our professional resources lead by example in all matters, budget management and services fulfilled to the membership. If they didn't meet their planned goals and objectives, what is the plan to improve services. If elected, I support we implement an accountability plan, that will provide the Leadership with statistical and financial information to enhance and improve the lives of the membership. 
There is so much more that comes with CBC responsibilities when you are elected to serve your people, the most important above all is truly be there for the membership in your heart. Help "all" your people across our communities. I will treat you with honesty, integrity, sincerity and give my all. I will look into your concerns and issues within policy, if it requires putting on an agenda, I will assist you with this process. Many times, you the membership have the solution it just needs to be heard and considered by the CBC. I plan to engage on more topics that are of importance to all of us in my mail out letter. I am here for you and available at (509) 722- 3809 Home and (509) 631-0440 Cell or by email: susie.allen79@outlook.com.
VOTE FOR "SUSIE ALLEN" – MAY 9, 2020 @ POLLS OPEN 8 A.M.
INCHELIUM SENIOR MEALSITE 
KELLER DISTRICT POSITION 1
Joseph L. Somday
Thank you for your continued support over the last several years. I humbly ask you for your support again. Let's win this election. I look forward to hearing from you. You can reach me at (509) 860 -3739.
Thank you
Joseph L. Somday
NESPELEM DISTRICT POSITION 1
Andrew C. Joseph Jr. 
Way Xast xaxalt (Hello Good Day)
Yaxwyaxwutxn (Badger) 
Andrew Joseph Jr .
I am running for Nespelem District Council Position #1. I have had the honor of serving on our Tribal Council for 16 years. Even though it's been almost a year off council I still have had many opportunities to speak for our people by testifying for Native Veteran's Health Care in a Congressional Hearing and working for The Native Project, The Healing Lodge of 7 Nations Youth Treatment Center in Spokane, and Seattle Indian Health Board Center in Seattle; They asked me to help them lobby for more funding and provide traditional/ spiritual training to staff and patients. Washington State University appointed me as a Member at Large for WSU Native American Tribal Advisory Board . WSU's School of Medicine will train family medical doctors. We can grow our own healthcare providers for our tribal clinics. All these programs have asked me to represent them because of my experience as a nationally recognized tribal leader. They said "We need your voice and know you have the respect of people in high places (State and Federal). Your voice has brought us millions of dollars in funding." In the positions I have held such as: Tribal Council HHS Chair, Vice Chair of Veterans Committee, Chairman of the Northwest Portland Area Indian Health Board the 43 Tribes of Idaho, Oregon and Washington, National Indian Health Board Executive Committee Member, Third Vice Chair of Affiliated Tribes of Northwest Indians, Chairman of the Healing Lodge of 7 Nations, WSU Native American Advisory Board, Co-Chair National IHS Budget Work Group and National IHS Contract Support Cost Committee, Co-Chair of the SAMHSA Tribal Technical Advisory Committee, CDC Committee, National IHS Facilities Committee, IHS Purchase and Referred Committee (PRC), IHS (CHAP) Advisory Committee, Nespelem School Board Member. Working on these Boards and Committees have brought millions of dollars to tribes, Urban Health Centers and The Healing Lodge of 7 Nations Youth Treatment Center. In the IHS CSC Committee, I worked on the formula which allowed the inclusion of the Medical Inflation Rate, this has brought millions more funding to tribes nationally. Our tribe has benefitted from these funds. The IHS Facilities Committee is helping our tribe get a joint venture clinic which will give our tribe federal funds to provide staffing of 100+ employees in Omak. I have worked on getting our tribe an Inpatient Encounter Rate for our Convalescent Center. The last year of President Bush I worked on writing the New Indian Health Care Improvement Act to include long term care. It was signed into law by President Obama. I then asked at the National HHS Budget Consultation for CMS and IHS to work with tribes to allow our tribe to be able to bill CMS the inpatient encounter rate. A little over two years ago I was told we needed our State Legislators to pass a bill to allow the funding to come through the State. We lobbied and it was approved. We then work with the State and requested our encounter rate of $627 per patient per day. This was approved by CMS in Washington D.C.; it saves our tribe over a million dollars and generates millions of federal dollars to operate our Convalescent Center. It has extra funding in it to build a new Convalescent Center. I want to help our tribe work on Elder In-home Care and Inpatient Encounter Rates for our Treatment Center. With this COVID-19 Virus we need an experienced voice to make sure we have everything possible to protect our people. Please Vote!
Thank You, 
Andrew C. Joseph Jr.
Justin Boyd
Way', Nespelem District Voter, 
My name is Justin Boyd. I am running for Nespelem District Position # 1, Colville Business Council.
I am married to Sharon Boyd (Swan). We have five (5) beautiful children: Tiana, Myka, Justice, Cecilia, and Calijah. Shirley Whalawitsa is my mother and my dad is "Rudy" Boyd. My grandparents from my mother is Lawrence Whalawitsa and Sophia Dick. My grandparents from my father is Bill Boyd and "Tillie" Carden/Seymour. 
I respectfully as for your vote. If you vote for me, I will be at work each day to move our tribe forward. I will attend each committee meetings and district meetings. I will do my best job to vote for what is right and in the best interest of our membership. I will ensure that there is open communication with tribal members and transparency in everything the tribes do on our behalf. I will work hard for my district and the Colville Confederated Tribes.
Currently, I work as the Property Acquisition Manager for the Colville Tribes Real Estate Services. I manage seven committed employees under a 638 contract between the Colville Tribes and Bureau of Indian Affairs. In 2017, our staff won the Colville Tribes Program of the Year. I am very proud of the efforts of our staff. Last year, we worked together to make over $6.5 million dollars in revenues for the Indian landowners. Over the last 5 years, we generated over $20 million dollars. My experience includes working with trust lands and families who are the landowners and including the Colville Tribes. Real Estate Services manages over 2,700 case files. My experience includes Rights of Way, Deeds, Leasing, Appraisals, Land Sales, Mortgages, Fee to Trust, Surveys, Probates, National Environmental Policy Act, Congressional Acts, State-Tribal-Supreme Court Cases, 18 & 25 United States Codes, 25 Code of Federal Regulations, American Indian Probate Reform Act, Tribal Historical Preservation Office, PL-638, Super circular OMB, and Trust Asset Accounting Management Systems. Since 2016, I have been delegated from time to time as Acting Natural Resource Director. This has allowed me to learn what it takes to work and protect our Natural Resources.
I will work hand in hand with you. My vision is to bring jobs to the Colville Tribes and help our members get to work. My goals are simple, direct, and transparent:
1. Working for the people and not against the people;
2. Protect our Trust Lands and expand our Trust Lands;
3. Work with the community to ensure goals are met;
4. Ensure the administrative processes are accurate and true;
5. Support Tribal & Casino Staff employees get much needed pay increases;
6. Support scholarship awards to our high school students;
7. Create opportunities for tribal members to start their own businesses;
8. Build continuity among the membership and the Colville Business Council.
The Colville Business Council is in need of committed leaders. My vision is to empower our people to believe in our leadership and our administration. I will utilize my education, training, and experience every day to work for our people as leader with integrity. I hope for the chance to listen to your ideas and concerns. 
I earned a Bachelor's Degree from Fort Lewis College and Master's Degree from University of Arizona specialized in Federal Indian Law, Tribal Governance & Leadership, and Nation Building. In 2011, I received the graduate student of the year award from University of Arizona; In 2017, I received the 40 under 40 Award from The National Center of American Indian Enterprise Development
Thank you. Lim Lim
Lily "Teen" Stanger
Lily (TEEN) C. Stanger
P. O. Box 653
Nespelem, WA 99155
(509)-634-4445
Colville Tribal Members
Hello, I am Running for Colville Tribal Council (Position 1) and need your support and vote. My Mother is Lottie (McCraigie) Atkins and My Father is Lawrence Edwards Jr and My Grandparents are Eddie and Ester (Samuels) McCraigie and Lawrence and Ester (George) Edwards Sr. Being the oldest daughter of 7 children growing up on the Colville Reservation; I am (Inherently) a bridge builder and peace maker. Lived on the Colville Reservation all of my life and attended St. Mary's Mission and Graduated from Lake Roosevelt High School in 1986. 
Why should you consider me: "Ride to the sound of the Guns", means to go to the point of the conflict or crisis, but not to be foolish to do so without understanding what to do. The Main Reason, that I should be in the Office of the Tribal Council, is that I can hit the ground running. My whole life experience reduces or eliminates the learning curve for this position. I have read state, county and Tribal Law, and have worked on several Budgets while working for the Colville Tribe, Bureau of Indian Affairs, and Pacific Seafood.
In Closing: Thank You for helping me raise my family in an enjoyable home (My Husband: Rob Stanger – My Sons – Michael, Nicholas, Brian, and Cole Stanger) 
NESPELEM DISTRICT POSITION 2
Darnell R. Sam, incumbent
Whyt' limp limpt'
It is with great honor and pride that I've had the privilege to serve the membership of the Colville Confederated Tribes in this short while since I came into my current council position. The learning curve was short and quick and I believe our people deserve the best. Our elders teach us that all we can do is our best. I have been giving my best to represent not only the Nespelem district, but the membership as a whole on and off the reservation.
My motto has been, for the people about the people.
I am a family man, happily married for 23 years. I have been with my wife for 28 years. We have four beautiful daughters and two grandchildren including one grandson that just turned 4 years old. Our granddaughter is our little angel now watching over us all! My parents are Rusty and Charlene Sam from the Buffalo Lake Sam's. Their parents are Harry & Christine (James) Sam and Lillian Dick and Pierre (Pete) Joseph.
I've worked for the tribes 22+ years, including this past year serving on council. I worked 10 years F&W fisheries, 2 years Environmental Trust, 2 years Highway Tire program manager, 6 years Range Department and 2 years seasonal Forestry. I hold two Associates of Applied Science degrees from Spokane Community College in Automotive Technology and Automotive Machinist (1994). I am an Honorably Discharged Army Veteran (1990) and a graduate of Lake Roosevelt H.S. (1988).
I currently hold three Chair positions as a Nespelem District Representative: CBC Fisheries and Culture Committees and the Upper Columbia United Tribes.(UCUT) Chairman. Within each of these committees there are wide ranges of concerns going forward. Culture committee has been contentious and rightfully so. Issues within Culture can and always will be personal for it is very much identifies us who we are and where we come from. Fisheries has been very busy with work for the Columbia River System Operations (CRSO) and its Environmental Impact Statement (EIS), which was recently released and the potential outcome has serious implications pertaining to a wide range of issues that will affect our future of fisheries. We as tribes are actively seeking for fish passage past Chief Joseph and Grand Coulee Dams. I have had the distinct honor of being the First Nations Representative in the ninth round of the Columbia River Treaty. 
Today's political climate is a threat to our Sovereignty, and we face many challenges. Tribal leadership is tasked to continue the efforts of our past elders and ancestors of the path they laid for us the follow today in self-determination. We need to continue to advocate for strong government to government relations with other tribes, state and federal entities. Being proactive in our strategies and interests going forward. 
Why me? Respect and Integrity says a lot. I believe we treat each other how we want to be treated and actions speak louder than words. Honesty is key; I have nothing to hide, what you see is what you get. I stay grounded in my traditional and cultural practices. I am true to who I always want to be--genuine and humble.
It is important to make sure our elders are safe today and we are doing all we can to prevent any losses with this pandemic outbreak of the COVID19 (coronavirus). Protecting our families, relatives and our people comes first--please be safe! I want to continue to represent you for another term and do all I can to advocate for the best interests of my people!
Limp limpt' 
Darnell R Sam 
(509) 634-4248
Harvey Moses Jr.
My name is Harvey Moses Jr. I am a tribal elder I am married to my wife Cheryl, (50 years) we are the proud parents of 4 children, Monica, Erica, Amelia and a son JC. We are grandparent of 7 children, Aylia, Daniel, Ella, Eva, Sydney, Darius and Kisu. I am a Vietnam Combat Veteran, Honorably Discharged. I am a full blood, Okanogan, Moses Columbia, Nez Perce/Paulus. I am a candidate for the Nespelem District Position #2. I bring to you a wealth of experience in tribal government, tribal politics. I am the former Chief Accountant/CFO, Administrative Director, Executive Director, council member, (10 years) served one year as your Chairman, CTEC/CTFC Chief Financial Officer, Gaming Auditor, Gaming Commissioner, CTEC/CFED Board Member. I also served as the Tribes representative to the Grand Coulee Dam Area Chamber of Commerce, Coulee Community Hospital Commissioner, Okanogan County Democratic Committee men. I am a current Board member of the Warriors Heart to Art foundation and a Board member of Camp Chaparral. These last two entities serve combat veterans.
I'm will bring HONESTY and INTEGTY to the table. I will bring LEADERSIHP to the table. I bring KNOWLEDGE to effectively work with State and Federal governmental and private entities. will give you a MONTHLY ACTIVITY REPORTS. You will have a VOICE and an EAR at the table
I will not write a bunch of campaign letters. When I last ran, I got about half of all those returned, wrong addresses or deceased. That's a lot of money, wasted. I will put a letter in the local paper and Tribune. I will ask my daughters who use Facebook for help, also. I will attend any and all campaign functions.
Currently I am employed by the Colville Tribes as a Tribal Veterans Representative, (TVR). have been in this position for five years. I've worked to get better coverage; better treatment for our Warriors at the Veterans Administration facilit ies. I have filed disability compensation claims for our Warriors.
Finally, I ask each you to VOTE. This is your opportunity to make positive changes in tribal governmental operations and effective representation.
Thank You
Harvey Moses Jr.
Ph. 509-634-4510 
Sharlene "Shar" Zacherle
Dear Nespelem District,
My name is Sharlene Zacherie and i reside in Nespelem and I'm very honored & proud to be able to formally announce my candidacy for the Nespelem District
Council Position #2. The bands that I'm enrolled under are the Arrow Lakes, Wenatchee, Entiat & Moses Columbia. I have four children, Janessa & Rhandi Morin, Michael. And I lost my youngest son Patrick Morin, Ill to a tragic motorcycle accident in July 2018. I've been a resident of Nespelem for now over 40 years. My mother's name is Velda McClung and my father was Melvin Zacherie.
I have devoted the last 30 years of my life to working diligently for the Colville Confederated Tribe, and now i would like to work for you. I want to ensure your voice is heard and that communication streams both ways. My employment spans from beginning my employment at the Convalescent Center and working side by side with my mother. Throughout my tenure with the Colville Tribe I've worked at Public Works & Utilities, Archives & Records, Early Childhood Education, and now I work for the Police Department in Nespelem as the Police Administrator for close to 10 years now.
For many years I've seen reoccurring issues and problems that our Tribe has faced, and there are so many issues that I would like to identify but i will only name a few for now.
• Vocational Training Programs provided year round. This would allow our young adults to acquire skills and knowledge for years to come. Because not all high school graduates want to leave the Reservation and go to college.
• Victimization & Harassment in the work place. More times than many our valued Tribal
Employees fall victim to this by their own Management. Why is the Tribal
Administration allowed to treat our employees this way. I'm ashamed and embarrassed on behalf of the Tribe.
• I would like to see Tribal Members in management positions throughout the Tribe.
• More affordable housing in our area, to include safe facilities for our children in the comm unity.
• Providing affordable Fiber Optics to our residents that reside in Nespelem and surrounding areas.
• Build upon and enhance our current Public Safety Division to keep our communities a safe place for generations to come.
Furthermore, it's not what I want it's what we want as a Tribe and with your supportive vote we can work towards a better tomorrow. I look forward to hearing from you, as there are so many more issues we can build towards, but I can't do it alone, but we can as a team. I want to know what you want as a Nespelem District Voter.
Lastly, with your support and your vote we can make a difference. I truly believe in good positive communication, transparency and leadership and I plan to run a positive campaign, one in which I will display integrity, honesty and trust in all my interactions and treat all that I encounter with the utmost respect & professionalism like i always have. It will be a great honor and privilege to serve my people and I will do so by listening openly to all the issues and concerns of all our tribal members from our young adults to our elders.
I want to be your voice, and I'm asking for your vote in the Primary Election on May 9, 2020.
VOTE SHAR ZACHERLE NESPELEM DISTRICT 
POSITION #2
Respectfully,
Sharlene Zacherie (Shar)
Please contact me at any given time 
Cell: 509-322-2508 
OMAK DISTRICT POSITION 1
Shirley K. Charley
Hello Omak Voter,
I am a Democrat. I find facts, not rumors. Find solutions not obstacles. Follow traditional customs daily. Common sense, morals, and standards firmly within. Speak the truth and truth does not change. Alcohol and Drug free which I am very proud of, no clouded decision making and responsible for my actions without excuse. I will answer and ask the avoided questions. Policy make to find workable and reachable solutions.
Thank you in advance for reading. I'm asking for your Vote on May 9, 2020. I'm Shirley K. Charley, applying for the job and responsibilities in position #1 as our elected Council person for the Omak District. I have been elected 3 times and would be honored to represent us again with your help on May 9th.
Leona M. (Tonasket) Rubi is my mother. Passed on is my father: Frank "Oly" Marchand. Grandparents: Louise (Camille)/Leo Tonasket and Josephine (Carden)/George Marchand. Married to Dale Charley, we have grown children, grandchildren, great grandchild, siblings and extended families. Born and raised in Omak, WA.
I have been Chairperson of:
• Health & Human Services
• Law & Justice
• Tribal Government
• Elections
• Secretary of the Executive Committee
I have lobbied in National and Tribal affairs. National issues shouldn't overshadow "home front" issues. I have the experience and knowledge of issues, process, conducting business in an adult manner. I know when "respect" should be adhered to. The "disrespect to us, the membership" saddens me and I firmly believe we can change this attitude by who we VOTE for on May 9, 2020.
Few issues of concern:
• We can say whatever in these letters what we will do, only promise I make to you is that I will go to work and do the job.
• Domestic violence against our women, men, and children of all ages and in all districts.
• More done for our Veterans and Homeless.
• Pave from Hwy 155 to Columbia River Road aka: Omak Lake Road (minutes not hours in response time).
• Affordable Houses/Trailers, without increasing our rent or payments.
• Travel accounts/expenditures of all our elected officials, Public Information Act.
• Our schools on and near the reservation should have the resources needed to keep our children and staff safe.
• Activities for our Youth that are not always sport oriented.
• Transparency is only adhered to "if" they want us to know.
Without us, the membership, we are not a Tribe. Without land, we are not a Reservation. Unique in our customs and language. Fresh eyes and open ears are new ways to resolve old issues, finalize them. Times have changed and not all "old ways" work. Good faith discussions should be for us, the membership's benefit, not self-serving actions.
I have held Office Jobs, Highway Flagger, Traffic Control Supervisor, Personnel Office Manager, Domestic Violence/Sexual Assault Advocate, and Colville Business Council.
Thank you again for reading my letter and to consider VOTING for Shirley K. Charley on May 9th, 2020. Travel Safe.
VOTE SHIRLEY K. CHARLEY COLVILLE BUSINESS COUNCIL, POSITION #1 
John MacClain 
My name is John MacClain, and I am seeking your vote for Omak tribal council. My parents are William and Regina MacClain, and my grandparents are William and Mary Marchand. I pray that COVID-19 has not directly affected your family-and want to ensure you that our Tribe is working diligently to control this pandemic.
My family values include the principles of integrity, honesty and dedication. This past year has been a career highlight as TERO Director. We achieved the TERO of the year award from CTER after the staff assisted with several advancements. We brought technological innovation, a new wage scale for reservation tradesman, and provided new and improved training opportunities. I benefited early in my career with mentorships under Conrad Edwards and Slim Adolph. I watched tribal members enter trade unions and was able to put the lessons of prior TERO Directors to work for the membership. I am most proud of our Values and Mission Statement we developed: Protect our traditions and resources through enforcement, training, and career development.
After spending the past 16-months working in the Lucy Covington Government Center-I've hada personal view of the hard work, dedication and teamwork that goes on every day. While I was honored to be part of program management, I have observed outdated and obsolete practices that continue to hamper progress. I think it's time that we engage the brain trust of career managers to improve systems and methods to blaze a trail for tomorrow's approaches to best practices and new technologies. Our working environment can flourish from an "I can't" to a find a better way together cooperative.
I reached the highlight of my gaming career as Chief Operating Officer of Colville Gaming, LLC. My wife Tessy and son Connor were supportive of my career and education required to land jobs in California, Oregon, Oklahoma and New York. After uprooting my family all those years, I have decided to continue living my remaining years in Omak, and work to improve our Tribe.
In addition to earning BS in Business and a MS in Management degrees from St. Gregory's University, I have always been proud of the fact that I served my tribe as Chairman of the Board of CTEC and later as the Vice Chairman of CTFC. These years of service better prepared me to understand the business challenges facing our tribe as well as the barriers to growth and market driven prosperity.
We must act now to protect our Natural Resources given to us for safekeeping by ancestors. Council needs to prepare for battle against unscrupulous government officials who openly lie, dismiss proven environmental science, remove environmental protections for profit, and take away already limited federal funding. This can be accomplished by engaging with other Tribes, state and federal officials whenever possible. It's no longer safe to assume what is being shared by media isn't being used as distraction or disinformation for the sake of manipulation and deception. I promise to put in the time necessary to gain an in-depth understanding of threats to our Tribe for the sake of future generations.
Lastly, I believe we should work on 'Vision 2050' for our district to improve infrastructure, housing, medical and senior centers, roads, sidewalks, parks, playgrounds, Boys & Girls Club and developing a Tribal Township. Owning our future and working harder than ever using integrity, honesty and dedication is the best way for progress. Working together is the way to make this happen, and I promise to do my best and work tirelessly if given the support in this Primary Election and beyond.
Regards,
John MacClain
OMAK DISTRICT POSITION 2
Margie Hutchinson, incumbent
Dear tribal members;
INFRASTRUCTURE:
As I stated two years ago our Omak clinic will pay for itself, and we are close to beginning. Head Start is also ready to build. Omak Senior Meal site has been identified and the blueprints from Nespelem meal site will be utilized. Wellness center is being worked on and funds being identified. We will look for renovation funds for the Malott Hud site playground.
Working on Senior Water rights we have hired a firm that has won on other reservations.
One of my issues two years ago was the Ethics code, and it is ready to be acted on.
Continue to look/purchase land in our aboriginal territories, for jurisdiction purposes.
Columbia River Issues push for legislation that will support our fisheries. And continue to partner with other federal agencies to reach our goals.
Support Small businesses as they are one of the largest employers.
Support our language program, as we are getting really scarce on fluent speakers.
Farm to School Grant Program, seeking funds for Pascal Sherman Indian School to increase local foods served through child nutrition programs, teach children about food and agriculture through gardening. And also growing indigenous foods to supplement their diets.
On a committee to purchase tiny houses for the homeless, and those that are just returning from incarceration, as they would have three to six month of rent money. Also finding ways to provide a small compound to build for senior citizens, so they can congregate and help one another.
Strong advocate for the $650 Billion Census drive, so that our people can realize much needed funds for all our programs. i.e. health, education, roads and redistricting our reservation.
I will end by saying we need to find our moral compass, stop the petty political agendas, and work for the entire membership.
Margie Condon Hutchinson
Russell W. Boyd
My name is Russell W. Boyd and I am running for the council position #2 in the Omak District. My parents are Cindy & the late Wayne Boyd. My maternal grandparents are Josephine Seyler (Marchand) and Fred Fulgham. My paternal grandparents are Matilda "Tillie" Absher and William "Bill" Boyd. I have 2 sisters Shannon and the late Bridget Boyd and I am raising 10 healthy, happy, beautiful children who are all involved and active in many different sports.
I have worked in different departments from the age of 14 until now throughout the tribe. I received my education at Interface Computer School, Interface College. After
Graduating from there in 2002, I started work as a Network Administrator for PSIS and stayed there for 9.5 years. After working for the school I went on to work at the Colville Tribal IT Department as a Systems Tech and have worked my way up to Systems Services Manager. I had also stepped in as the Community Center Manager for a few months so I've been fortunate enough to gather great experience along the way.
If given the opportunity to be elected I can prove to you it's always been my mission to make our Colville Confederated Tribal members proud in every facet of life. VOTE VOTE VOTE. I don't want to offer you broken promises but I do want to make things better for us in every way. I will work with our other elected officials to bring positive change throughout Indian country.
There are many reasons I've decided to run for council and here is a list of examples:
• Wanting Positive Change for our people
• Improve Elder care such as housing, stipends, assisted living, healthcare
• Improve Youth Education in all facets and promote post high school education
• Solve financial burdens that have been left to the casinos and other businesses
• To increase Tribal revenue resources (Hemp as an example)
• Expansion of the fiber optic services to:
1.Lease fiber to 3rd party companies to generate revenues;
2. Provide data storage to outside companies and help them keep compliant with all organizational needs allowing IT to create revenue
• Protect our sovereign rights
• Preserve our traditional ways
I passionately believe I need to defend our tribes and our tribal sovereign rights from the direct threat of the Trump Administration. Many proposals, enacted laws, etc. thta have already come out of his administration are being felt strongly by our fellow tribesman. We need to take a stand and prepare ourselves in a good way to fight the fights on their grounds (Court System).
I believe being able to walk in our traditional ways along with keeping a wary eye on the progressive nature of America in general is a positive way to move forward as a tribe. My education and career follows the progressiveness of the world around us and my upbringing and teachings of the sweat, jump dances, stickgame, and belief in a higher power is what keeps me grounded with the best of my people at heart. I am an independent thinker, leader and team player.
Above all, I want to protect our land, water, tradition s, language and everything that makes us sovereign. Let's not go back to doing what we' ve always done and expect different results. Let it be within your heart to allow me to make change and represent us in a good way. Lem Lempt
Dustin Best
Dear Omak District Members,
First of all, I would like to introduce myself, my name is Dustin Best and have lived on the Colville Reservation almost my whole life. My mother is Patricia Marchand and my late father is Duwayne Best, grandparents are Dotsie Marchand and Si Albert also Alice and James Best of Kartar. I grew up in the Kartar valley as a child and now live there as an adult.
I am running for the Omak District Position #2 and respectfully asking for your support. I have worked for the Colville Tribe for 26 years. Of those years I dedicated my career to the Colville Tribal Police Department 20 years and ended my career as the Chief of Police.
I have educated myself while working full time and I received my Bachelor of Science in Criminal Justice and Administration, then challenged myself to obtain my Master's in Legal Studies at Arizona State University. I am also a Navy Veteran in the Navy Seabees, I just currently went to inactive ready reserves and will finish my military career in September. I also proudly served on the Paschal Sherman Indian School Board for (6) years to help promote our youth through education.
During my time I have had the privilege to work and manage the Tribal Police Department, Tribal Corrections, and many Public Safety departments at the Colville Tribe. I started working for the Tribe at sixteen years of age, my career consisted working in Gaming, Administration, Public Safety and then the Colville Tribal Police Department. I have gained the knowledge of Tribal Budgets, Federal 638 Contracts, and Grants. Worked with many agencies such as the Tribal, Federal State governments.
The reason I am running for Council is that my experience and knowledge of the Tribal system and process has lead me to be a positive tribal member and leader that wants to fight for this tribe and especially its members that do get left out or not heard. We do need new Council members with new ideas and to really hear and listen to the Tribal members. Transparency and honesty to the membership about what council votes on and why. Being accountable to members in my district and reservation-wide to give the peoples' voice in the chambers. Not being a Politician but a leader I feel is the true impact that will help change the Tribe and go back to more traditional and cultural aspects of decision making on what is best for our people and not the Anglo- Saxon way of leading.
In this election I will promote my honest dedication to the Tribe and its members so that our Tribe is not left behind in the world that we are noticed and respected. I also promote education, criminal justice, and a healthy life. Omak district has been left behind in major projects such as a Senior Center, Omak Community Center, Health Center, and Youth programs.
I am asking Tribal members in the Omak district to support me in my journey in this leadership role to be "YOUR VOICE" in the Council Chambers. My promise that I make is that I will be there every day and give 100 percent while I serve to be your voice.
Respectfully,
Dustin Best Position # 2 Omak District
Perry Wilson
Hello,
My Name is Drew "Perry" Wilson and I am the son of Dale and Betty(Zacherle) Kohler and Eldon L. Wilson. I Graduated from Washington State University and have worked as a Indian Child Welfare Worker for the past 15+ year. I wanted to write a ranty political letter but as I sit here on Wednesday March 18th, 2020 at 3:12pm I am wondering why the Tribe has not closed down and sent it's workers home. There is a serious pandemic and I am concerned that we did not act sooner and close the offices when Schools closed on March 13th. Our employees are our Families and their health is our health. There was zero reason for the Tribe to remain open. I am very hopeful that right now each and every one of you is safe and sound. Know that while this is going on I am thinking of ways to help our people regardless of if I am voted on to Council. This will be a time for our Tribe to come Together and remember who we are and that YES, We are all related.......I am praying for each and everyone of you and I know our Ancestors prayers will see us through these trying times. God Bless you. 
Craig Hall
Way' 
My name is Craig Hall, I've been born and raised in Omak, Wa. My father is Timothy Hall and my late mother was Jackie Williams from Inchelium, Wa. My paternal grandparents are Lila Friedlander and late Ronald "Ducky" Friedlander Sr. I have two sons who are Tanner and Clayton Hall, who I pride in being a father to. I am pleased to announce my candidacy for Position 2 representing the Omak District and wish the best for the better interest of our Tribe. 
Limlmt' and remember to Vote.
Craig Hall