OMAK - When the Cold Springs Fire that started in a wind event over the long Labor Day Weekend was moved to a patrol status and handed back to the Mount Tolman Fire Center, it had burned just under 190,000 acres on the Colville Indian Reservation, and within the fire scar that seemed to consume the entire western portion of the reservation 78 homes and 71 other buildings sat destroyed.
With the smoke gone and the dust settling around burned foundations, efforts have shifted from response to recovery and relief in Okanogan County.
Three Colville Indian Housing Authority homes in a CIHA development in Malott were lost, now standing with chainlink fences around their ruined remains, but CIHA Executive Director Doug Marconi Sr. said the housing authority was fortunate that three other units were available in the Omak district for those families.
The units were insured, said Marconi, who continued to note, "We have made claims on those, but it will take some time to process those claims and the funding. We intend to rebuild, though we are not sure if that will happen this fall."
During the fire, CIHA worked alongside others in response to the fires.
"One of the beneficial instances in this case was that there were other entities that came out and assisted immediately as well," said Marconi. "We provided some potable water and portable toilets, but the electricity was out and that was out of our control. That was awful for the residents to endure."
Marconi noted Red Cross and The River Warriors both provided assistance to residents impacted by the fire, helping with clothing, food, bedding and other essentials.
CIHA also worked through HUD to provide immediate relief in the form of motel assistance and vouchers to the three families displaced from the Malott development as well as over a dozen other tribal families displaced when they lost their homes to the fire. 
Now, as response turns to relief, CIHA has looked toward federal partners in an effort to redirect some COVID-19 CARES Funding the housing authority received, said Marconi, who noted CIHA previously utilized the funding to create program services for rent and mortgage relief, to buy personal protective equipment and items of basic hygiene and as utility relief. 
Response, to relief, then recovery
The Okanogan County Longterm Recovery Group and American Red Cross have both continue to assess damage and continue the intake process of families impacted by the Cold Springs Fire, said Carlene Anders, director of the longterm recovery group, during a meeting with fire victims at the Okanogan County Fair Grounds, Sept. 22.
The group was originally formed in response to the Carlton Complex in 2014 and then continued recovery work in response to the Okanogan Complex Fires, which included the Tunk Block Fire and Northstar Fire that burned on the Colville Indian Reservation in 2015.
"We have been working recovery literally for the last six years trying to get that work done from 2014 and 2015," said Anders. "Unfortunately, it is hard to see this this year. I feel for those of you who have lost things this year. It is tough to do this. To have COVID and to have four out of six years be declared as national disasters. However, I know how strong Okangoan County is and the people of Okanogan County."
The longterm recovery group is a 501c3 organization.
"What I do need say is longterm recovery comes after response, relief and short-term recovery," said Anders. "What we are hoping to contribute comes a little later. We are 12 days in. We are loads ahead of where we have ever been. It may not feel like that to you, but because of our previous contacts, we are further along than we have ever been… I want to encourage everyone to take advantage of opportunities, of resources, of assistance, be thinking ahead. If you don't snag it when you can, it may not be there later. That is really important."
The Colville Tribal Emergency Management has established a donations center at the Okanogan Bingo Casino, available to anyone impacted by the fire.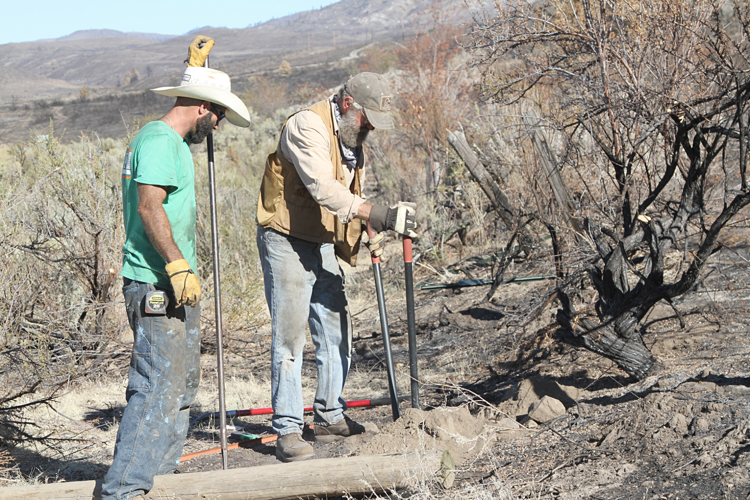 "Farmers and ranchers helping farmers and ranchers"
Along with homes lost, many ranchers and farmers in the fire lost animals, hay, rangeland, pasture and more, said Colville tribal member Naomie Peasley, working as part of the Okanogan County Livestock and Pet Relief for Cold Springs Fire.
As the response shifts to relief, Peasley and her counterparts have worked to provide as much as they can to fire victims.
"We have shifted from immediate relief and services into asking ourselves 'how do we get these guys though the winter,' 'How do we help these ranchers so they don't have to sell off their livelihood,' and 'What little bit can we do to help relieve the stress for now,'" said Peasley. "These guys have to face where they are going to go for the next two years. They can't turn out there, unless it's private land, but what is going to be left to feed? We are just doing what we can to relieve some stress so they can continue to do what they've been doing for generations, ranching and farming."
Following the fire, ranchers and others were faced with cattle, horses and other animals wandering without fences and efforts quickly focused on moving animals off roadways and getting them to feed lots.
"We have over 1,000 miles of fence gone," said Peasley. "It costs about $3,800 dollars to rebuild one mile of fence to the government FSA standards. It's huge. FSA has not approved funds yet. We have cattle roaming everywhere, so we have grassroots stepping up to fill that gap until the government can figure it out. We are farmers and ranchers helping farmers and ranchers right now."
But the outpouring of help has been tremendous, said Peasley.
World Vets, an international aid organization for animals, responded to the fire and set up an emergency veterinary clinic at the Okanogan County Fairgrounds from which they were able to provide mobile response for general assessments and treatments to animals affected by the fires.
Local business also stepped up, said Peasley, noting Home Depot and Valley Lumber in Omak both set up accounts for people to donate monetary funds to ranchers and landowners in need and then issued their own large donations to those funds.
Walden Farms, a local pot farm, is donating 20 percent of their sales to fencing efforts, according to Peasley.
"The small businesses have stepped up, and now the larger ones, Farm Credit Services, Home Depot, North 40, those guys are now able to help through their processes," said Peasley.
Private volunteers have shown up simply to help.
Rebuilding fence on property owned by Reed and Maggie Wilson, Mark Tesch and Dennis Hoots said they reached out to Peasley and simply asked where they could best provide assistance.
The need for their help was simple: In October, the family ranch would have cattle off rangelands and in need of a place to winter, said Hoots, but to provide that safely, fence needed to be rebuilt.
"The donations and volunteers have been amazing," said Peasley. "There have been so many businesses that have sought us out to ask how they can help. We're talking about business from across the state. Here's just one example. I have a gentleman here from a fencing company in Chehalis and he's up here volunteering. He's hauling hay, building fence, volunteering his time. It's been amazing."
The outpouring has been so good, Peasley has begun working with fire victims affected by the Pearl Hill Fire in Douglas County.
When asked what else is important to for the community to know, Peasley doesn't miss a beat: "Don't forget about these guys," she said. "We've been doing relief efforts for what, three or four weeks? It's not over yet. Some of these guys have lost 400 ton of hay, 250 ton of hay, 2,500 ton of hay to feed their animals over the winter and they lost it in the fire. We can't forget about them. It's going to be a longterm thing."